Wooden garden sheds are extremely popular and can be used in a huge variety of applications.  In the last few years, people have showcased how creative you can be when finishing a wooden garden shed. From at-home office space, guest's quarters, hobby shed, or she shed, wooden garden sheds can be used for many applications.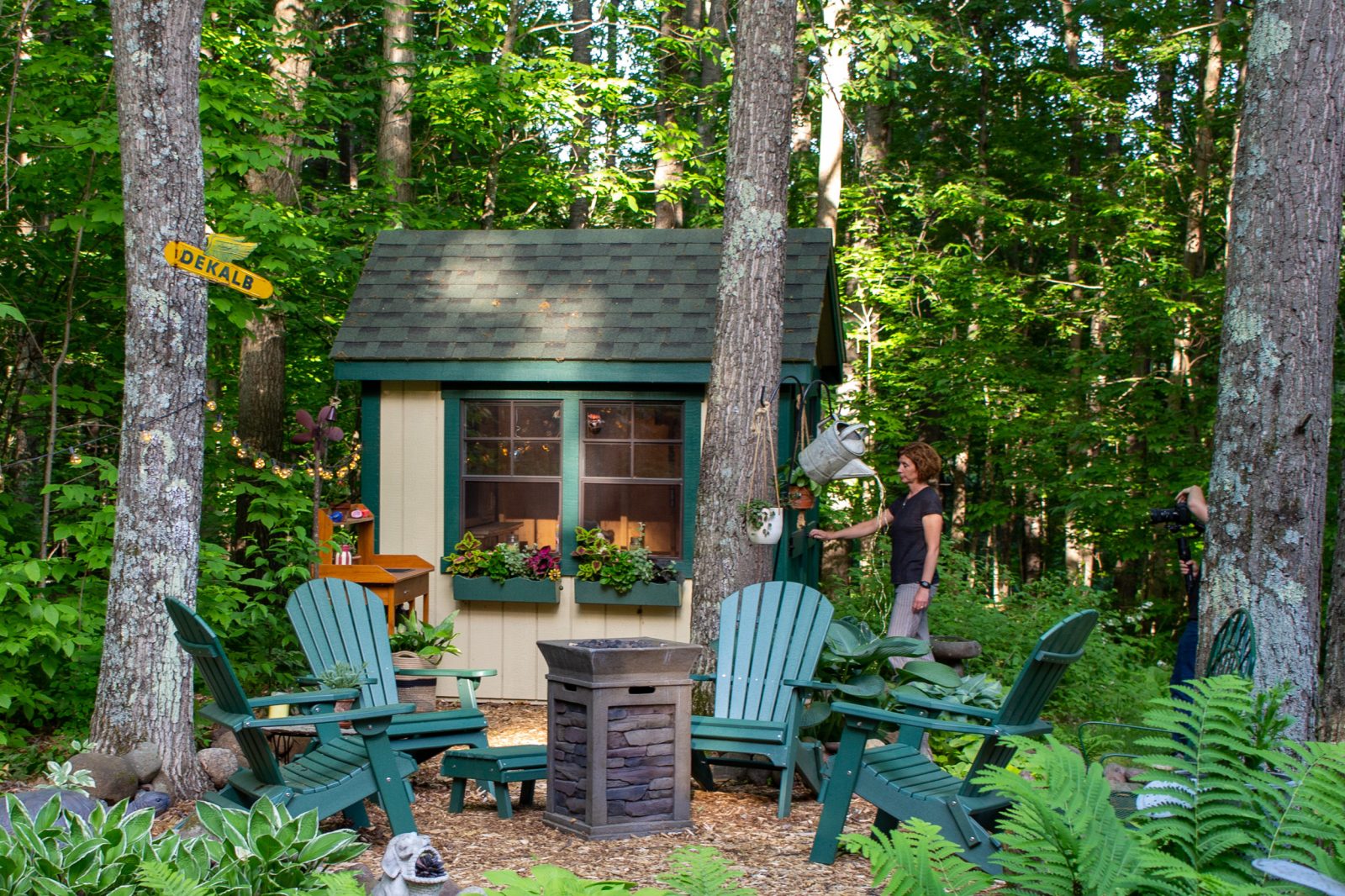 What Features Do You Need On A Quality Wooden Garden Shed?
The most common features people need in wooden garden sheds are windows, doors, custom color options, and a sturdy floor. To make the best decision, it is essential to know what options are available for your wooden garden shed. 
Windows For Quality Wooden Garden Sheds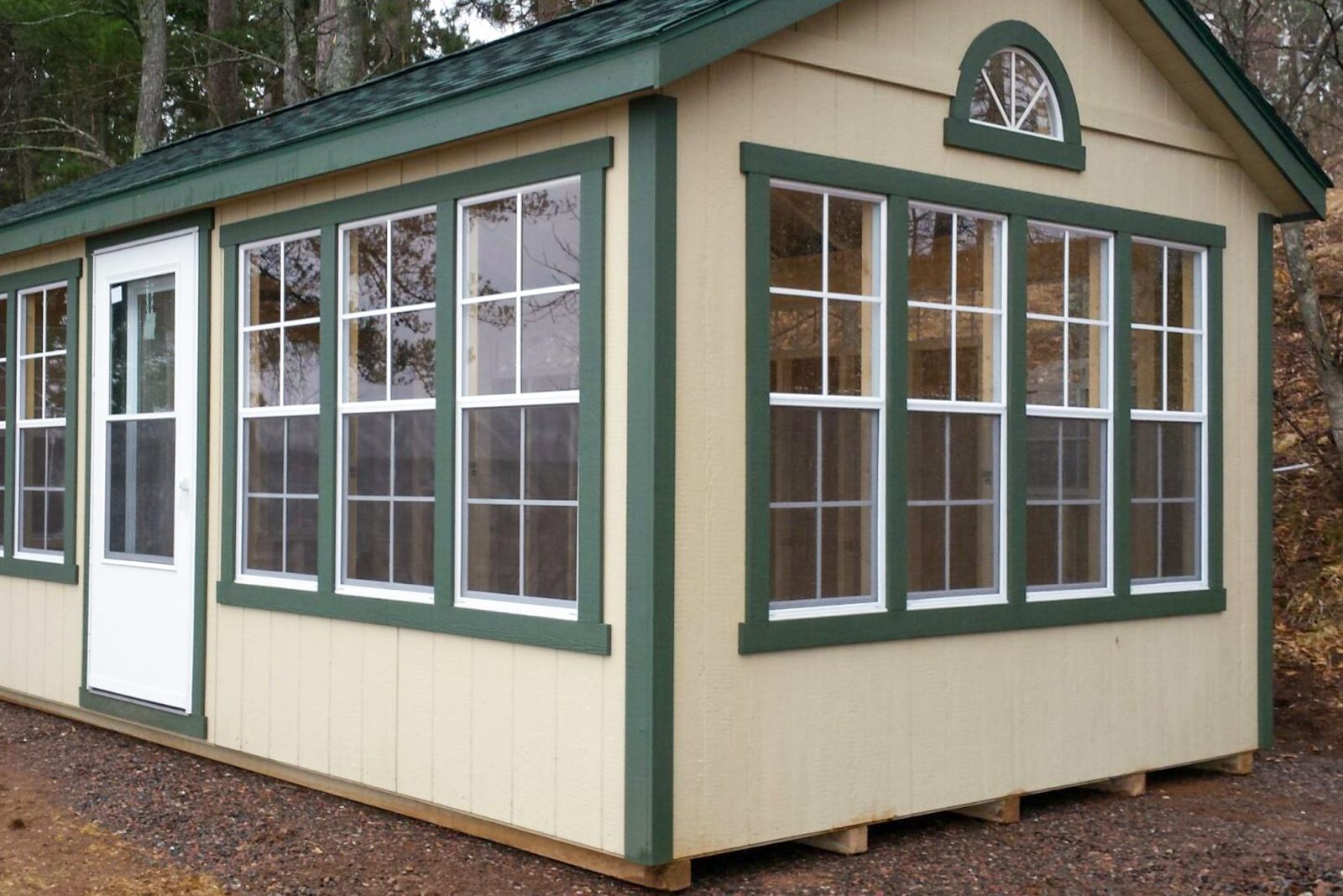 One of the best ways to make your wooden storage shed highly functional is to add in a few windows. Adding windows to your wooden garden shed allows you to have increased lighting and ventilation. The benefit to having extra light from windows means you can see what you are working on without the need for electricity to run lights. Windows also provide added ventilation when open. This added ventilation will allow your wooden garden shed to function as an art studio or storage shed without giving you a headache from the odors these supplies can often cause. 
Doors For Quality Wooden Garden Sheds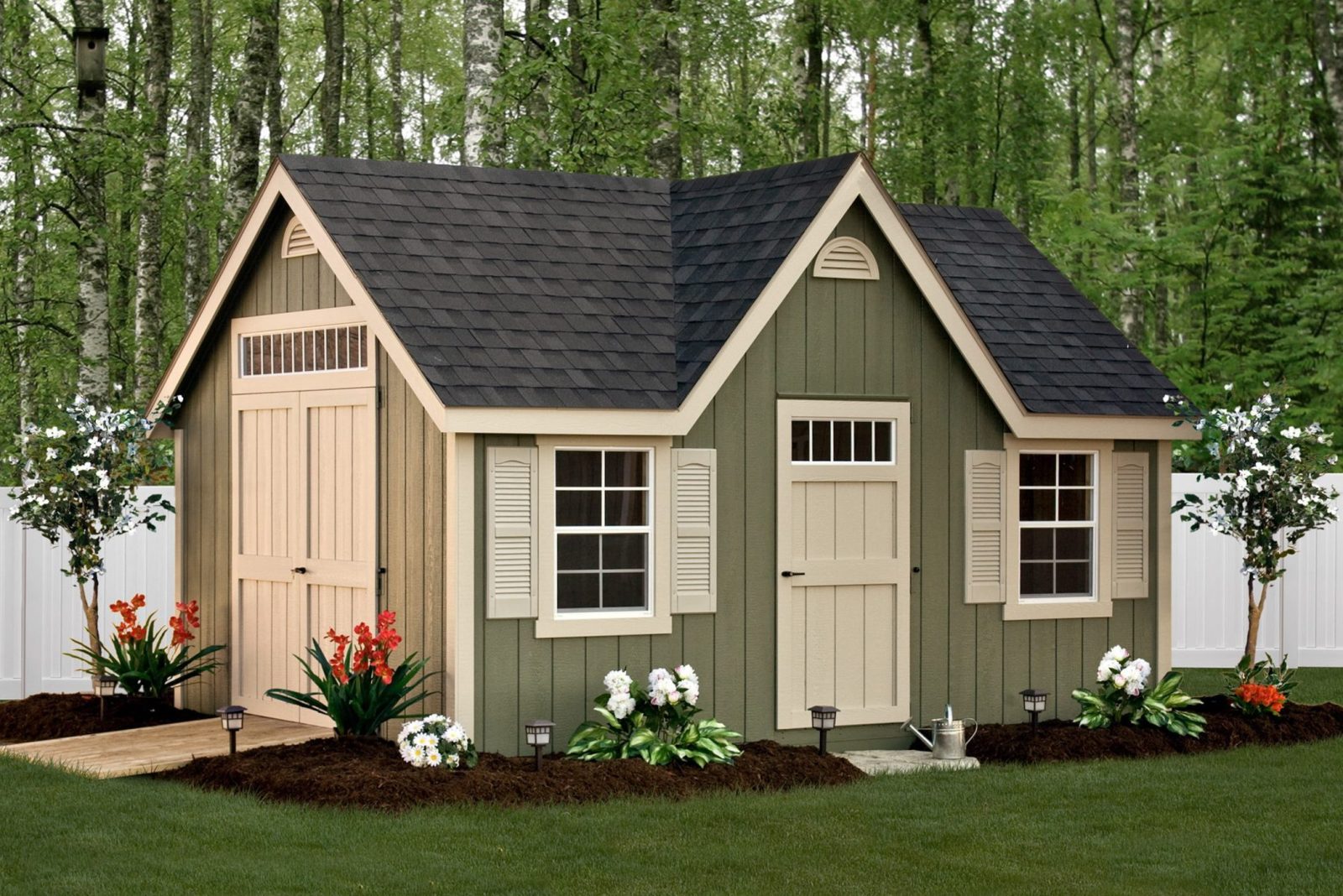 To access the interior of your wooden storage shed, you will need some kind of door. However, selecting the right door for your wooden garden shed may not be as straightforward as you think. Some people need a simple single pre-hung door; others require a double-hung door, while others need to have a garage door to best suit their needs. Choosing the right door can really make or break the experience you have with your shed.
Single Pre-Hung Doors For Wooden Garden Sheds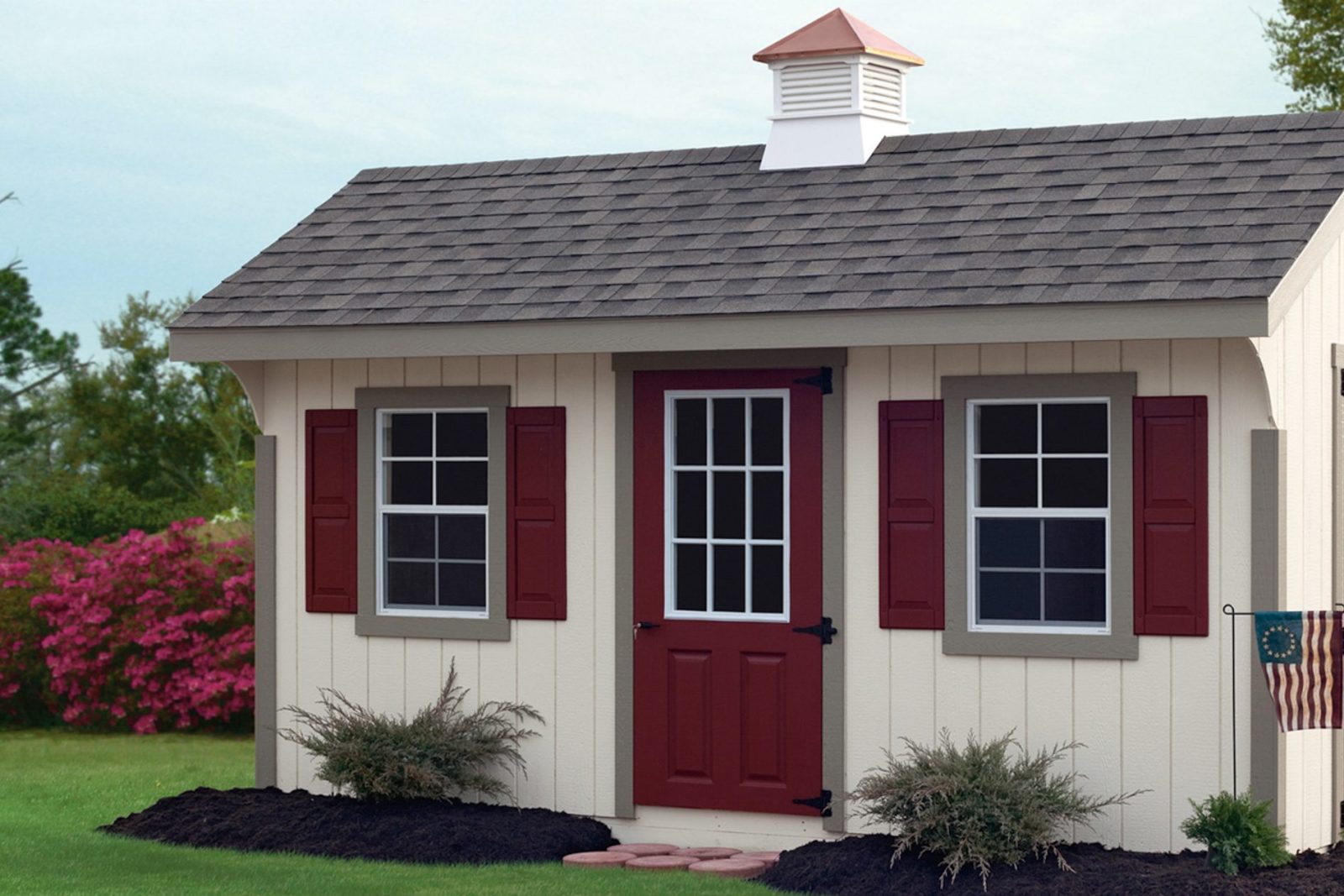 Single pre-hung doors for your wooden garden shed are a great option! When you utilize your wooden garden shed as an art studio, home office, or guest quarters, a single pre-hung door will give you the look and feel of a "normal" exterior door.  You can even get shed doors made from fiberglass, which is an even more traditional residential feel. While the appearance gives you a traditional-looking door, a single pre-hung door may limit your ability to easily move large items in and out of your wooden storage shed.
Double Pre-Hung Doors For Wooden Garden Sheds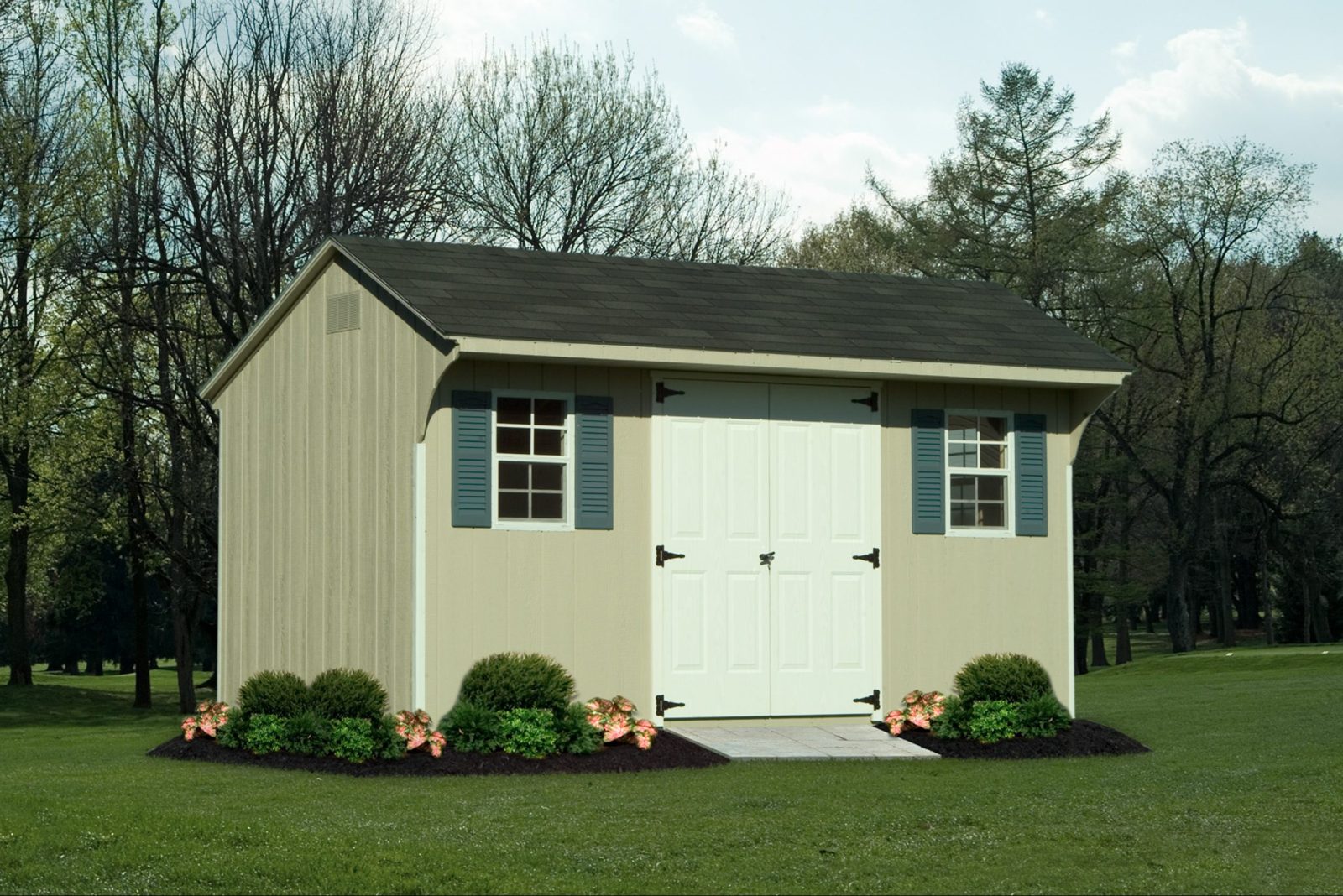 Double pre-hung doors are popular when you use your shed for lawn equipment or to store more oversized items. Double doors will give you plenty of space to move your things in and out. One of the weak points of double pre-hung doors on a wooden garden shed is they may not be as secure as a single pre-hung door. The reason is that they lack a door jam where they latch together.
Garage Doors For Wooden Garden Sheds
Adding a garage door is an excellent idea when you use your wooden shed as a place for storing vehicles. A garage door is also a perfect option for your shed if you enjoy having a wide-open view of your surroundings. Conversely, a garage door may not be an excellent option for your wooden garden shed if you plan to use the space as living quarters. The garage door will let in heat or cold quickly as the size of the door is much larger than other smaller sized doors
Paint Options For Wooden Garden Sheds
One of the most significant features you select for your wooden garden shed's appearance is the paint color. A quality wooden garden shed builder will be able to provide you with an array of paint color options. The paint color you choose for your shed should match or compliment the surroundings. Karyn did a great job of having her wooden garden shed to match the surroundings. Check out the video to take a look for yourself!
Sturdy Floors For Wooden Garden Sheds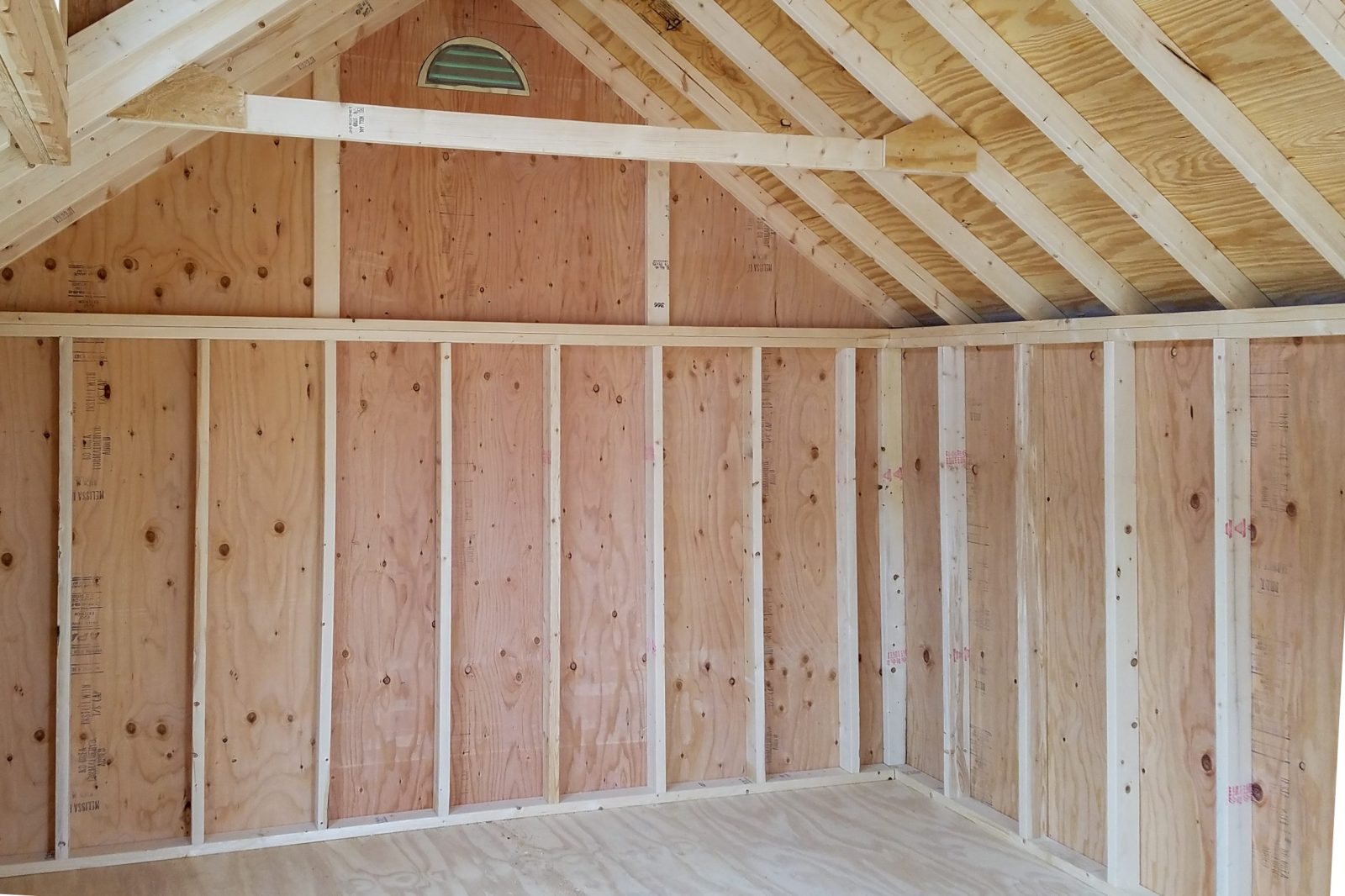 A quality wooden garden shed floor should be built with 12" on center joists. This spacing is ideal if you are concerned about the long-term strength of your shed, because the tighter the spacing of the floor joists means much better weight distribution. Some smaller or lower-quality wooden garden sheds do not come with a floor like this, and you won't be able to store heavy-weight items in them with confidence. With the added floor strength found with 12″ on center joists, you can rest assured that your structure can handle the demands of whatever you store in it. 
How Much Do Quality Wooden Garden Sheds Cost?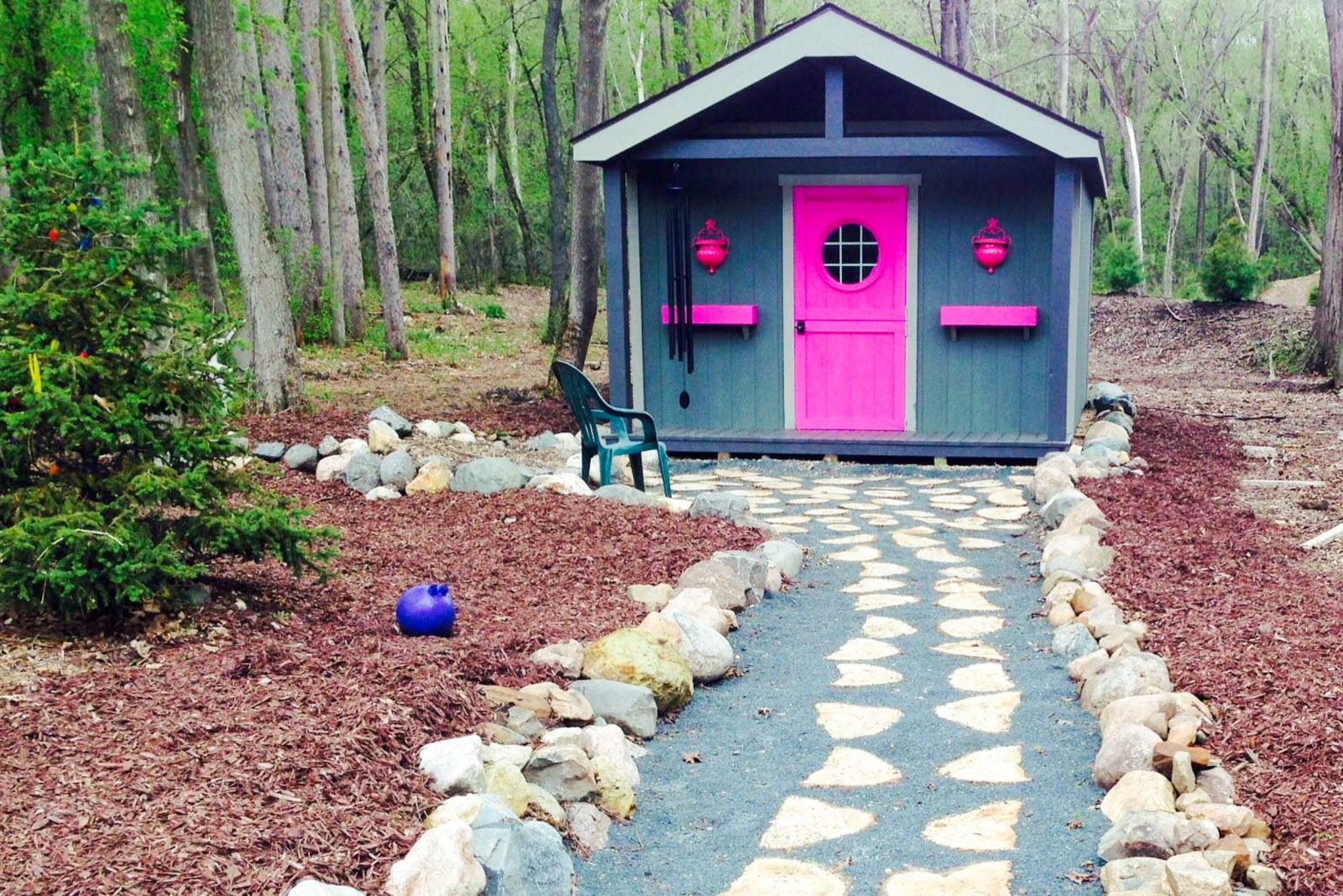 A wooden garden shed can cost you anywhere from under $200 (1'x3'shed) to over $15,000 (12'x30′ shed).  The huge variation in cost is driven mostly by the build quality and sizing of the shed.  While over $15,000 sounds like quite a lot of money, you would be getting a wooden garden shed that offers around 320 square feet of usable space and built to really high-quality standards.
How Much Does It Cost To Build A Wooden Garden Shed?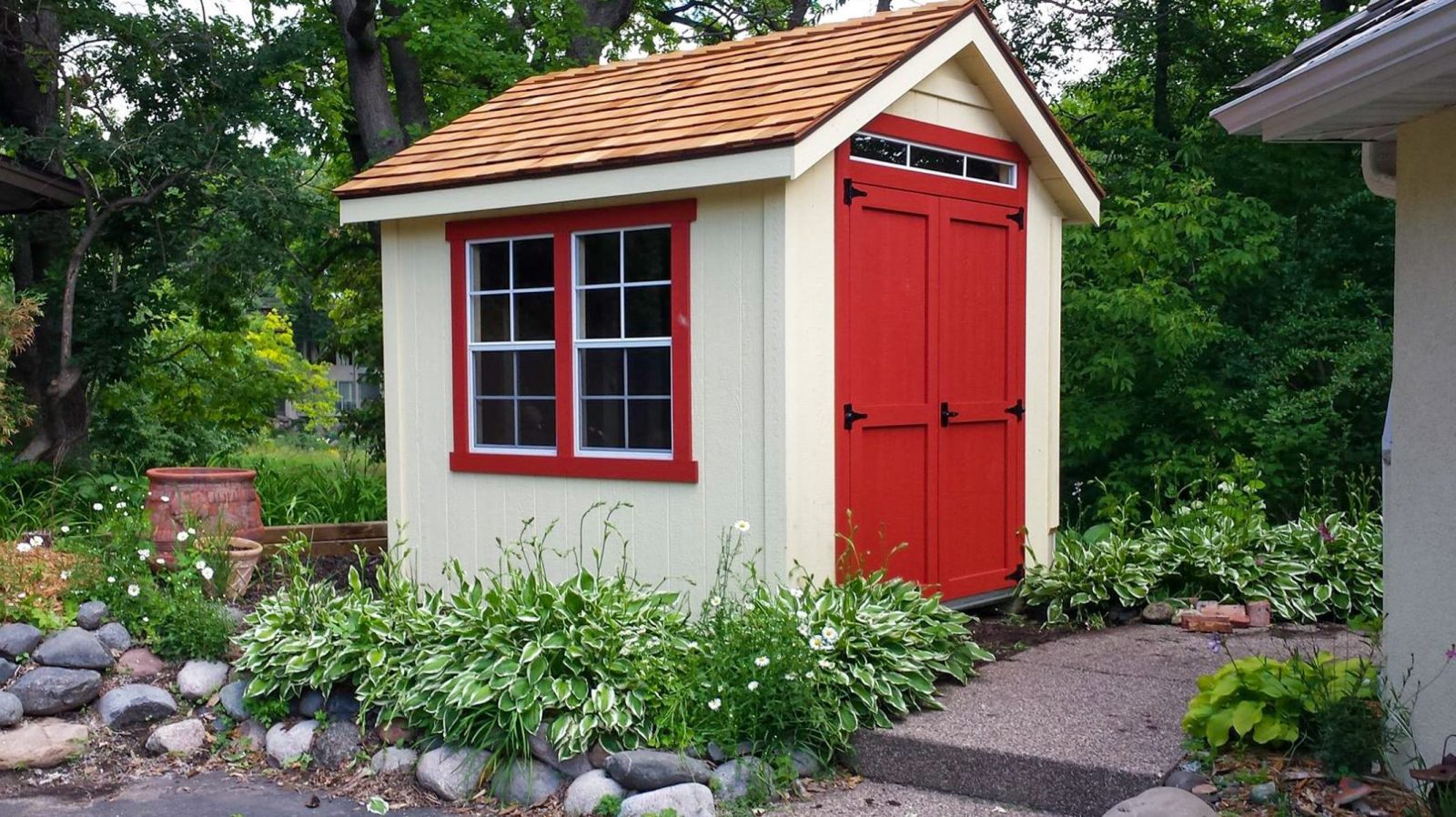 You can build a wooden shed for less than purchasing a pre-made shed. However, building a wooden garden shed for less than buying implies that you have the following tools to do the job well (prices are approximate and are subject to change):
Hammer: $25
Chop Saw: $400
4 Foot Level: $27
Tape Measure: $16
Carpenter Pencils: $17
Screw Drivers: $36
Screws: $60
Nails: $60
Framing Square: $35
Hand Saw: $30
Wood Clamps: $230
Wood Chisels: $235
Hand Sander: $50 
Sand Papers: $9
Wood Glue: $21
Safety Glasses: $100
Ear Muffs: $20
Face Masks: $20
2 Step Ladders: $176
2 10' Ladders: $438
Impact Driver: $100
Drill: $90
2 Saw Horses: $90
Back-Up Batteries: $200
In the state of Wisconsin, sales tax is 5%; this makes the total of your tools to build a wooden garden shed about $2,467.50. This comes in as a total of $2,350. This total does not include any sales tax applicable to your state. With the median wage in America being $16.36/hour, you would have to work about 262 hours (or nearly 6.5 weeks)  just to purchase the tools.
Once you have the tools, the most expensive part of your shed will be the materials needed to build the shed itself. According to a shed cost estimating article by lawnstarter.com the average range cost of materials for a 10×16 shed will be $3200 to $28,000.  
So if you were going to build a 10×16 shed on the cheap end you would conceivably pay $5,667.50 (tools 2,467.50 + lowest materials cost $3200).  Its worth noting here that a professionally built 10×16 wooden garden shed by Northwood Outdoor is a mere $7375 at the time of this writing.
And don't forget the labor of love that will be required.  It would take approximately 5 days for two DIYers to build a 10×16 shed.  This brings the labor cost to around $1300 using the aforementioned median wage of $16.36 an hour.
(These numbers imply that you have no available tools or materials to build your wooden garden shed. If you have some of these items to construct your wooden garden shed, this can change the numbers drastically).
Is It Better To Build Or Buy A Wooden Garden Shed?
If it is strictly a financial decision, it may be best for you to build a wooden garden shed. However, this does not account for your construction ability, knowledge base, or tools. If you are not particularly handy, it will cost you more headaches than it is worth. A 6×6 pre-made wooden garden shed made by us can be purchased for $3970 (at the time of this writing).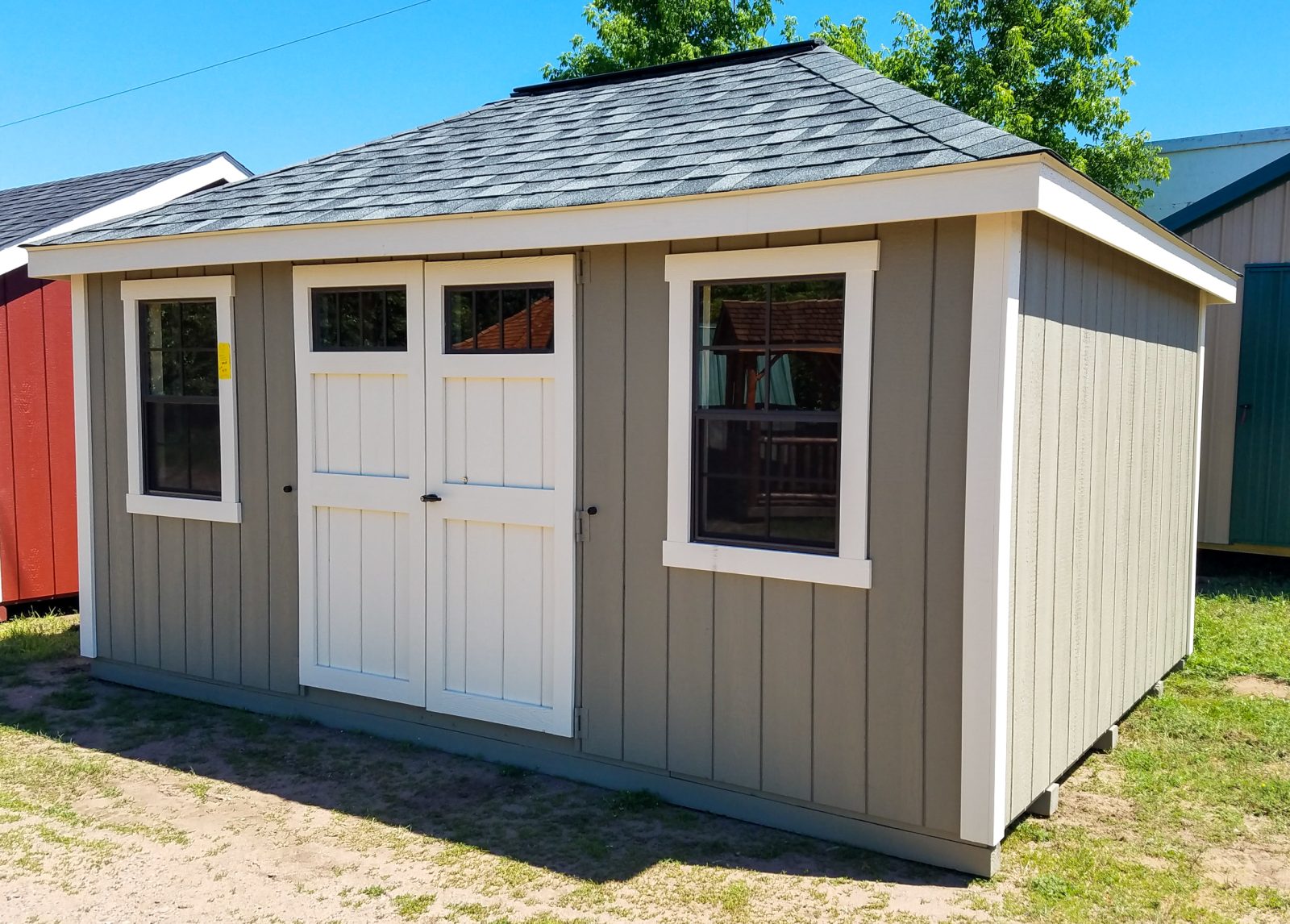 Wooden garden sheds are a great way to add storage, studio, or office space to any property. Adding windows, doors, paint options, and a sturdy floor will make your wooden storage shed precisely what you need it to be. While building a wooden garden shed on your own may be cheaper, it is not always worth the headache it brings. So why not contact Northwood Outdoor to help you get the wooden garden shed you have been wanting!