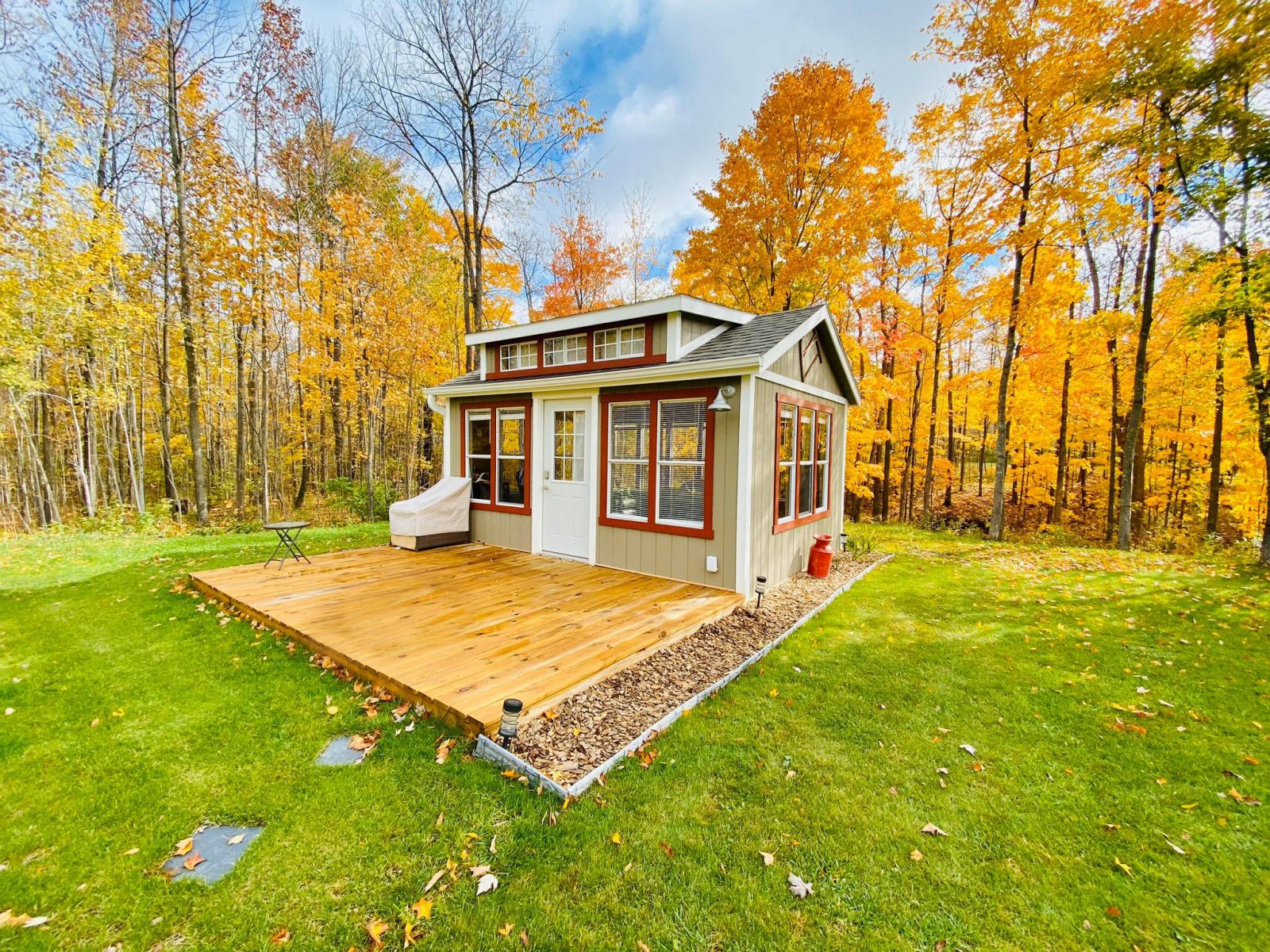 Sheds have long ago broken the traditional confines of the common storage space usage. They are now being used for home office spaces, art studios, man caves, she sheds, tiny homes, home gyms…the list could go on.
In this blog, we will highlight some of the unique potential that backyard sheds offer for different types of hospitality spaces. We will also cover some of the considerations that should go into planning and preparing for your shed project before you get started.
Whether you are needing backyard guest house sheds for the visiting in-laws to sleep, a hangout spot with friends, or a backyard AirBnB to make a little extra money, sheds can be an economical and practical way to create a beautiful hosting space.
Table of Contents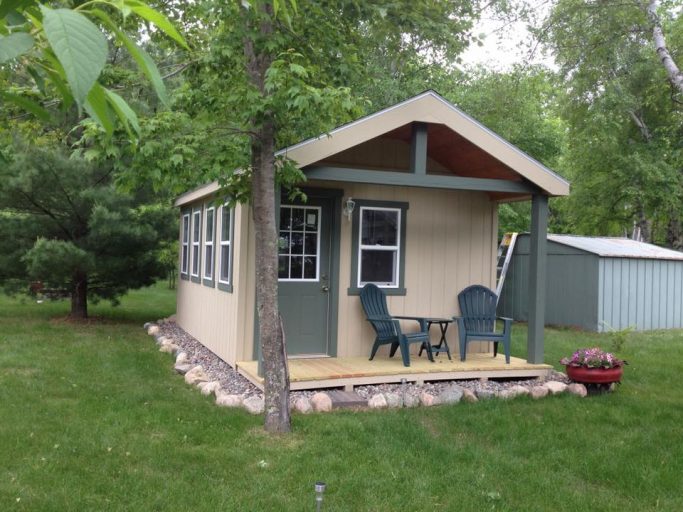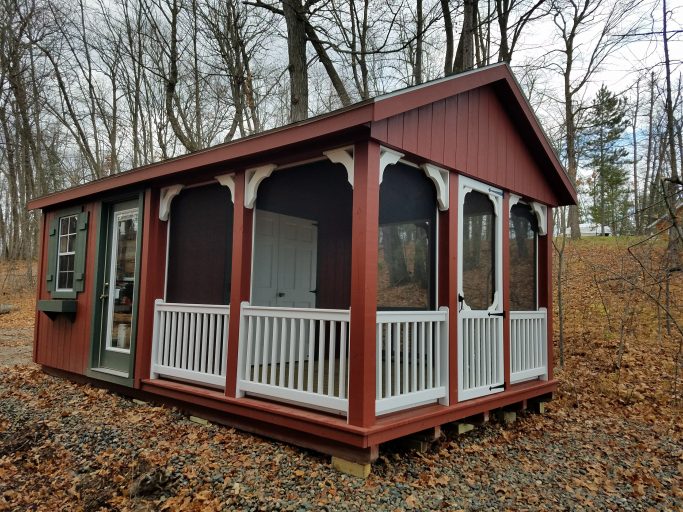 Before we even get into the unique ways to create a hospitality shed, let's talk about why outdoor sheds are such a good option for backyard guest houses and hosting spaces.
You won't find a much simpler solution for getting a quality wood-framed structure in your backyard than a prefab shed. When you order a custom shed from a shed company, they will build it for you, bring it to you, and place it where you want it. Your main concern has to be with choosing the style of building you want and then preparing the pad in your backyard for the arrival of the shed.
Sheds Come in All Shapes and Sizes
A custom shed company, like us, will be able to offer you a wide variety of building styles, building sizes, colors, options, etc… If you want a shed with a porch, you can have it. If you want a bunkhouse shed, you can have it. If you want a loft in your shed, that is always an option. If you need your shed paint color to match your house color, that is usually possible. The custom capabilities of a storage shed, make it a great option for a backyard structure to turn into a guest space.
Guest House  Sheds are Cost-Efficient
When you price out the cost of getting a portable structure delivered to your backyard versus having a contractor build a similar permanent structure in your backyard you will usually discover that a portable shed is a much more cost-effective solution.
Shed companies can build much more efficiently in a shed shop and so not nearly as much time goes into the building project as it would if a contractor is working in your backyard. And, if you go with a quality shed company, you should find that the building is just as well-built as it would be if you would be building a permanent structure.
Prefab Sheds are Easy to Finish Out
Once you have a custom shed delivered to your backyard, you will find that the hard work of building is finished and now comes the fun part: taking it from a shed to a guest house shed. Your delivered shed will have the framing structure all in place and ready for you to put your interior siding, flooring, and other custom touches in place.
Usually, the framing and big-picture design work is what overwhelms people. The interior customizations are much more doable when you have the big grunt work already done for you.
5 Ways to Use Sheds for Hospitality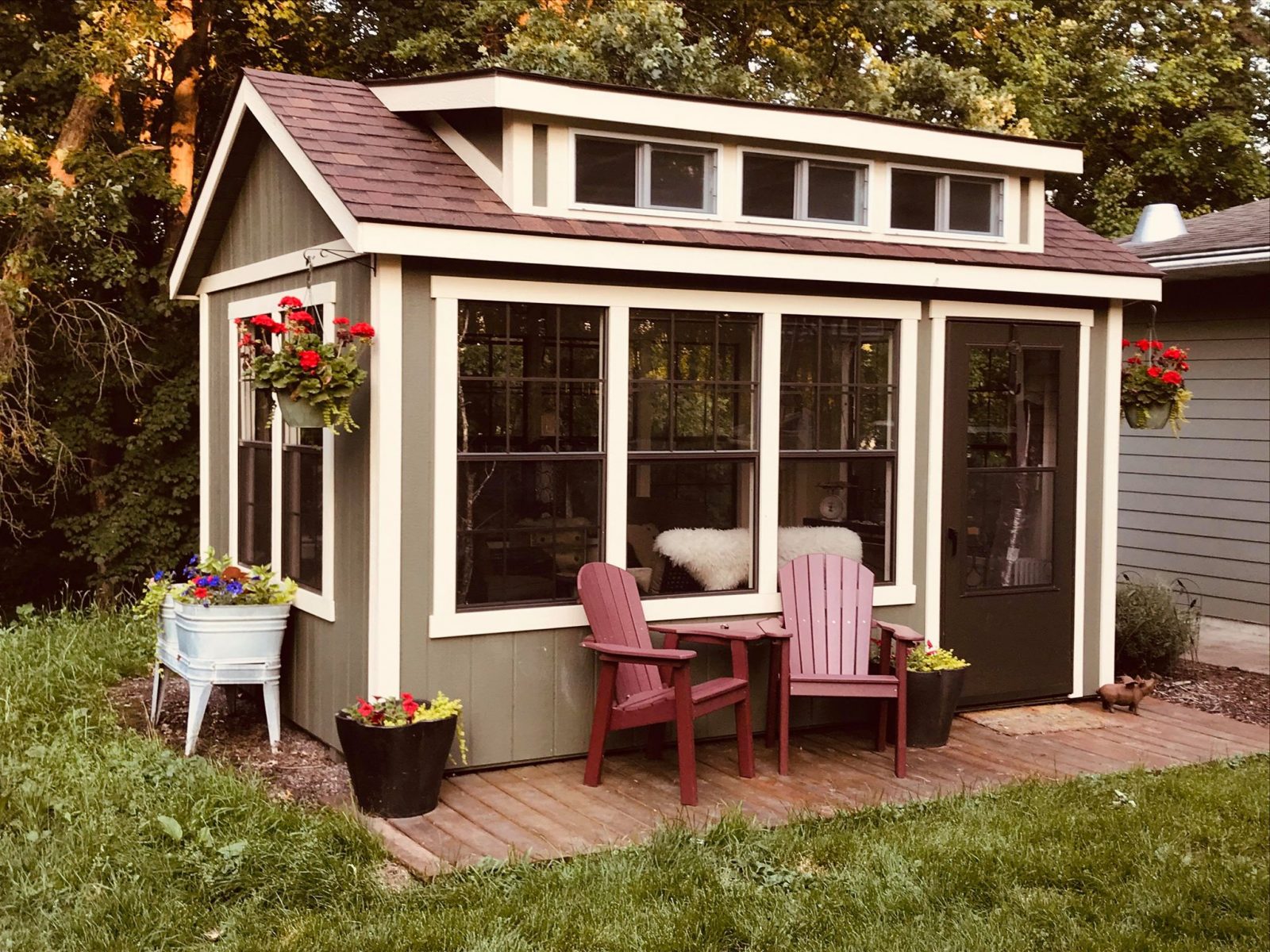 Guest House Sheds
Host Overnight Guests In A Comfortable, Private Space
Turning a shed into a guest house for the overnight family and friends is a win-win situation. Not only do you get to avoid the stress (and potential awkward situations) of having people sleeping in the room right beside you, but it also makes your guests feel more relaxed and more special to have their own private space to stay in.
There is just a lot to love about having a separate guest house shed in your backyard that guests can retreat to when they need a nap, want some alone time, or are ready to retire for the night.
Here's an interesting video of one couple who reclaimed an old shed and turned it into a beautiful guest house shed.
Bunkhouse Sheds
The Perfect Sleepover Space for Kids and Grandkids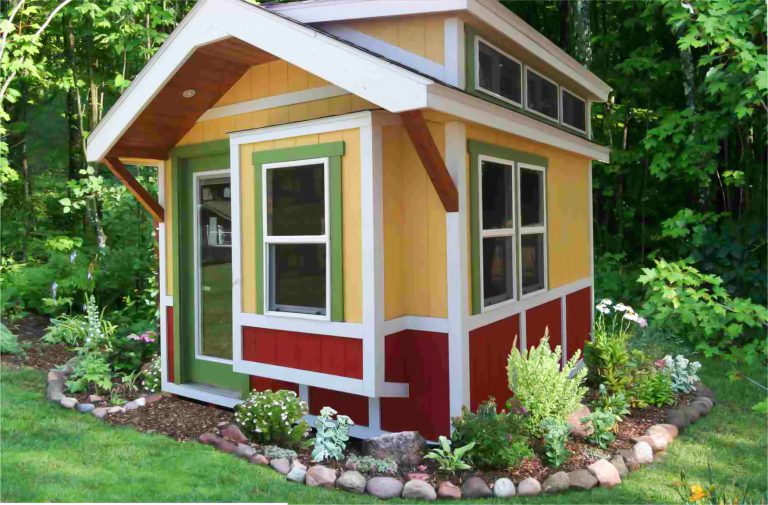 A Northwood Outdoor Bunkhouse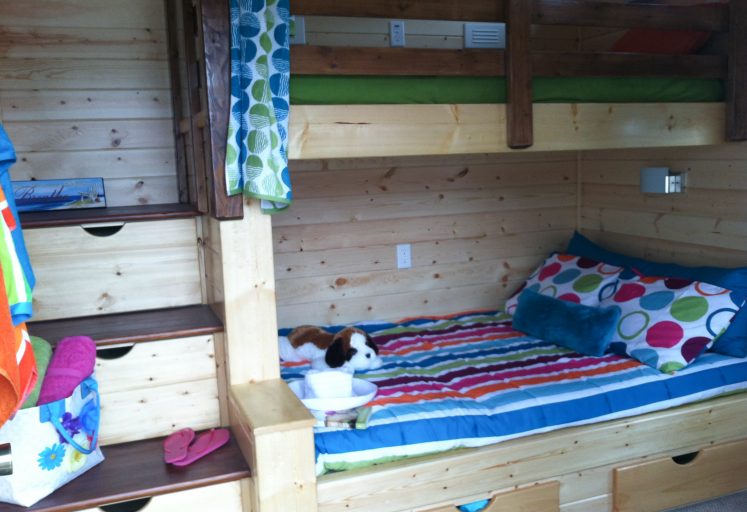 Interior of a Finished Out Bunkhouse
While our bunkhouse sheds work great for campgrounds, summer kids camps, and other similar usages, they also are a great option for creating a backyard space for a grandkid sleepover party or for your children to have their friends over for the night. The bunkhouses, true to their name, are built to be able to accommodate bunk bed style sleeping arrangement. It is quite possible to set up a bunkhouse to sleep 4 people.
Airbnb Sheds
Creating a BANKhouse with a Shed or a Bunkhouse
Sheds can make great backyard bed and breakfast style hosting spaces. With the rise in popularity of tiny home living, more and more people are intrigued with the prospect of staying in a tiny home style space when they travel. This makes a great opportunity for you to setup a backyard shed as a living space and rent it out on Airbnb or other guest rental sites.
If you make it nice enough, you might even be able to find an individual who would want to rent out your backyard tiny home for a longer-term living solution.
Because of their cost efficiency in getting setup and converted into living spaces, sheds are a great way to add a BANKhouse in your backyard.
The photo below is of a couple in Charleston, SC who turned their shed into a guest house shed for Airbnb for around $15k. You can view their listing here.
Granny Pods
Using a Shed to House Your Elderly Parents
What used to be in-home "mother-in-law suites" can now be replaced with backyard granny pods by using a shed. Granny pods are essentially small homes on your property that provide a good space for your elderly parent to live near you while also giving both you and them some autonomy and privacy.
A shed can make a great granny pod solution and can be a wonderful way for your mother to be close to you and the grandkids while still being able to host guests and live her life without her feeling like she is invading your space all the time. It helps her maintain a sense of dignity and helps your family maintain your own autonomy and identity also. Another win-win scenario.
Here is a video of a lady who takes you on a tour of her own granny pod on her son's property and talks about how much she loves the living arrangement.
Party or Hangout Shed
Make Your Backyard the Favorite Hangout Place with Your Friends
If you enjoy hosting friends for dinners, watching a game with friends, or just having a space where friends can hangout together, a party shed can make your backyard become the favorite spot for your friends group.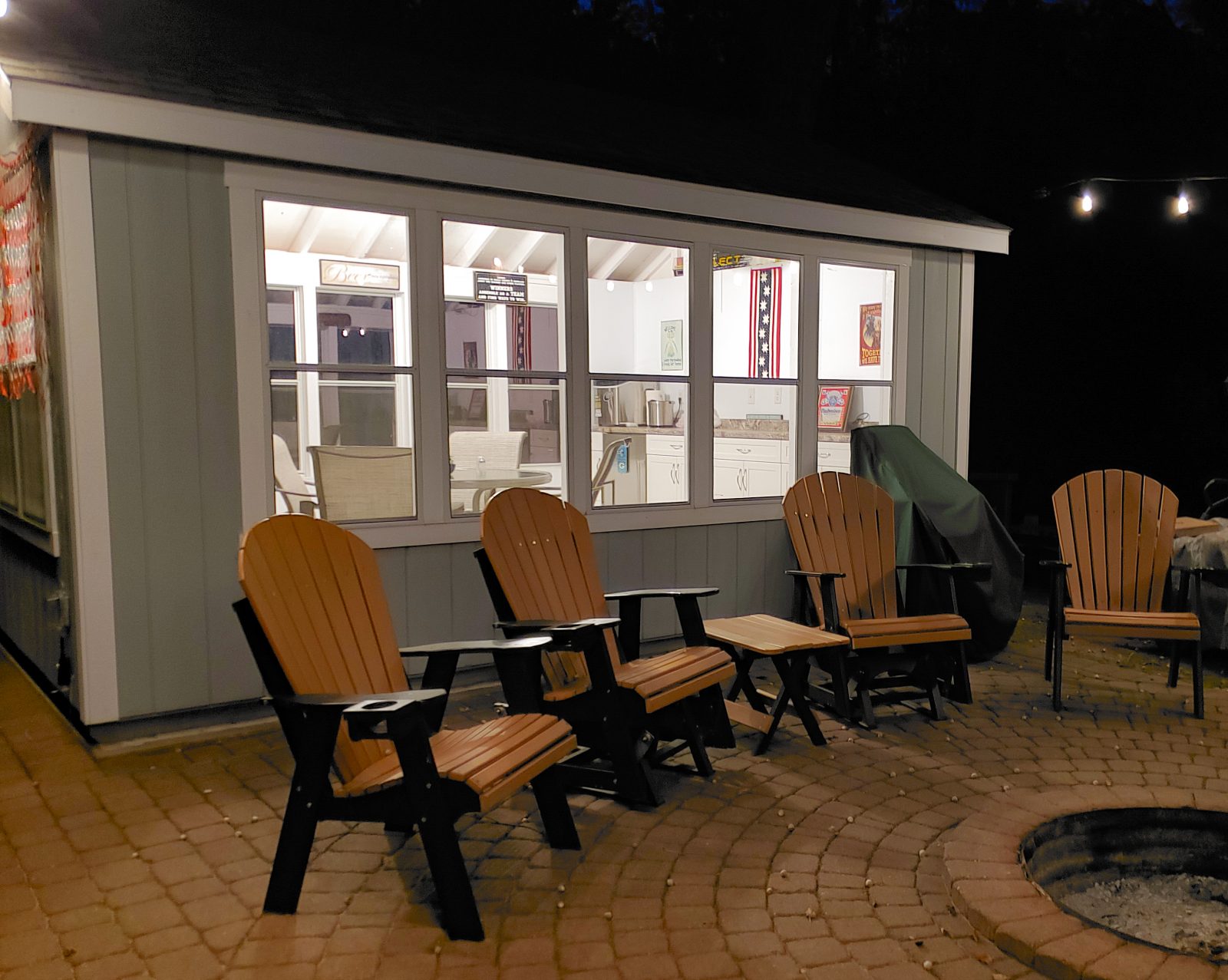 The options are endless for how you can setup a shed to be able to host friends for parties. With a little planning, you can have a nice tv installed, create a great gaming room, or even have a bar installed. A shed can be the ticket to take your hosting experience to the next level.
5 Considerations When Planning for a Hospitality Shed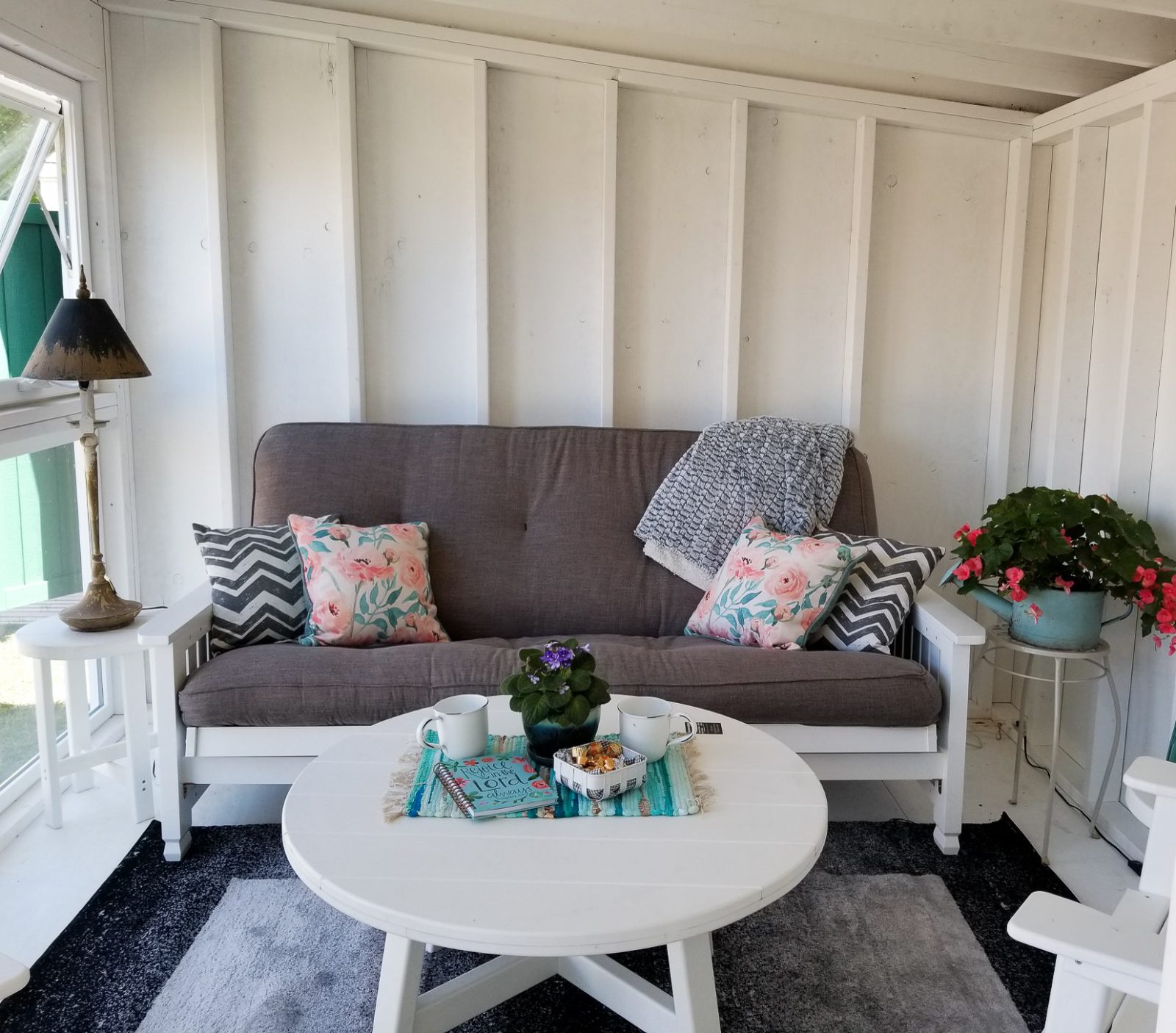 Permits
Think "Permits" before you purchase a building or get too deep into plans for a backyard guest house, bunkhouse, or party shed. Depending on where you live, there may be specific local requirements for adding a structure to your backyard. You may need a permit, you may need to ensure that it has specific features, etc…
Do your research ahead of time, rather than having to make expensive changes when it's too late.
Electricity
Chances are you'll want lighting in your guest house shed. You also may need electricity for other things, like appliances, A/C, television, etc… Make sure to budget for your electrical needs and have a plan in place ahead of time for how you will meet those needs.
Plumbing
You'll want to decide if you need plumbing in your shed or if you will have guests use your sinks and bathrooms in your house. Plumbing can add a significant amount of work, but can also make your guest house shed be a lot more comfortable for your guests.
Climate Control
Will you want climate control (A/C and heat) in your shed. If so, what type? These are good questions to think through when planning a backyard living or hangout space. Also, you will want to be considering ways that you will insulate your shed so that it doesn't require as much to keep it a comfortable environment.
Layout and Size
Last, but definitely not least is the consideration of how you will layout your guesthouse shed so that you can for sure order the proper size. It makes for a bad day when you discover that you don't have quite enough space for the comfortable recliner you had planned on in a corner after installing the bed along the wall.
A good rule of thumb is to draw out your finished plan with furnishings before you purchase and then add on an extra 2' to your building width or length from what you have laid out. Too much space is an easier problem to deal with than not enough space.
Best Sheds for Guest Houses and Hosting Spaces