Do you love the sound of a she shed? Have you been dreaming of owning one? How long as it been for you? A couple years? Maybe more or maybe less?
Know this.
All the stunning and attractive she sheds which have inspired your very own desire for one, all began with dreaming.
You are right on track. A she shed is more than just a "square wooden box that holds STUFF". It is an outpouring of your own personal dreaming, creativity, personality, and beauty.
She sheds offer you that one precious space in all of planet earth where you can go for relaxation, quiet reprieve, and creation. The one space that the "whole world" knows is absolutely and entirely yours.
In this blog, enjoy further inspiration and she shed comradery as you step into the Wisconsin backyard of one of our valued customers, Karyn, and meet her, her she shed, and all the irresistible beauty that follows!
Plus, as an ending clincher, enjoy viewing some of the different she sheds styles that might fit exactly what you have been dreaming of all this time!
She Shed Ideas For Your Garden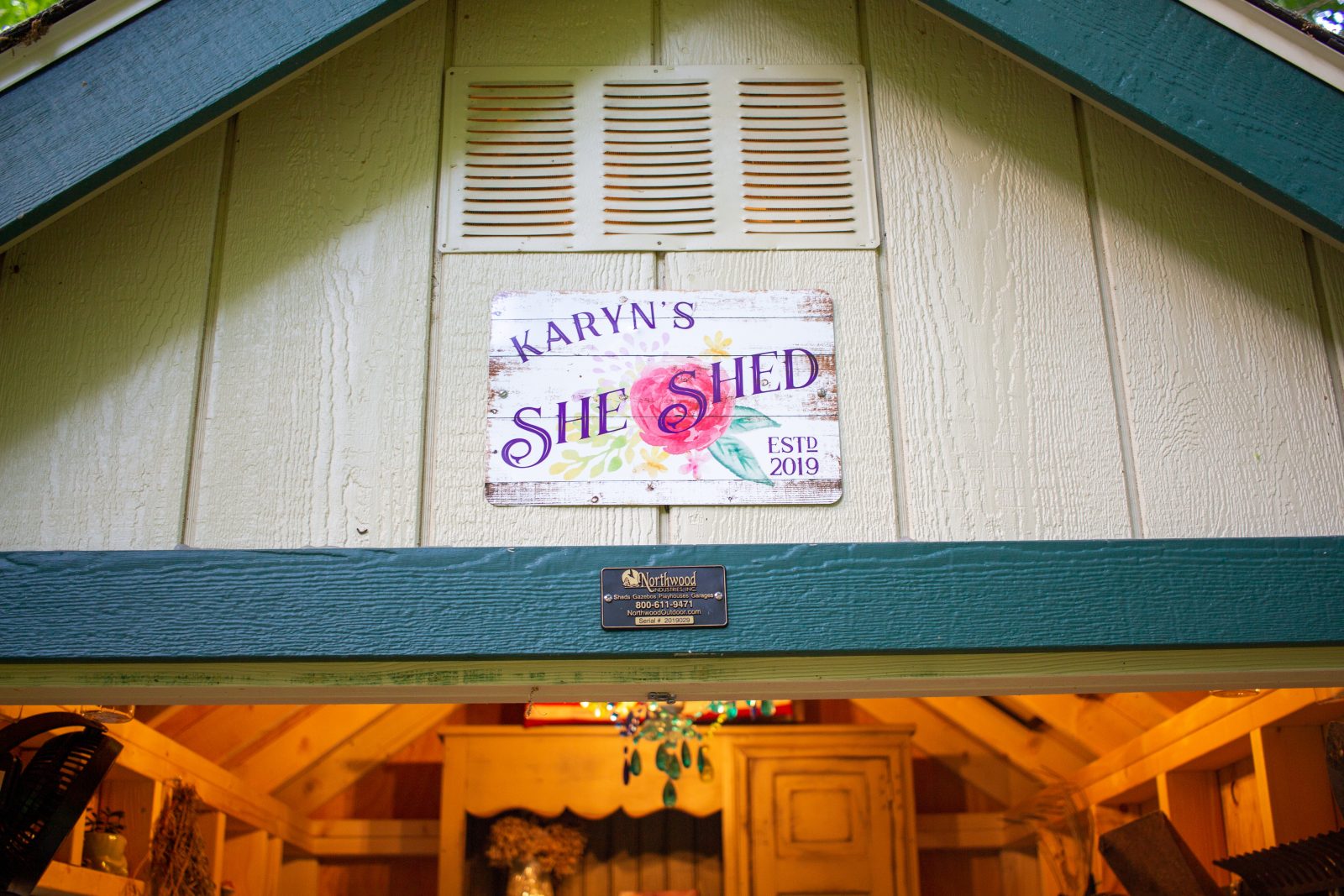 Karyn is a dreamer and an avid gardener.  And whether she realizes it or not, an artist.
How an artist? Well, her garden and her she shed prove it.
Let's travel now to the Badger State and see for ourselves.
Somewhere in a woodland area, a couple of miles outside of Hayward, Wisconsin, you will find a stunning garden crisscrossing around towering trees and filled with various species of hostas, ferns, and ivy.
We hope that this customer story will give you the inspiration you need in getting a she shed of your own!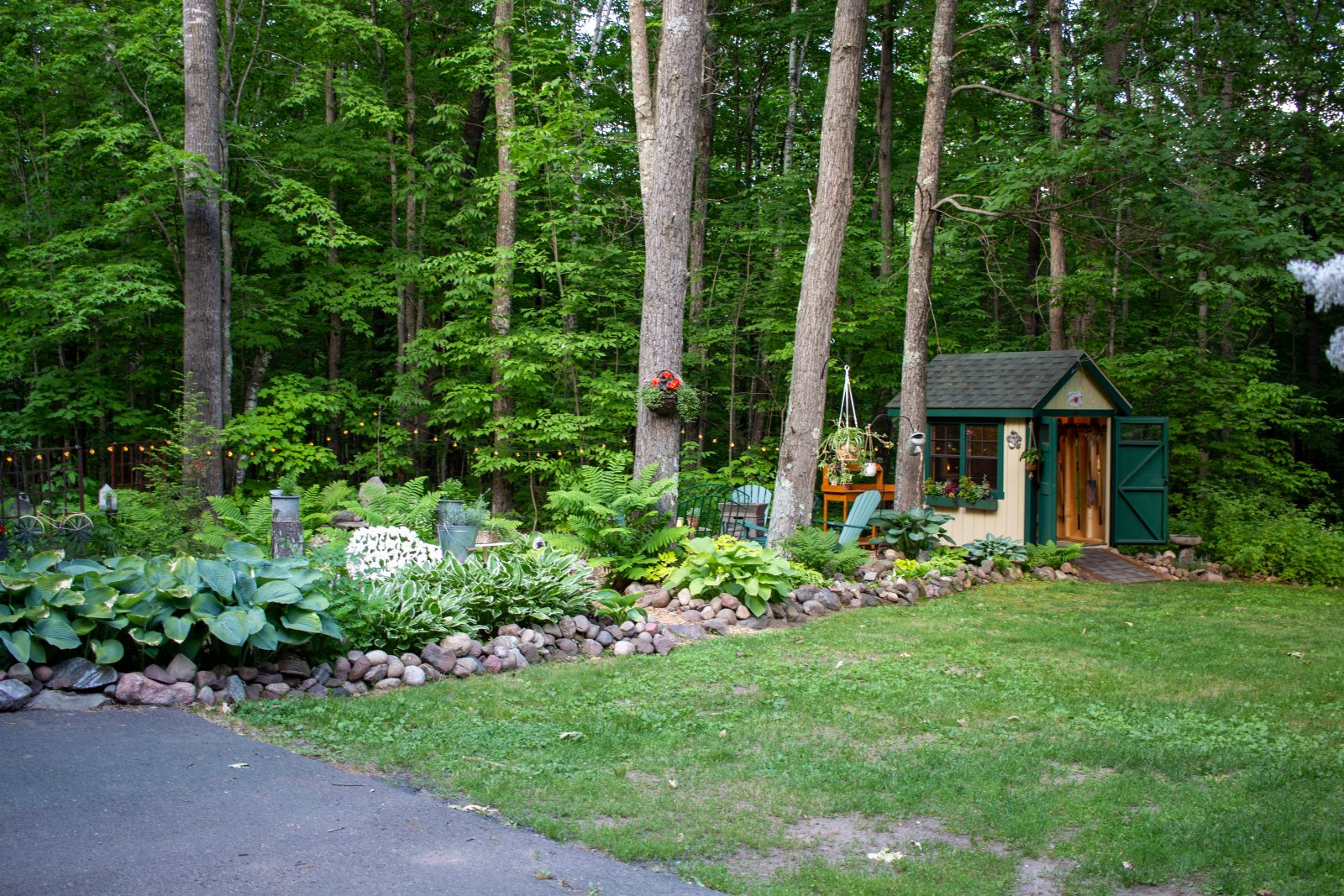 Visualizing The Setting For The She Shed
Karyn did a tasteful job of creating the perfect setting for her she shed.
As you take a few steps into Karyn's garden you will notice that some of the plants are tastefully planted in wooden mulch while others are surrounded by irregular-sized stone.
As you turn left to circle through the enchanted, green garden, you will see two beautiful ponds, one with a fountain, and both outlined by slabs of beautiful stone.  Mixed into the slabs of stone, ivy peeks through and stuns as a lovely contrast.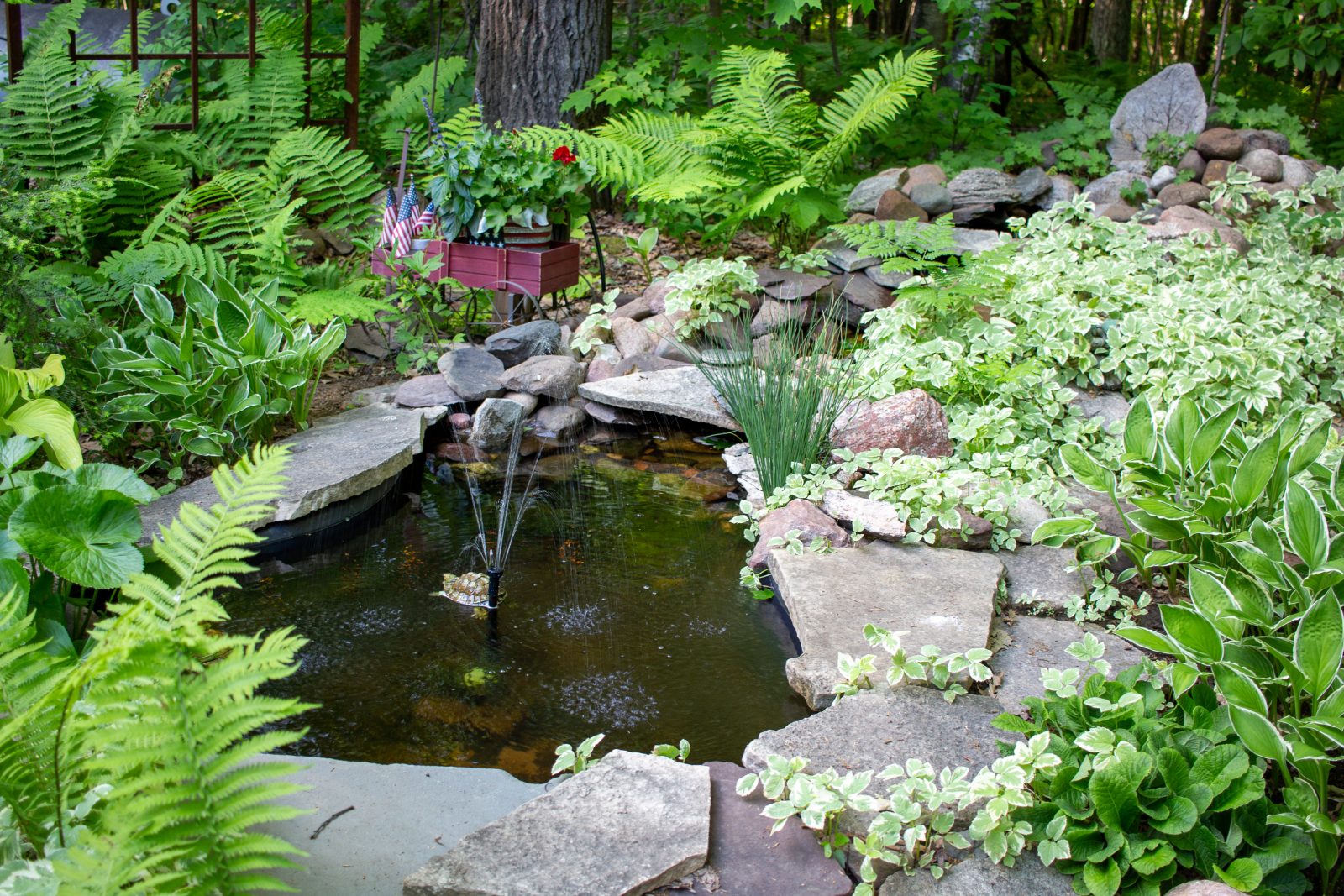 An eye-catching, elaborate white bench and matching, small table sits halfway through the garden, begging for a passerby to sit and soak up the surrounding beauty.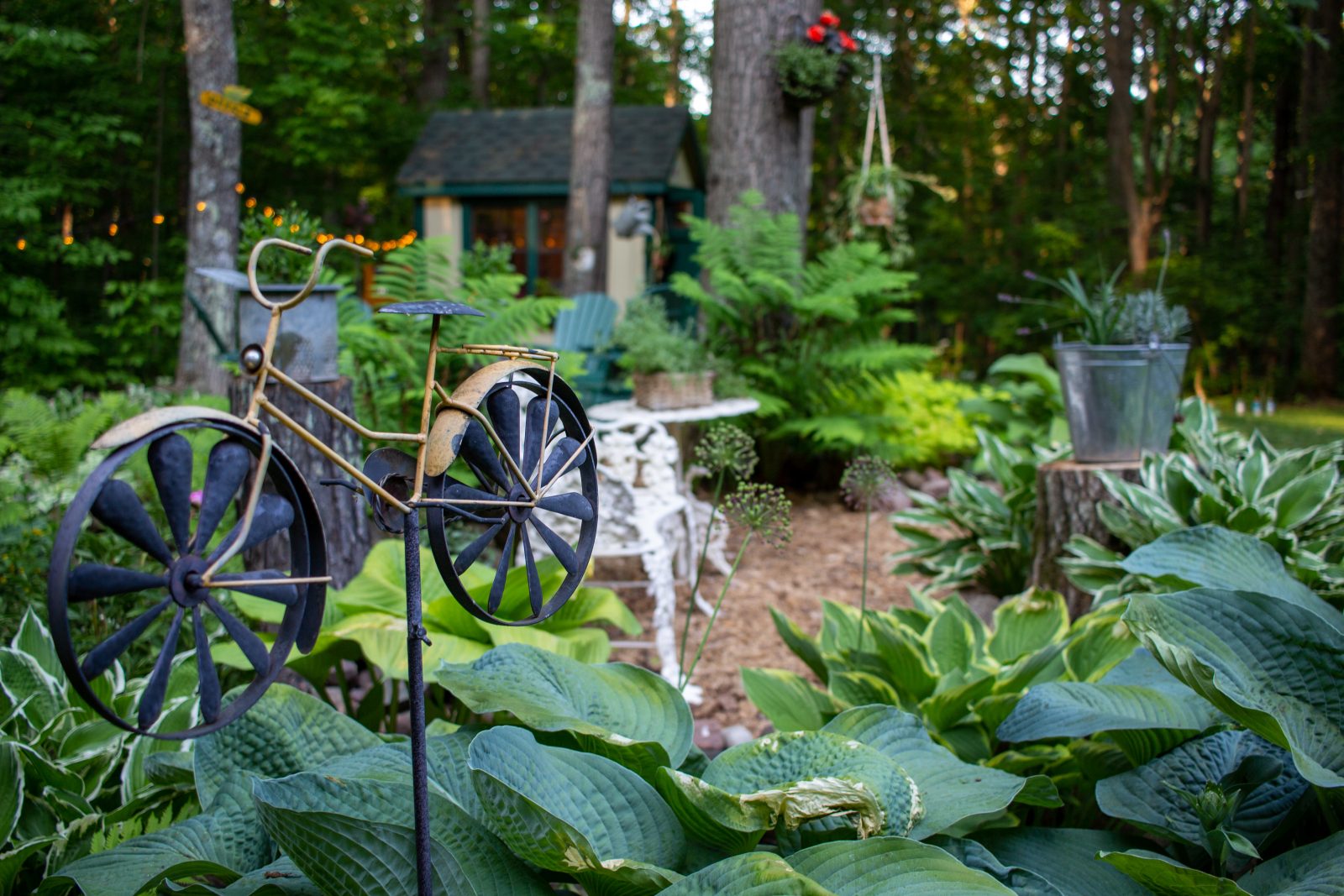 Ahead an opening leads to four forest green Adirondack chairs resting at the feet of a modern propane fire-pit.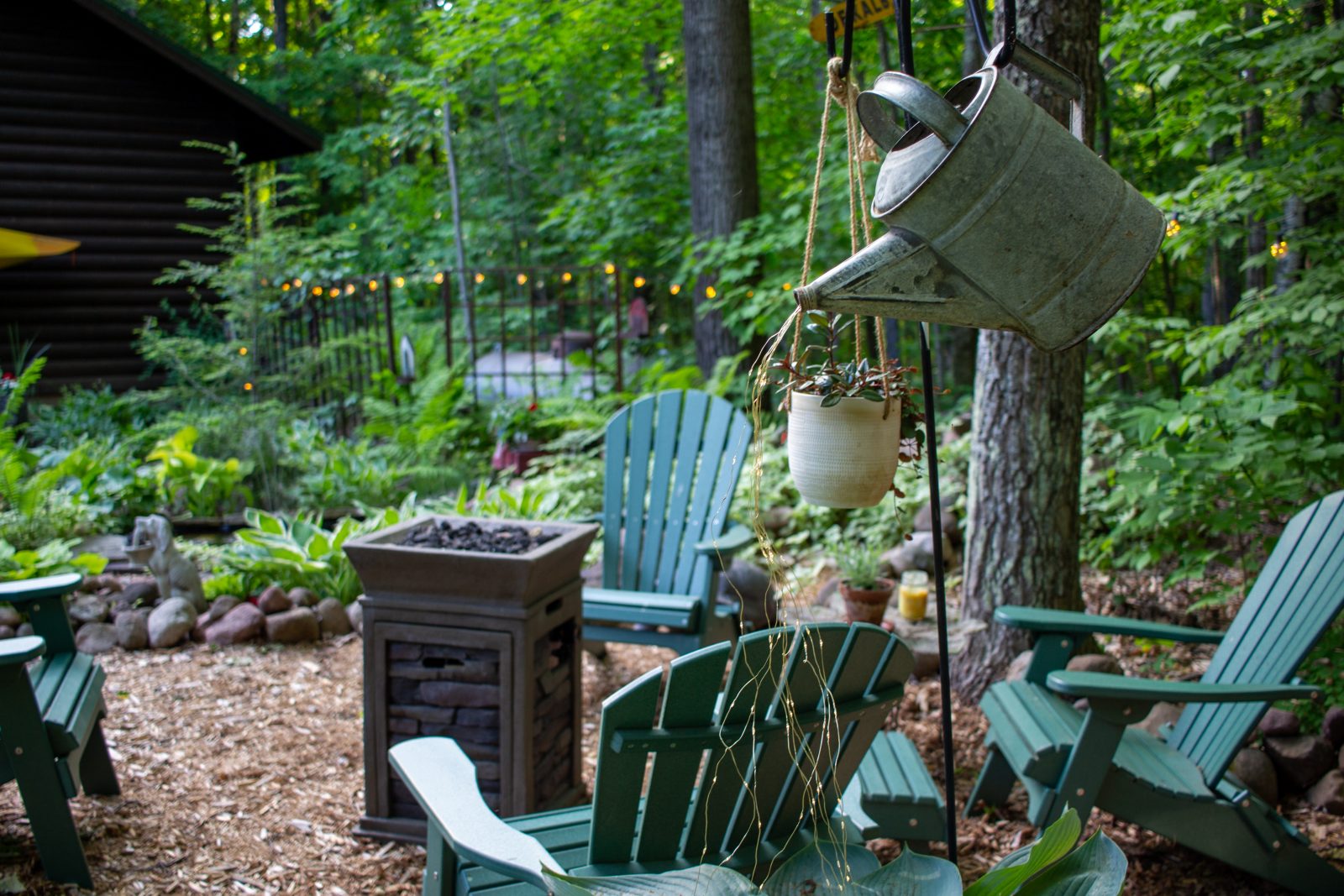 Finally, beyond this inviting spot, lies a gorgeous, cream and green trimmed she shed. The shed's two windows face towards the garden with two beautifully arranged flower boxes sitting right beneath.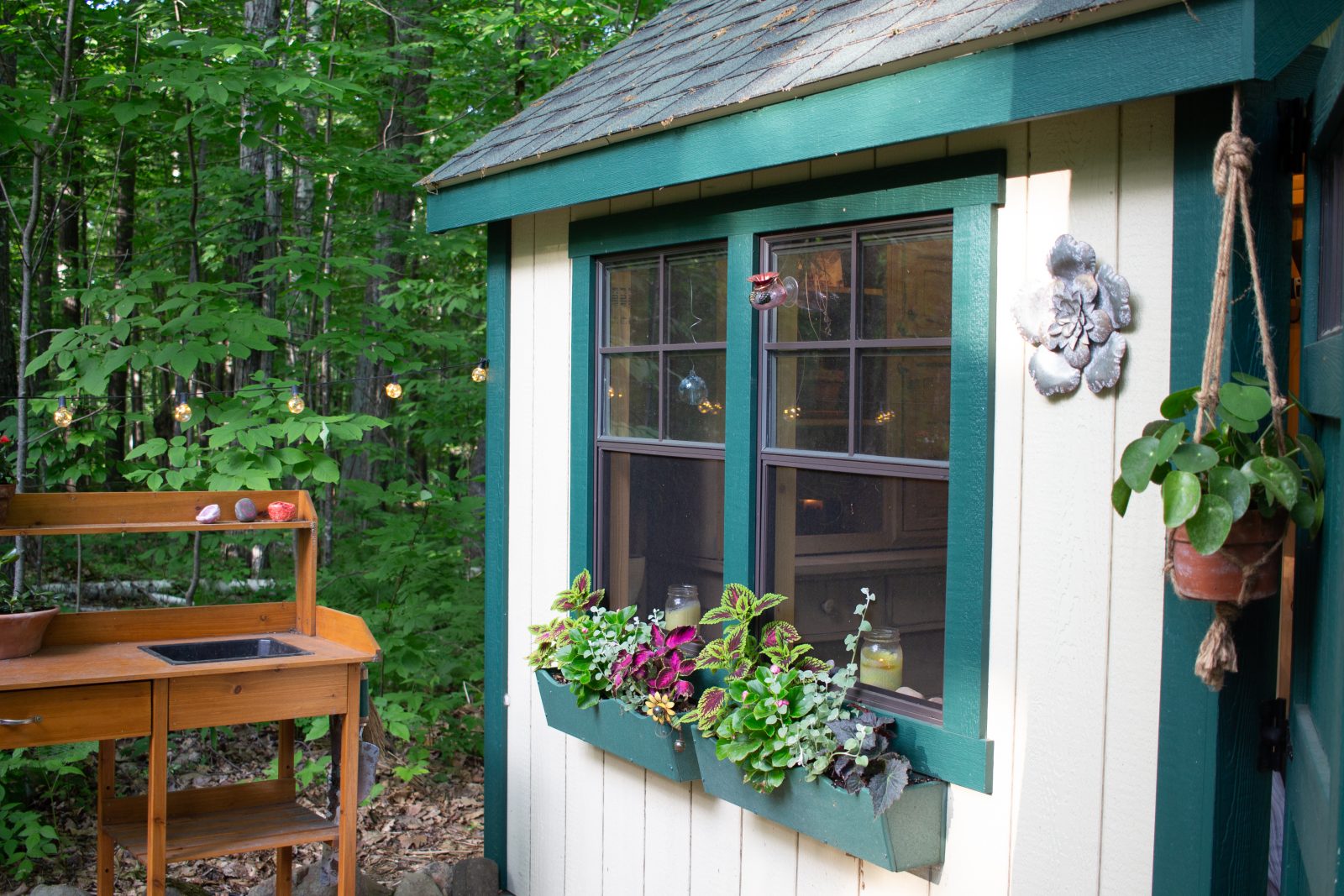 The creator behind this masterpiece of green space, is Karyn.
While her garden is ever being cultivated and enhanced with time, it was finally made complete with the addition of her long-desired she shed.
Karyn exudes a vivacious smile and a contagious laugh as she shares her she shed story. "For several years I wanted a shed, and in 2019 my husband finally said (after talking about it for years) that why don't you just go buy a shed."
And that is exactly what Karyn did.
This is when she discovered or rediscovered, Northwood Outdoor in Hayward just a few miles from her home.
Planning The She Shed For A Multi-Purpose Building
Karyn's limitless love for gardening inspired her search for the perfect she shed. She had acquired a lot of gardening tools over the years, and she really wanted a space where she could keep all her gardening supplies. "I wanted all my stuff to be in one spot so that no one else would take my stuff or use my stuff and that way I could have it all together." Plus, Karyn liked the idea of using her she shed as a storage space during the winter.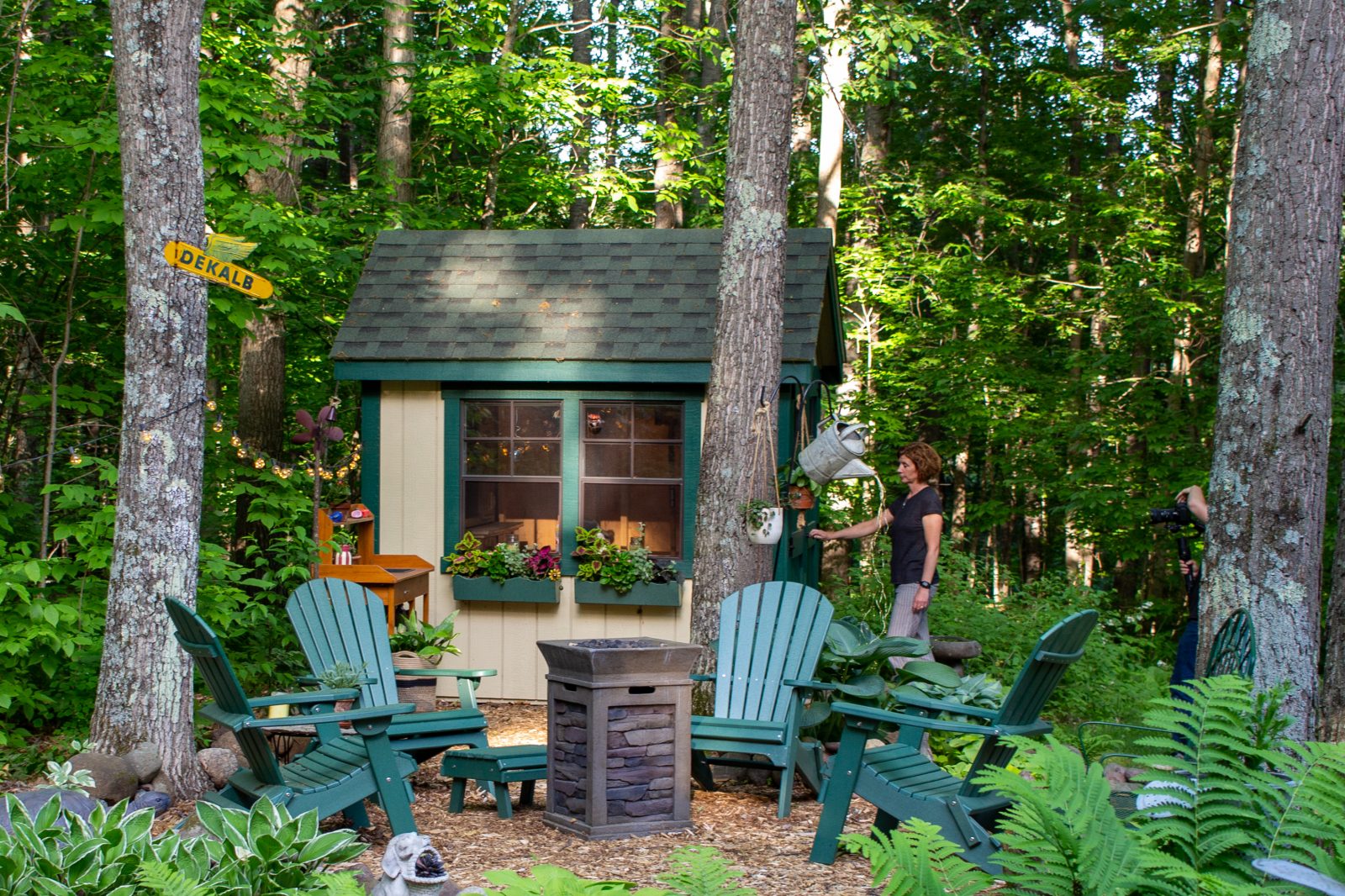 Although Karyn had driven past Northwood Outdoor for years, she stopped by one day armed with a very specific purpose. Although the trip was originally exploratory, what Karyn saw and experienced at Northwood Outdoor fit the bill for what she wanted in a garden she shed and she had to look no further.
Finding The Perfect She Shed Size
It might seem a little daunting trying to figure out what size she shed that you need, but you need to know what size your space can handle and balance that with some realism of what you are hoping to use your she shed for.
Karyn needed a particular size to fit in the designated space she had available in her garden for her she shed.
"When I stopped at Northwood Outdoor… I was looking for a particular size and they offered a size that fitted my needs. There was also a great selection of color, styles, and options you can get on the sheds to meet your needs or the location you are going to be putting it.…" reflects Karyn on her first impressions of Northwood Outdoor.
Karyn really enjoyed being able to walk around and see real sheds of all sizes in person at their store. Viewing the sheds in person helped confirm the right size of shed for her and her garden. Plus, Karyn appreciated being able to sit down and talk about the creation of her ideal she shed with Northwood Outdoors' representatives.
Choosing The Right Color and Style For The She Shed
As the design of her dream she shed came together she chose the Classic Storage Shed style since it best fit into the designated area. Also, its colors matched perfectly with her garden and namely one of her favorite perennials, the Hosta.
As a creative spin to Hosta's mainly green and cream-rimmed leaves, Karyn chose the opposite for her she shed. A cream exterior with deep, rustic green trim and doors. She carefully chose the windows in her she shed to face towards the garden so that when she sat inside she could enjoy its beautiful view. Two matching green doors with the capacity of both swinging open was another special feature Karyn loved about her she shed's design. However, her favorite accessory was the addition of two window boxes where she could have more plants right outside, attached to her she shed.
Karyn appreciated Northwood Outdoors' customer service and was pleased that even after she decided to buy one of their sheds, they were quick to respond to any further questions or concerns by email.
Now all Karyn and her lovely garden had to do was wait for delivery day!
In preparation for delivery day, she leveled out and prepared the future resting place of her new she shed. Once delivery day arrived, Karyn enjoyed watching the installation process. "The delivery is super neat! One guy comes and they unload the shed and lift it down onto a dolly and reel it right into the spot you prepared for the shed."  Thus, her dream garden she shed finally came home.
Relaxing With The New She Shed
Nowadays, you will see Karyn happily going back and forth from her she shed to her garden.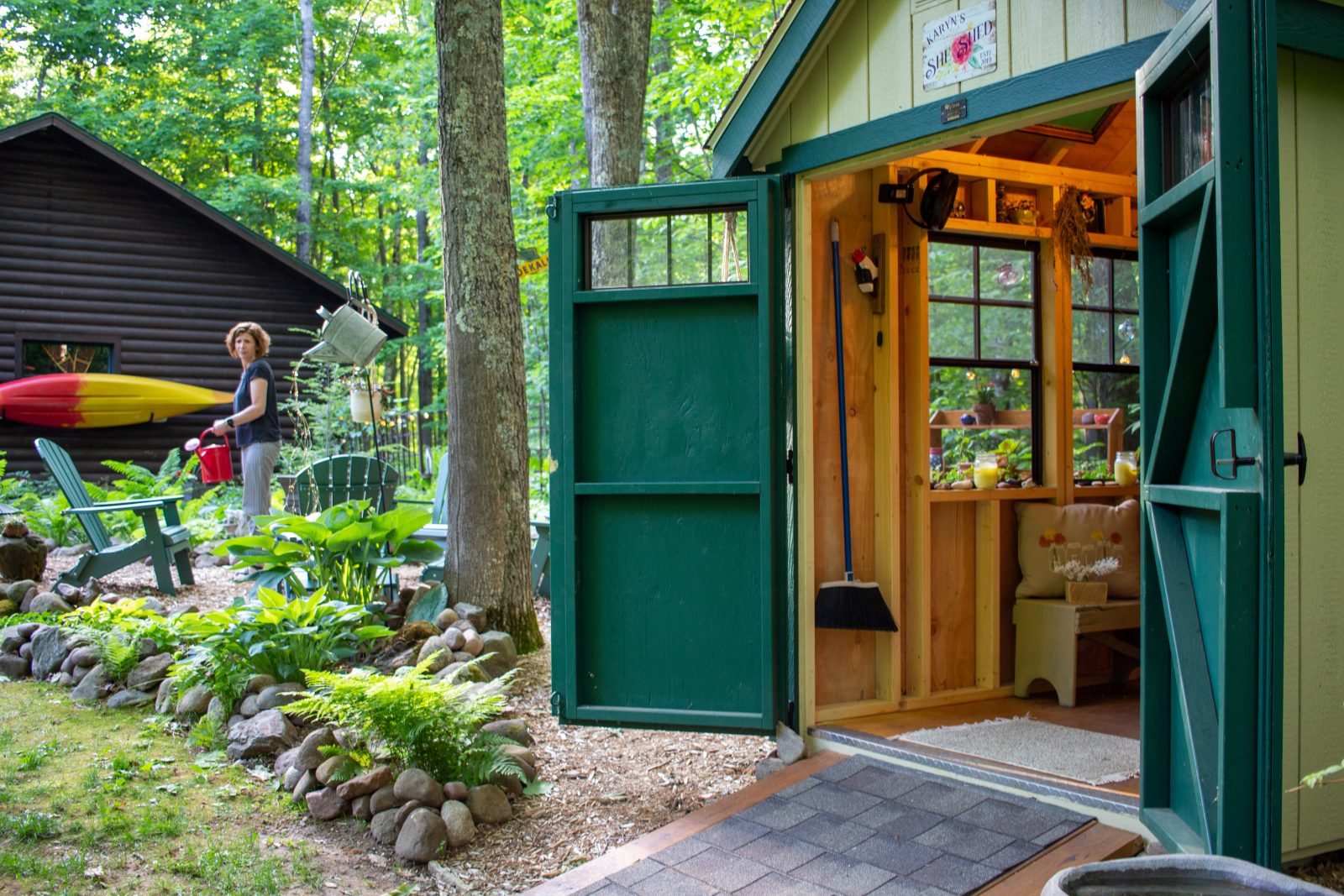 One moment returning her gardening gloves and rake to a spot of their very own, and the next relaxing on a chair inside with her tablet in hand reading an e-book or listening to the Brewer games on the radio.
"It is just a very relaxing, quiet, and peaceful area where I can sit and relax," shares Karyn as she reveals her experience of owning a she shed.
In fact, she has found her she shed to be practical through each season of the year. "In the wintertime, it's where I store all of my garden accessories, my furniture, pots, and tools. In the spring it acts as a greenhouse when the weather has not quite warmed up and I need to keep plants warm, and then in the summertime, it is a place of relaxation."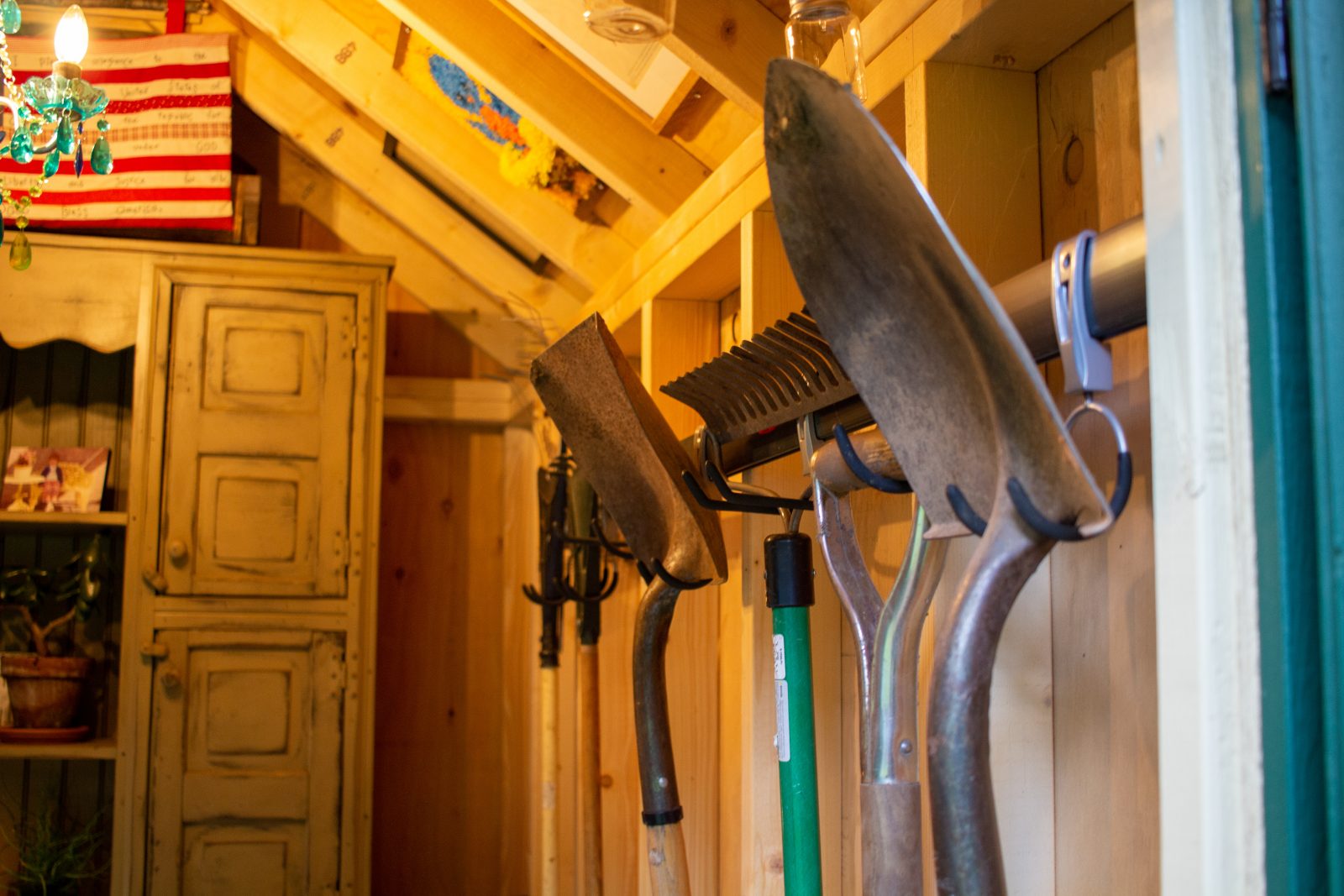 Karyn's relationship with Northwood Outdoors did not end with her new she shed. Over the next couple years Karyn bought several Adirondack chairs (which she found to be flawlessly Wisconsin weather resistant) when she decided to add the sitting area in her garden complete with an electric fire.
"I love to sit out there…We have roasted marshmallows…it is just a very relaxing area to enjoy my garden…and to enjoy the outdoors."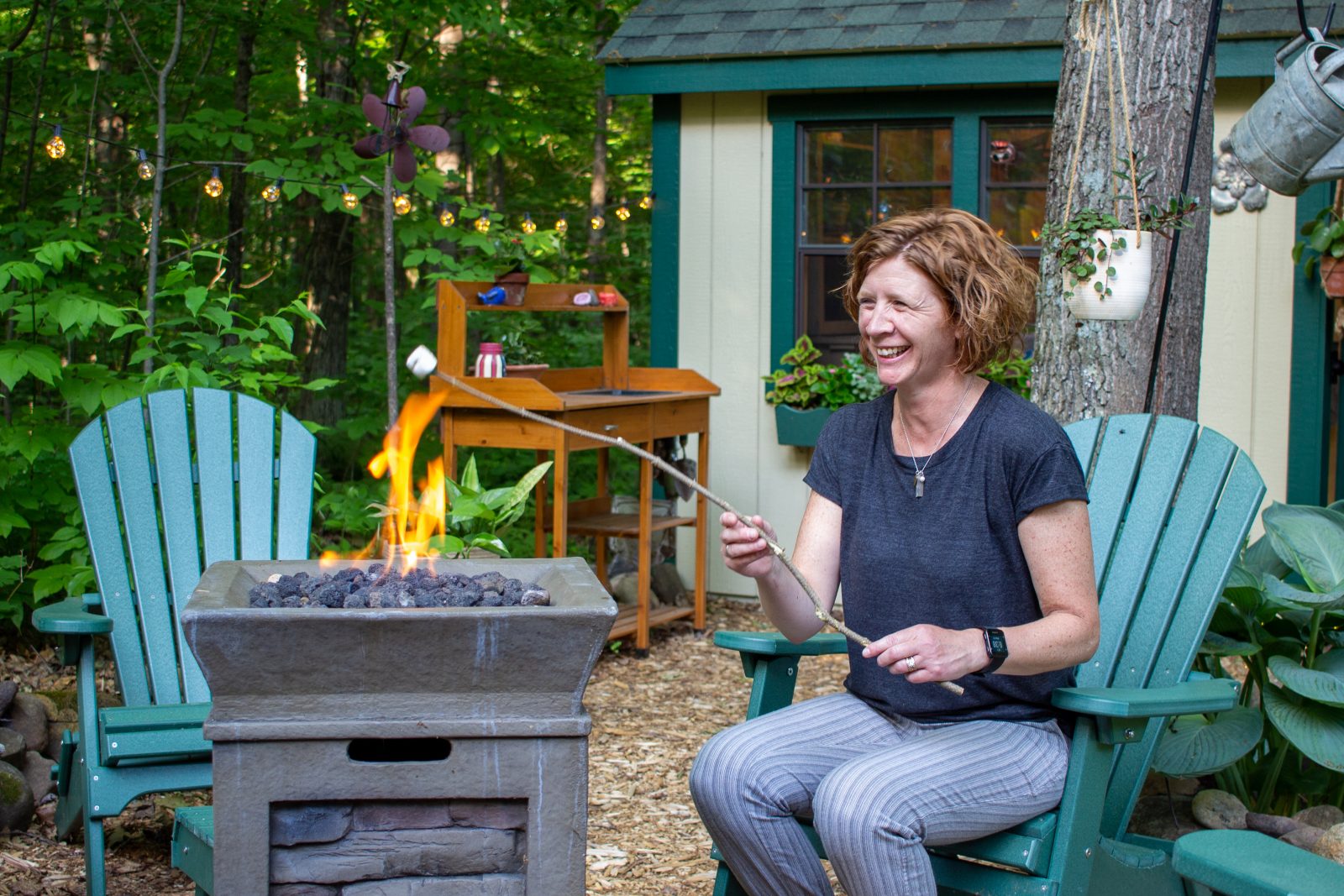 All in all, Karyn is very happy with her garden she shed buying experience from Northwood Outdoors. Her only advice to anyone looking for a she shed of their own is this.
"Go bigger. I would definitely recommend going a size bigger because it fills up very quickly," smiles Karyn as she thinks over her shed space.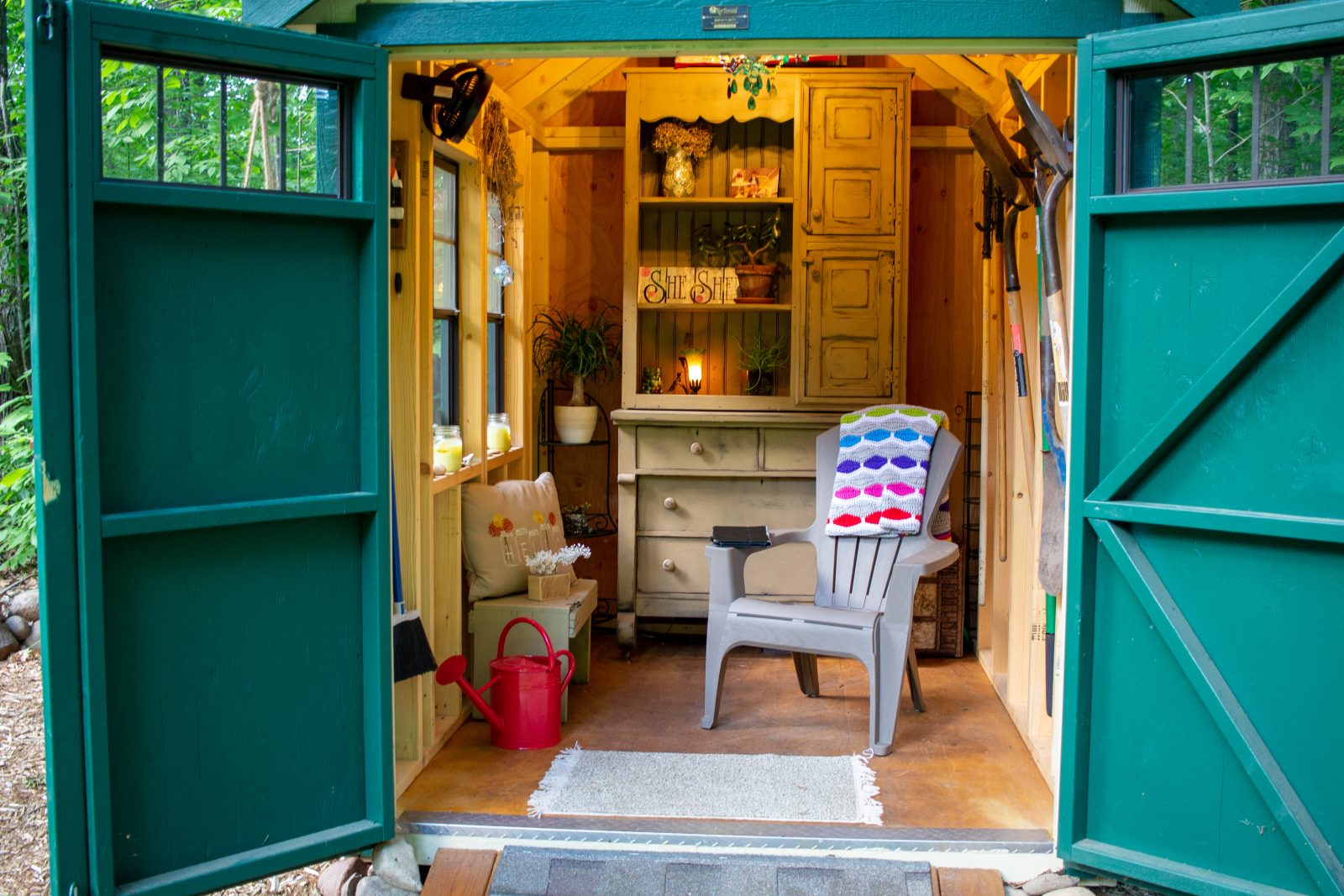 Just as the addition of a garden she shed brought Karyn greater peace, relaxation, and organization, the same can be true for you!
Take a moment to view the following popular shed styles from Northwood Outdoors and see which one best fits your dreams of a she shed of your very own!  
At Northwood Outdoors, we love empowering our customers to fulfill their dreams for space, life, and creativity.
We would be super honored to have you join our community of valued customers!
Find A She Shed For Sale Today!
If you would like to purchase your own she shed in the Wisconsin or Minnesota area, we can help! You can choose from our existing lines of sheds to create your beautiful space, or you can purchase a shed that we already have in our inventory.  Below are some of the custom shed models that we recommend for creating your own she shed.
The Classic She Shed
This is the style of shed that Karyn chose for her she shed. It is an A-frame shed which offers you that classic and beautiful shed look.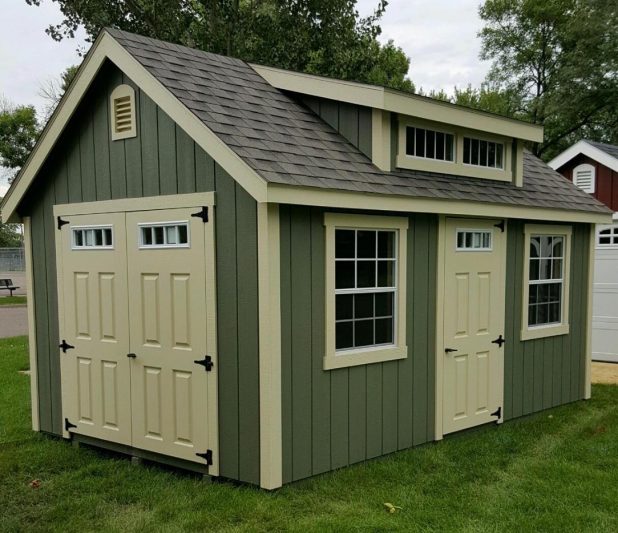 The Villa She Shed
Do you love the modern look? If so, the Villa Shed will undoubtedly add a stylish and stunning touch to your backyard! Attractive. Fun. She Shed worthy. Learn more about its details!
The Cape Cod She Shed
The Cape Cod is a customer favorite! Charming and spacious, the Cape Cod offers you a lovely space to fill with the things that matter the most to you! See for yourself!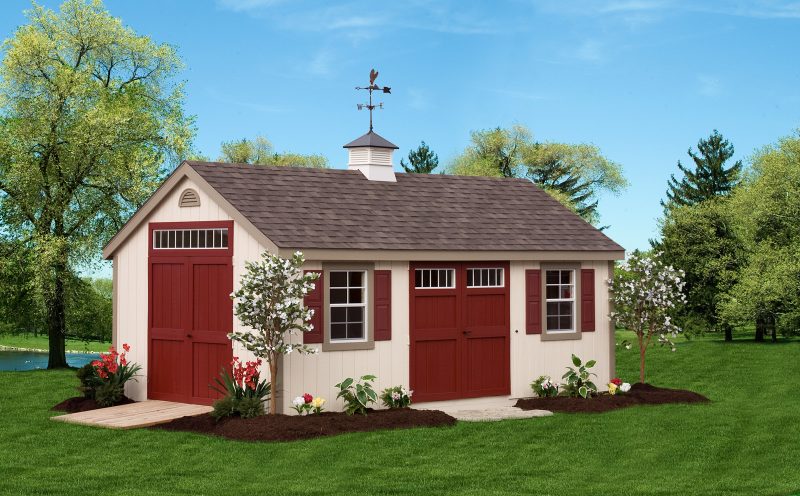 There Are More She Shed Styles Available!
If the above shed styles did not click with your tastes, check out all our sheds!