YOU! Yeah you reading these words! YOU have a hobby that you have grown in over the years. You stay up late at night toiling at your craft. You've spent so much time on your hobby that you have become an expert in your local community. You know the quick tricks to make something get done in a way that is beautiful, and unique. Your friends compliment you on your creations all the time.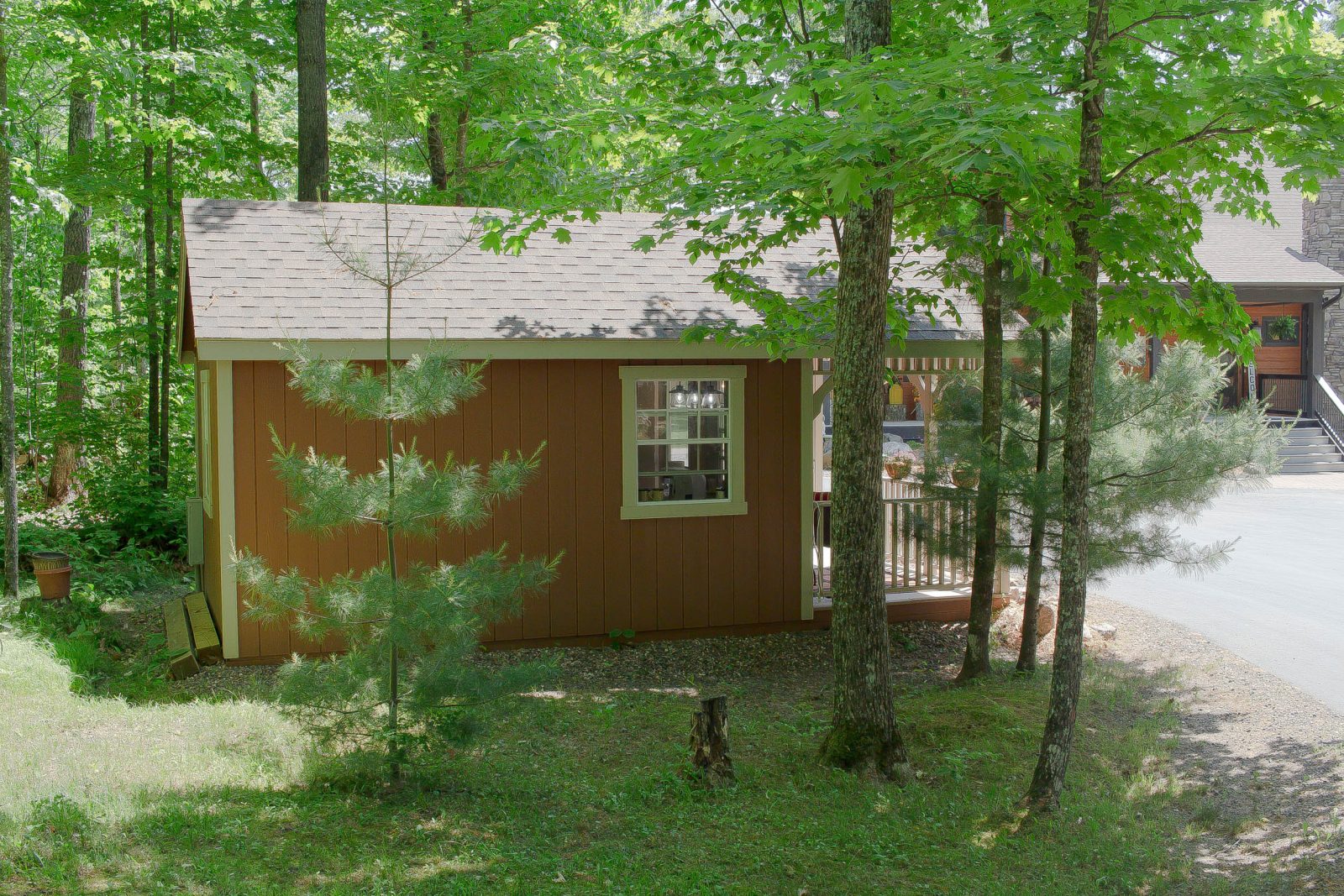 Find Space For Your Hobbies With A Hobby Shed
Do you have an image in your head of what your hobby is? Music? Cross-stitch? Gardening? Whatever your hobby is, do you have it in mind? Great! Now stick with us for a moment. You have this burning passion for spending time doing your hobbies or craft but no designated space to do so. Maybe what you need to do is what our good friends Gloria and Doug did. Purchasing a storage shed will allow you to have a designated space for your hobbies, just like Gloria, to continue her pursuit of sewing.
Some of Doug and Gloria's backstory is that they built themselves a beautiful new home in Northern Wisconsin. They love all things Northwoods and love living there. The sounds (or lack thereof), nature, and the peacefulness is everything they ever wanted.
When traveling to Doug and Gloria's home, you arrive at their property and find yourself at the beginning of a long driveway. You can see the wonderful landscape right before you. They have huge, beautiful, mature trees of all varieties. These trees give you the feeling that you are entering an enchanted forest, full of mystery and wonder.
As you come closer to the home, you see a large, beautiful evergreen tree. You can see bits of brown and white poking through the trees bow. Is that a doe with her fawn? NO! It is Gloria's beautiful hobby shed for sewing. Or, as Doug and Gloria like to call it, "Gloria's Sewing Shed".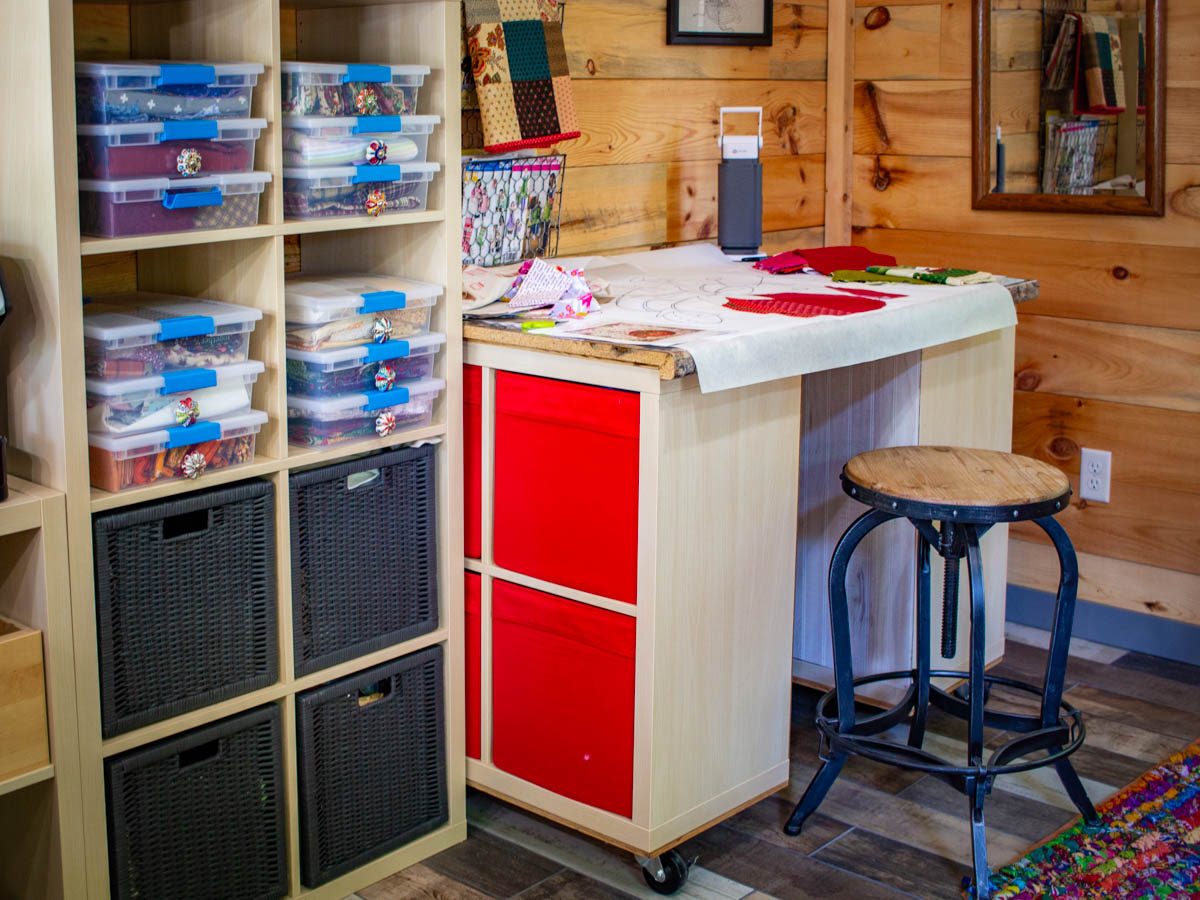 When Doug and Gloria built their new home, Gloria was so selfless that she didn't see the sense in taking up a whole room just for her hobby of sewing. She was more worried about making her home a place of warmth and invitation. A welcoming place that made you feel like you were in your own home.
We all can think of someone like Gloria. Someone who selflessly gives, even if it means inconveniencing themselves. When Doug saw what his wife was doing, he knew it was time to make a dream come true for her.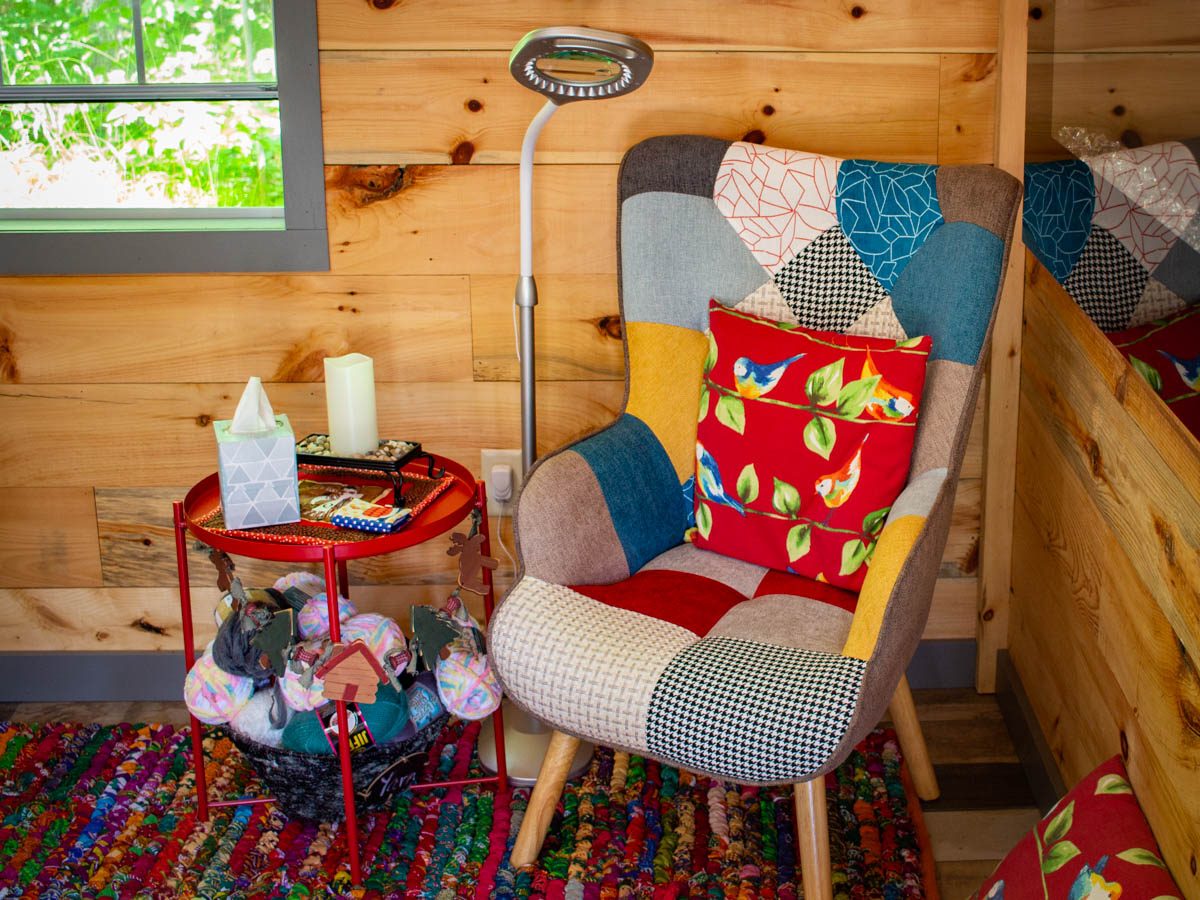 Doug and Gloria ventured out in order to find a place for their dream to come to life. A hobby shed (or She Shed as others may call it) for all of Gloria's sewing!
As Doug puts it…" She can come out on here (her hobby shed) any time she wants and sew her little heart out". If that doesn't sound like a winner of a husband, we don't know what does!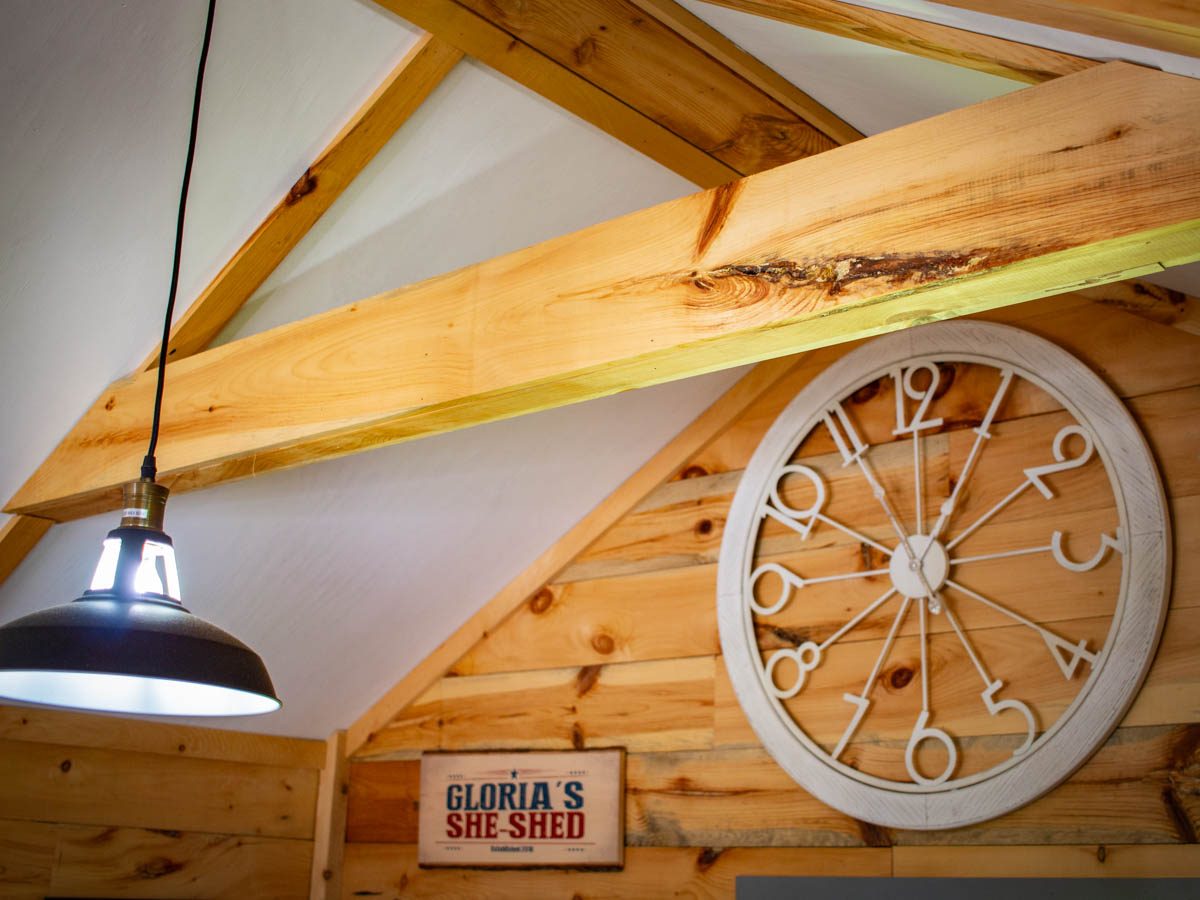 Selecting The Perfect Shed For Your Hobbies
Doug and Gloria began looking around at the options close to them, and found that we (Northwood Outdoor) were going to be the best fit. Not just for what they wanted but what they needed to make their reality come true!
When wanting to build the craft shed Doug points out "Northwood was great to work with. They were prompt on delivery and told us what we could do when building".
Choosing Exterior Options For The Hobby Shed
One of the things they were most excited about was how many options we could provide them with for design. They were able to select from the wide variety of colors for the hobby shed that they were planning to build. They ultimately chose to go with our Cape Cod Cabin!
While the color was important to them, Gloria and Doug were also able to select what worked best for them when it came to window placement and electrical outlet placement.
"The whole design of this place is based around the furniture Gloria needs to do what she wants…we even have this (hobby shed) fitted with heat and electricity".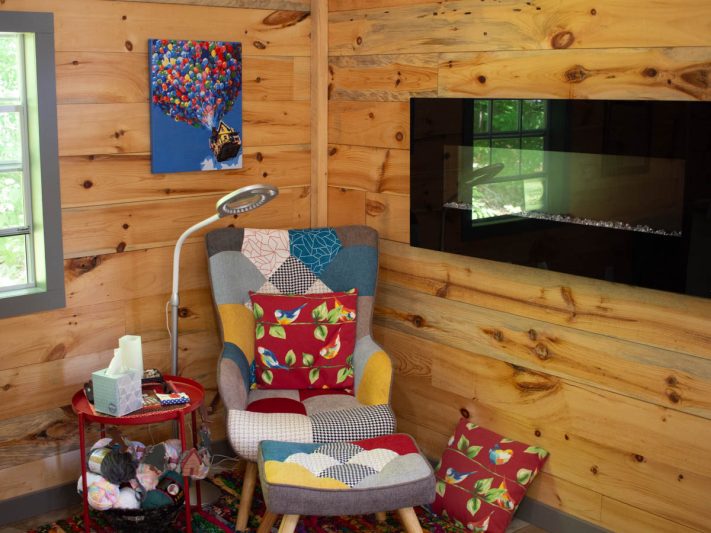 Think about that. You could be building a place just like Gloria and Doug did to have a sewing shed, hobby shed, or craft shed. You can call it whatever you would like because it is your shed for your hobbies!
Interior Design And Options For The Hobby Shed
When it came time to get to work on the way the interior looked, Doug and Gloria took time to make every precious little detail unique to what she needed and wanted!
Maybe you want to be able to use your hobby shed all year round! Doug and Gloria are able to do just that! They had foam insulation blown in making it weather, bug, and pest proof.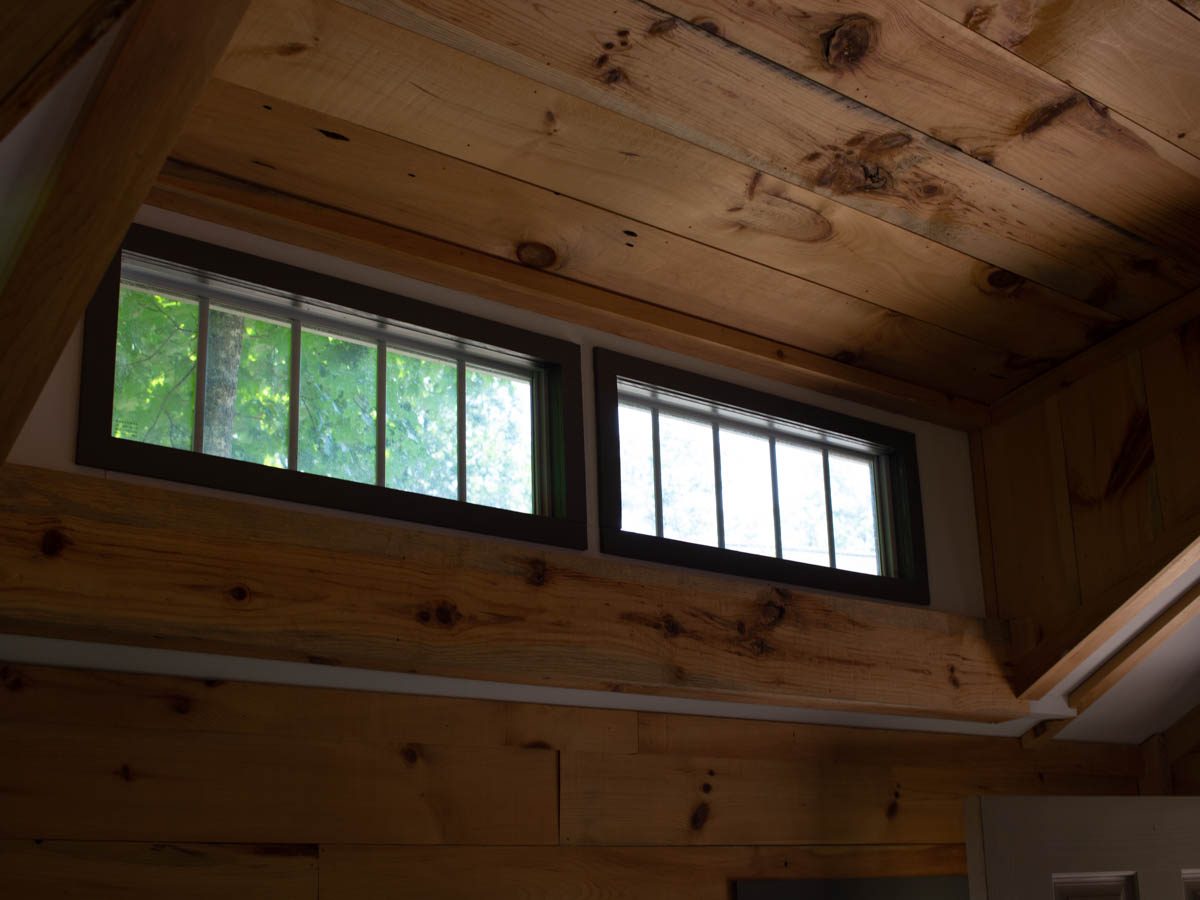 They love the comfort that the craft shed offers them all year round, even in the harshest of winter seasons that Wisconsin brings them. They know all of Gloria's needs will be met with the modifications they have put in place.
Once this crucial step was done, Doug and Gloria were able to take the ideas they had and move on to new levels of creativity!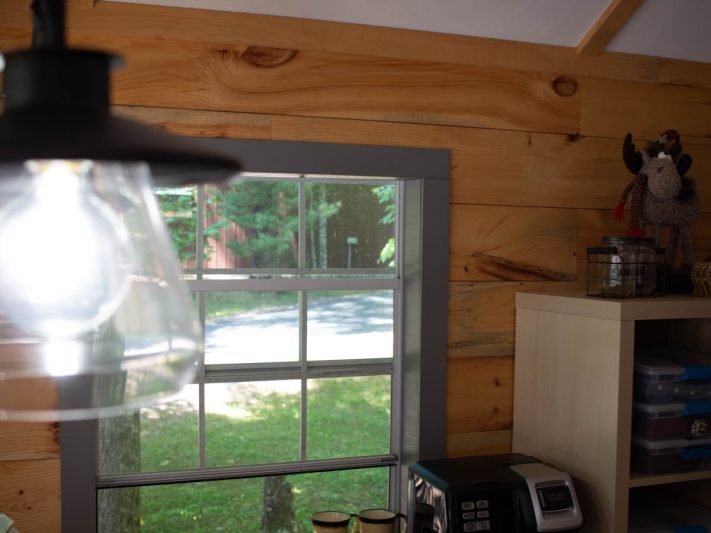 Doug and Gloria love to travel, especially to Texas, and recently they were able to visit "Magnolia".  Like anyone with design sense, they were excited to go see the creations Chip and Joanna Gaines have developed. 
While down at Magnolia they saw the shiplap walls that Joanna and Chip Gaines have made so iconic. They fell in love with it and were able to bring that design style that they love, back home.
When they came home they were able to get in touch with a local lumber yard and tell them what they wanted to do. And boy did they deliver!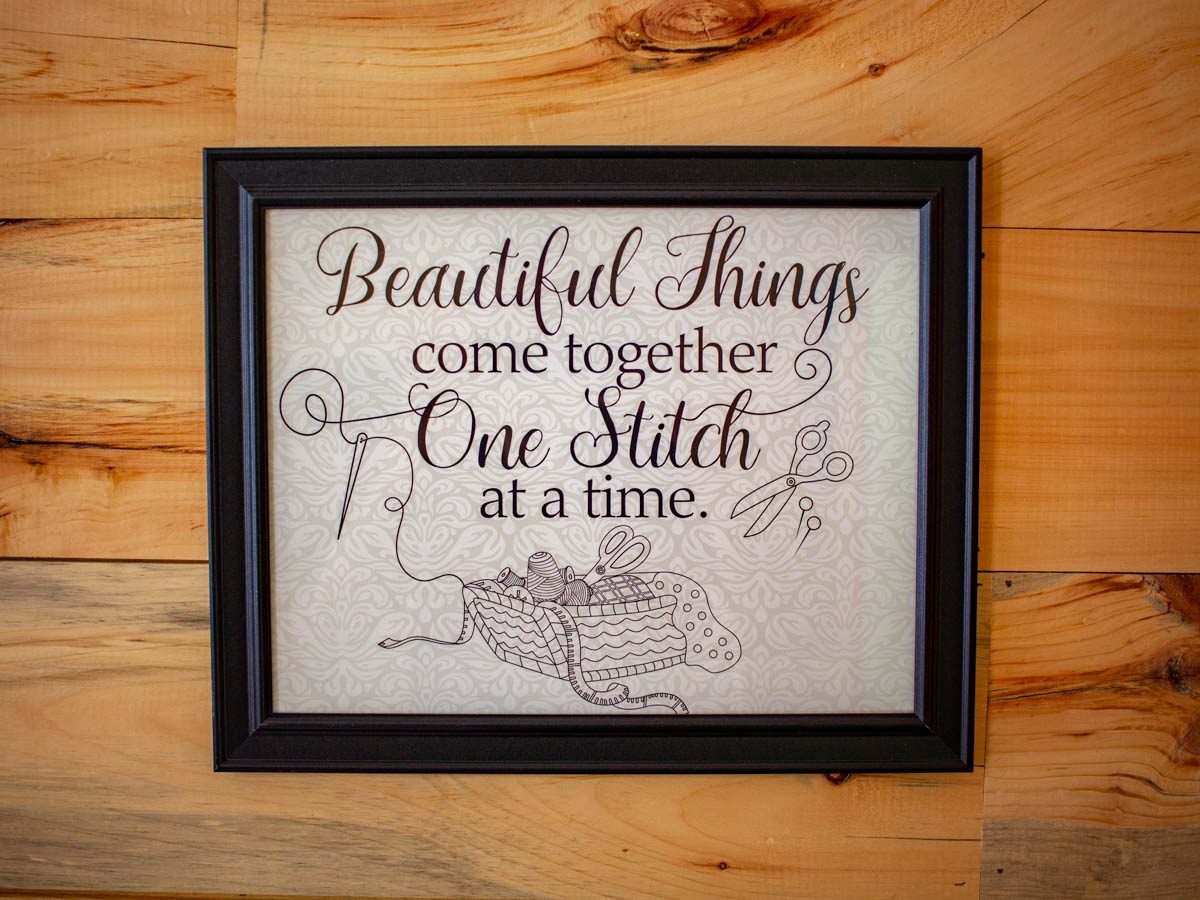 Doug and Gloria are just tickled that they were able to have the floor-to-ceiling shiplap walls that were made locally to their desired requests. It truly brings the space together, making it something uniquely their own
Gloria and Doug are in love with the way their hobby shed is beginning to look. They have the custom shiplap walls that they always wanted. They have a custom-painted exterior, and even more importantly, they have a space just for Gloria's passion.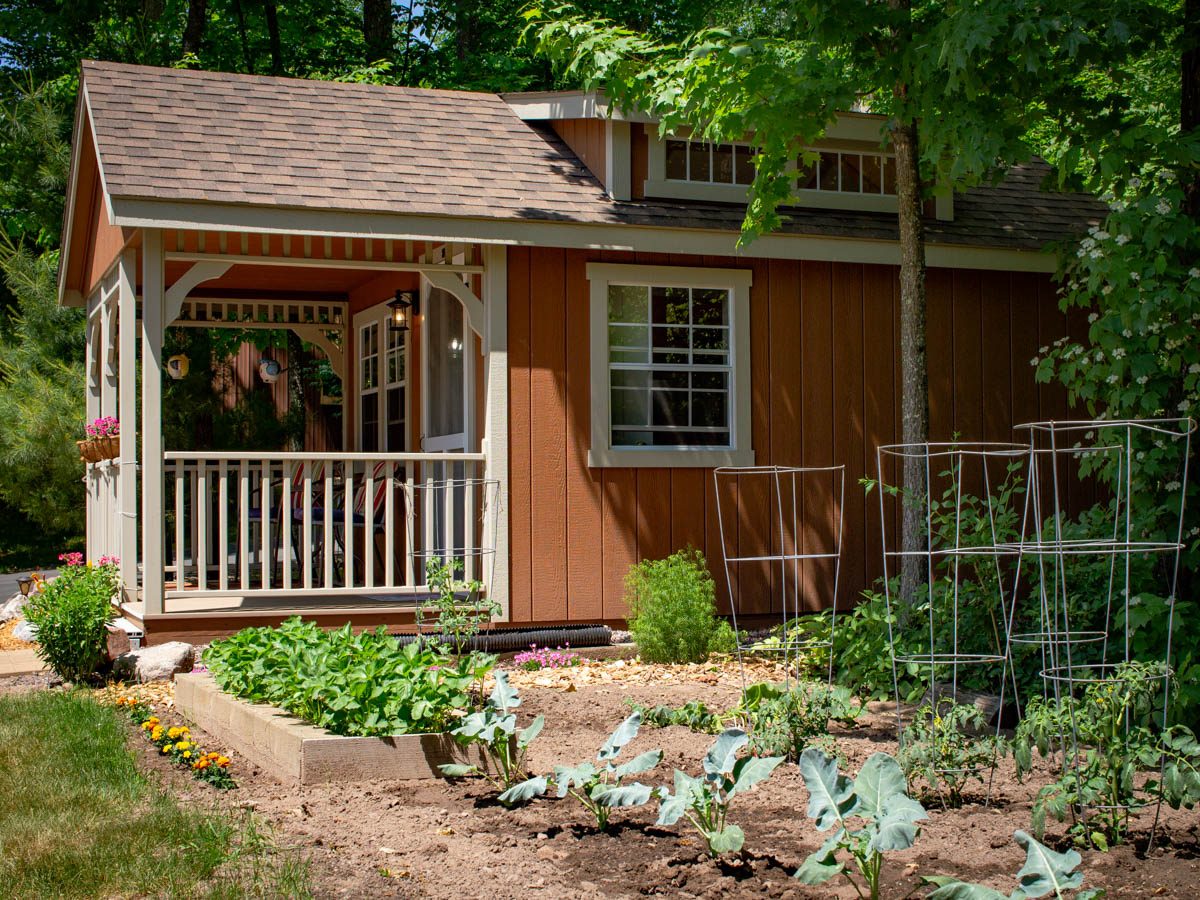 The only thing that is missing at this point is to put on the final touches they want, to truly make this space uniquely their own!
Doug is quite the handyman, and so he and Gloria were able to finish off the inside of their hobby shed in about 6-7 days. This is where the personal customization was able to begin for them.
Adding Electric To The Hobby Shed
Knowing that this was going to be a year-round hobby shed, they made sure to have the proper hookups for their electrical needs. In doing so, they were able to put in a beautiful electric fireplace. By partnering with Northwood Outdoor, they were able to customize where they wanted to have the electrical outlets.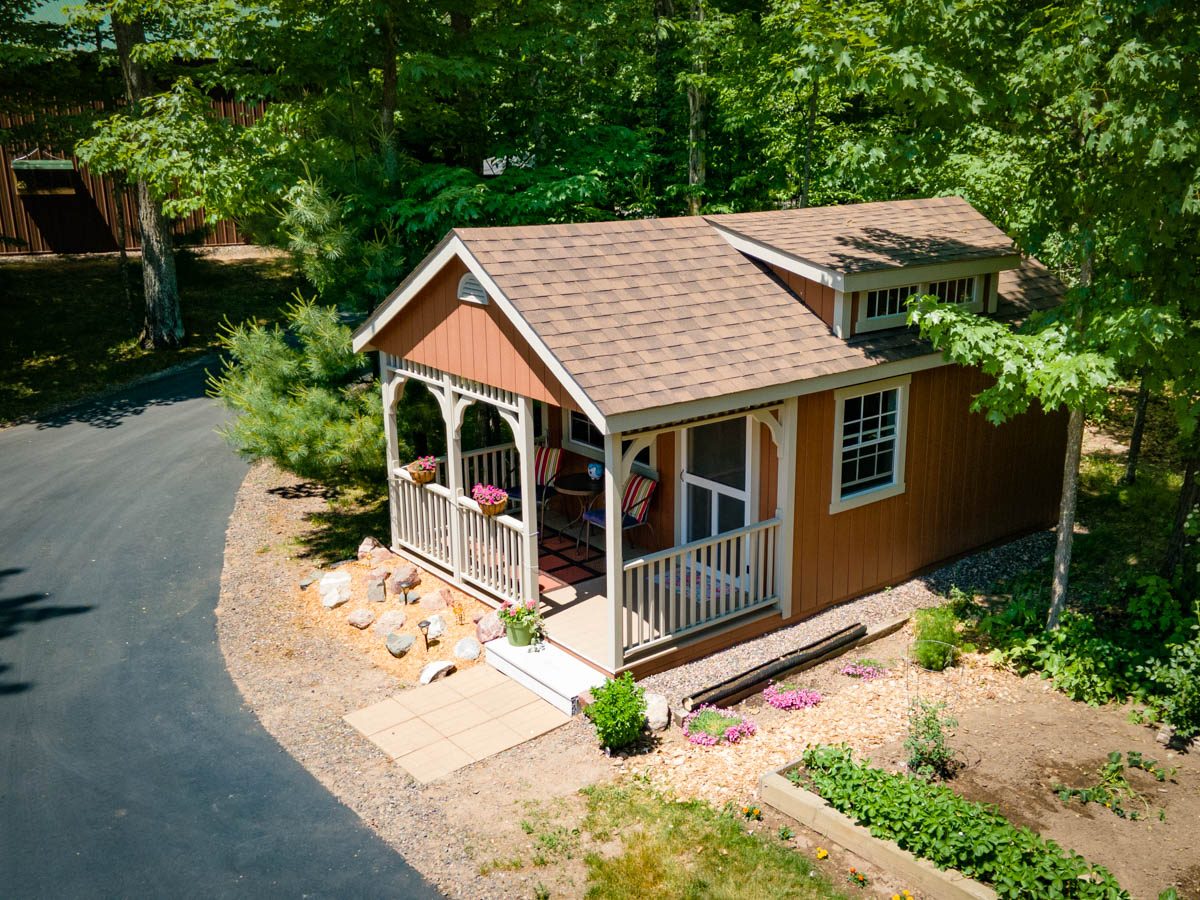 By selecting where the outlets went they were able to make sure that Gloria had the necessities of life plugged in and ready to go. Some of her essentials are a coffee pot, magnifying lamp and of course, her sewing machine.
Now we don't know about you, but just hearing that Gloria has a custom hobby shed to go and spend hours at a time to sew makes us proud to serve our customers! 
Adding The Finishing Touches To The Hobby Shed
Now, the inside is just how they wanted it. The outside is painted and trimmed the way they wanted it. All that was left was to make one final touch to create a truly special place to spend time.
Doug and Gloria took the extra time to add in some outdoor seating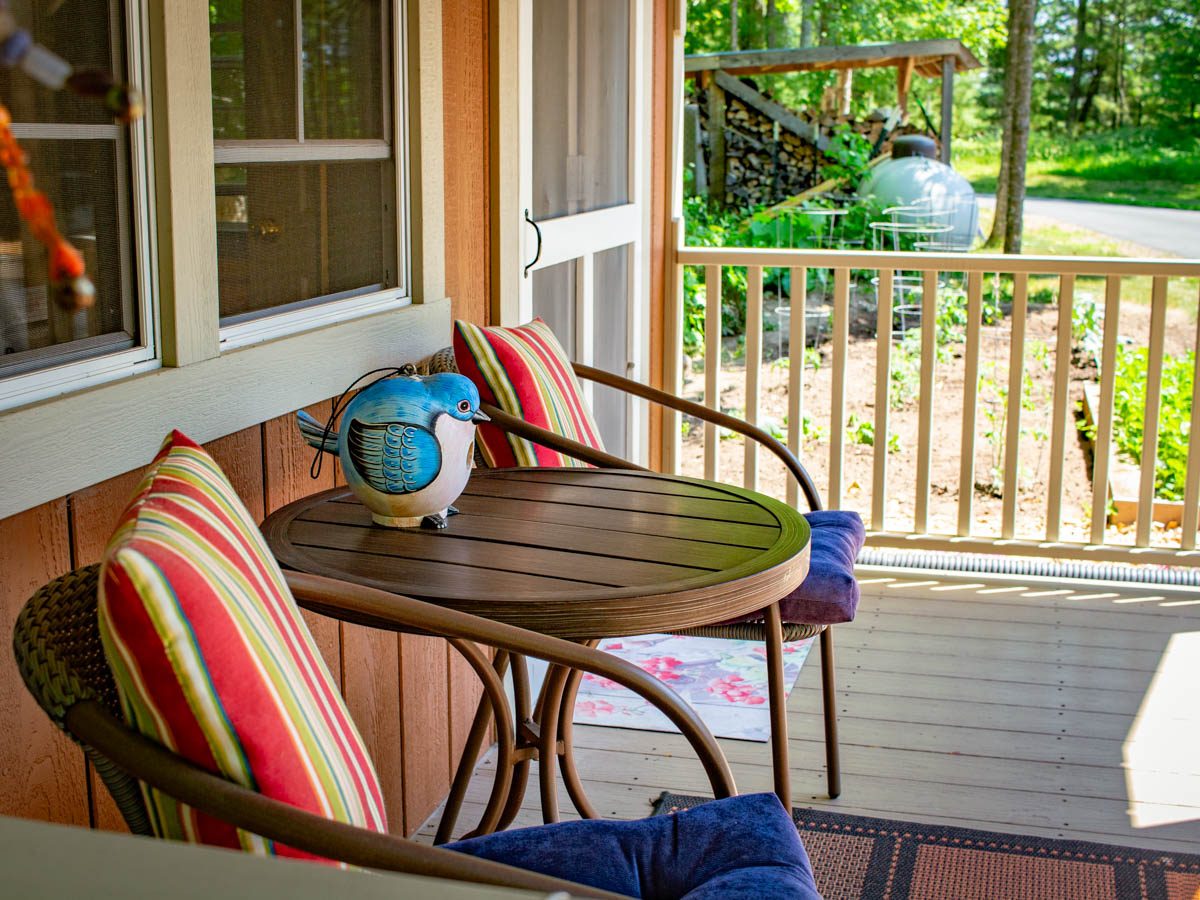 Now they are able to enjoy their surroundings over a nice cup of coffee on the front porch of Gloria's hobby shed before she is off to her next project.
We felt so honored that they chose Northwood Outdoor to build their dream hobby shed.
Do You Want A Hobby Shed Of Your Own?
Maybe your dream is to have a hobby shed for what you love to do. Purchasing a Hobby Shed will allow you to have a designated space for your hobbies, just like Gloria, to continue her pursuit of sewing. Get in touch with us! Our passion is building your passion!