Your Own Get-Away Spot
The Cape Cod Prefab Cabins are a perfect way to finish out your vacation property. This cabin is built from our popular Cape Cod Garden Shed with a porch added onto the front to create a cabin feel and a place for relaxing. The interior is a wonderful space to design your own vacation cabin or backyard getaway. Choose from our available shed options to customize your own prefab cabins.
Our prefab Cape Cod cabin sheds are versatile and can be used for a variety of awesome purposes. Check out some of the following ideas for inspiration!
Backyard Guest House
Ways to Use a Shed for Hosting Guests
Retail Store
McKenzie Lakes Orchard | The Cabin Shed Retail Store
Hobby Shed
She Shed, He Shed, Hobby Shed?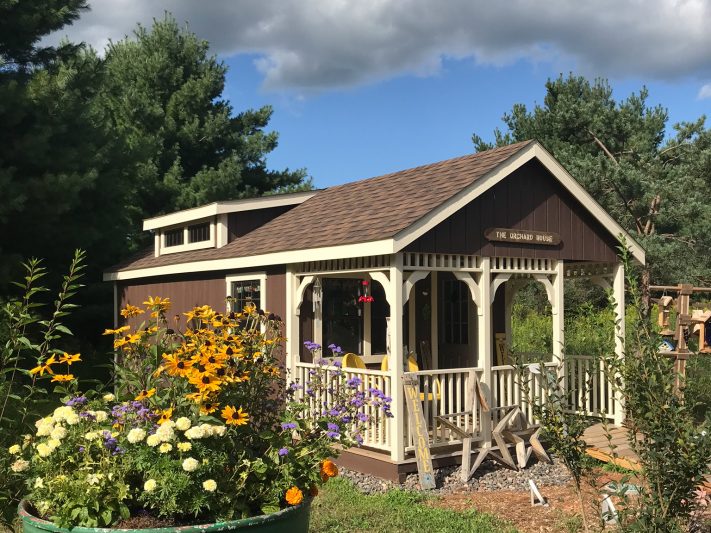 Choose Your Size
12' Wide
| Size | Wood |
| --- | --- |
| 12x16 | $9795 |
| 12x18 | $10595 |
| 12x20 | $10895 |
| 12x24 | $12295 |
| 12x28 | $13695 |
| 12x30 | $14195 |
Choose Your Colors
Choose Your Options
Cupolas, weathervanes, ramps, windows, vents, lofts, dormers…so many options to personalize a shed or garage just for what you need!
Cape Cod Prefab Cabins Photo Gallery
Inspiration You Can Build On
Browse our photos below to see some of the possible designs and uses of the Cape Cod Cabins. When you are ready to craft your own vacation spot, contact us through the quote request form below or visit us at one of our shed lots and furniture stores.