We know that feeling. When you need storage but don't want it to take up the whole yard.  A 10×16 storage shed may be just what you are looking for.  Big enough for serious storage needs, and yet small enough to fit in most yards, the 10×16 storage shed can be so much more than just a place to keep your snowmobile and ATVs in the Wisconsin or Minnesotan off-season. These sheds can be finished out to be whatever you need.
An office? No problem!
A traditional shed? Well, that's what they are called right?
A comfortable guest quarters? Absolutely!
In this ultimate use guide, we are going to lay out for you the ways you can make your 10×16 shed the best situation no matter your needs or desires.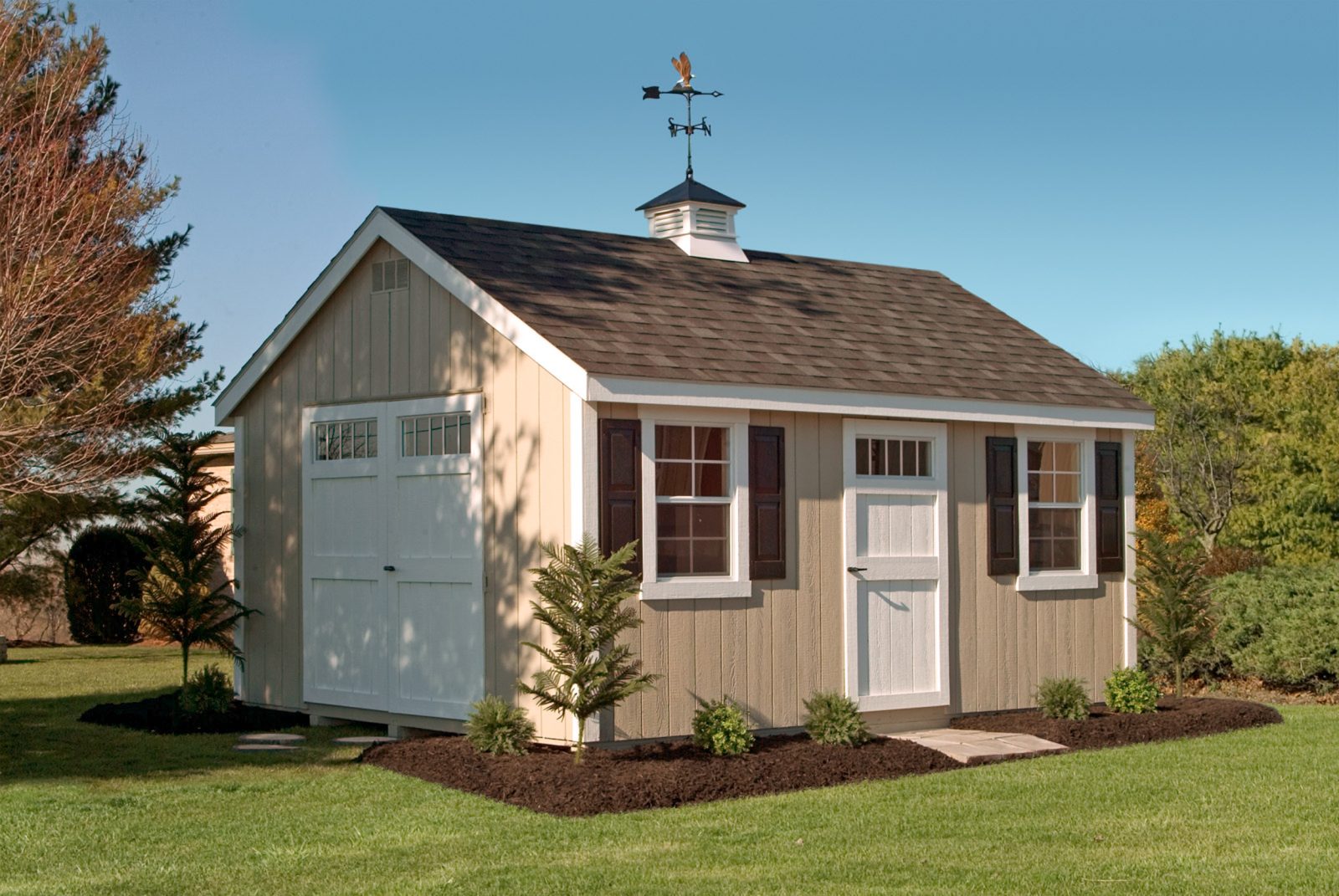 10×16 Office Shed
We have learned in recent history that humanity is always resilient. But with that resilience comes the need for changes. We now know that many of us are able to work from home with relative ease. And honestly who ever really wanted to go to the office every day anyway?
Maybe you thought about adding on to the house or kicking one of the kids out of their bedroom and having them share a room with their sibling. Hey, we all did it as kids so why can't they? But what if the solution you need is to be at your house but not in your house? What if having an office at home could be easier than you think? Enter in the 10x 16 shed and you have the canvas for a beautiful home office.
As you sit here and relish in the idea of having your own workspace at your place you may be thinking? " How on earth is a 10×16 shed going to be a suitable office?" So let us put that in terms that are pretty easy to grasp.
Home offices are usually 50-150 square feet. That means a 10 by 16 office shed will be on the high end of the area. This means that you could have a multi-use office. Imagine being able to have a place where both you and your spouse or a business partner can comfortably have 2 desks and 2 chairs and a nice printing station, ample file storage, and even a small sofa to relax. This lets you have all the supplies and space you need to keep your business moving forward.
Here we have diagramed on possible configuration for a 10×16 backyard office shed.  Of course, you are in the driver's seat if you are building your own office space, this is just one possible configuration.
Sample 10×16 Office Shed Layout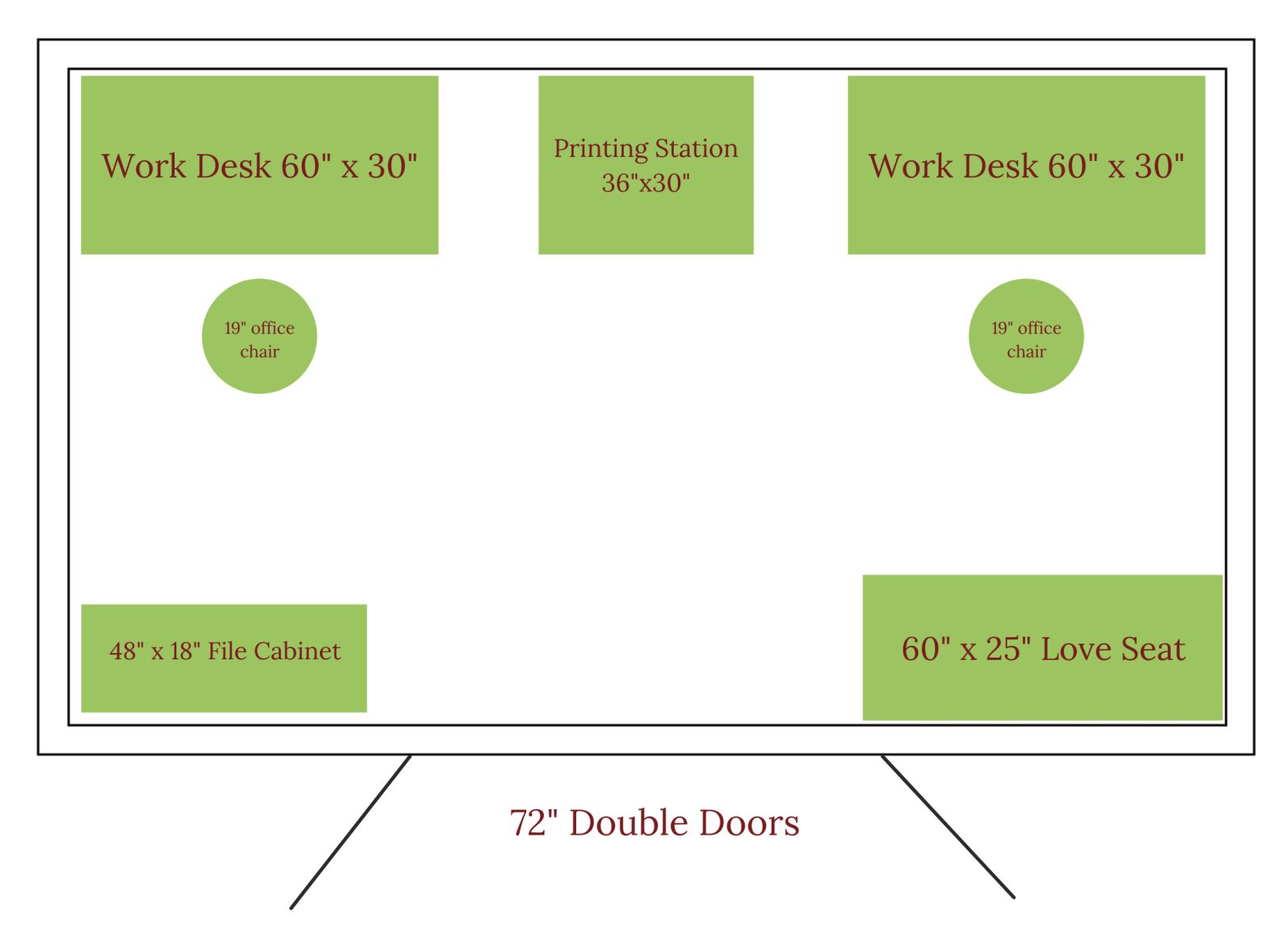 This goes to show that a 10×16 shed really does offer the potential to fit most needs of a typical small office.  This could give you that true separation of work and home life so you can actually start to "leave the office" before you take your "long" commute home. 
The Traditional 10×16 Garden Shed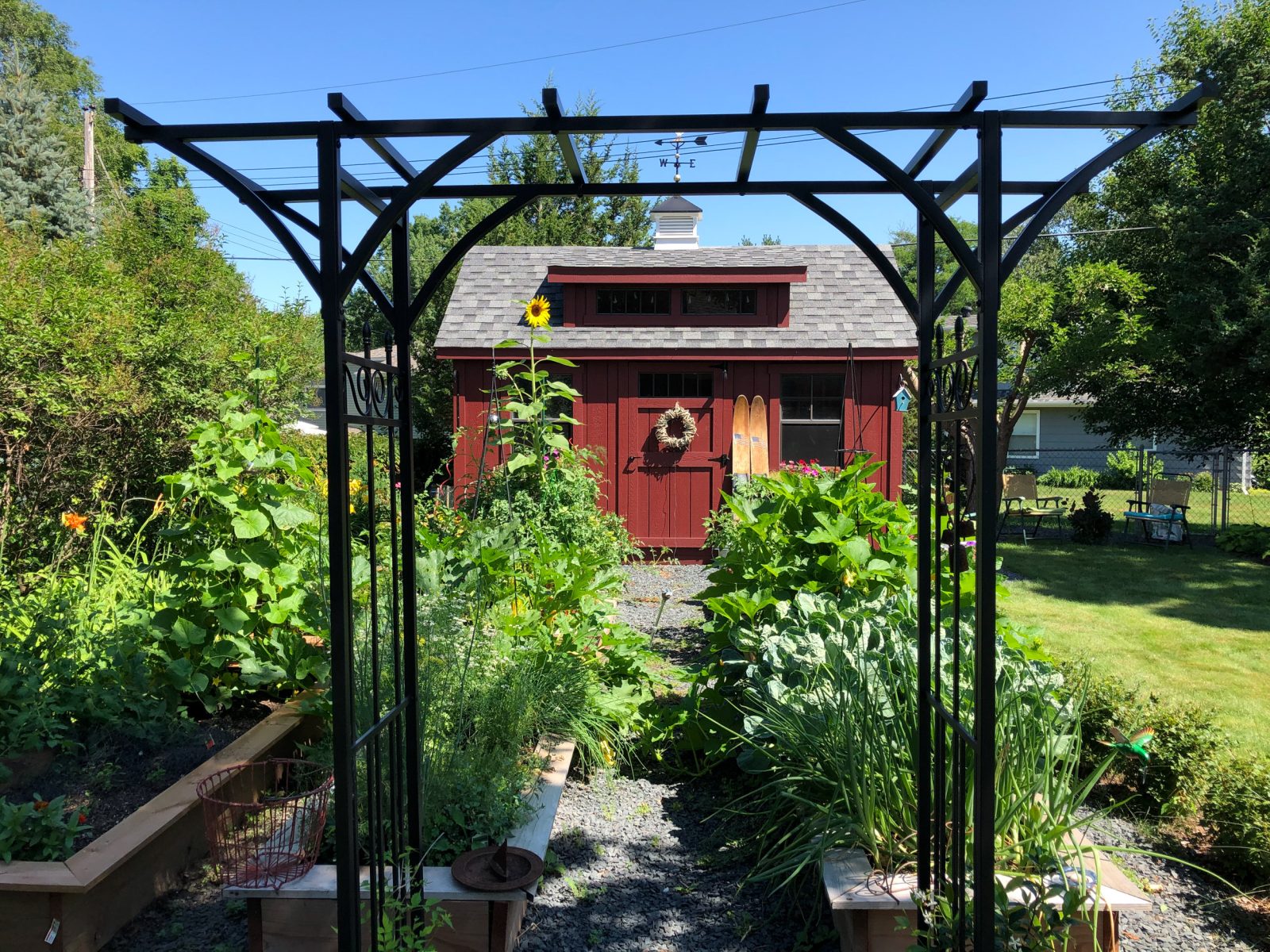 When you start to look for a garden shed you may think that trying to use a plastic resin shed is all you will need. The truth is they don't hold up well and can become quite the eyesore when they begin to fade, crack, and eventually fall over. That is why a 10×16 shed built by a custom builder is the way you want to go.
A quality shed company should offer you the ability to pick your color, size, roof, and the materials used all with ease.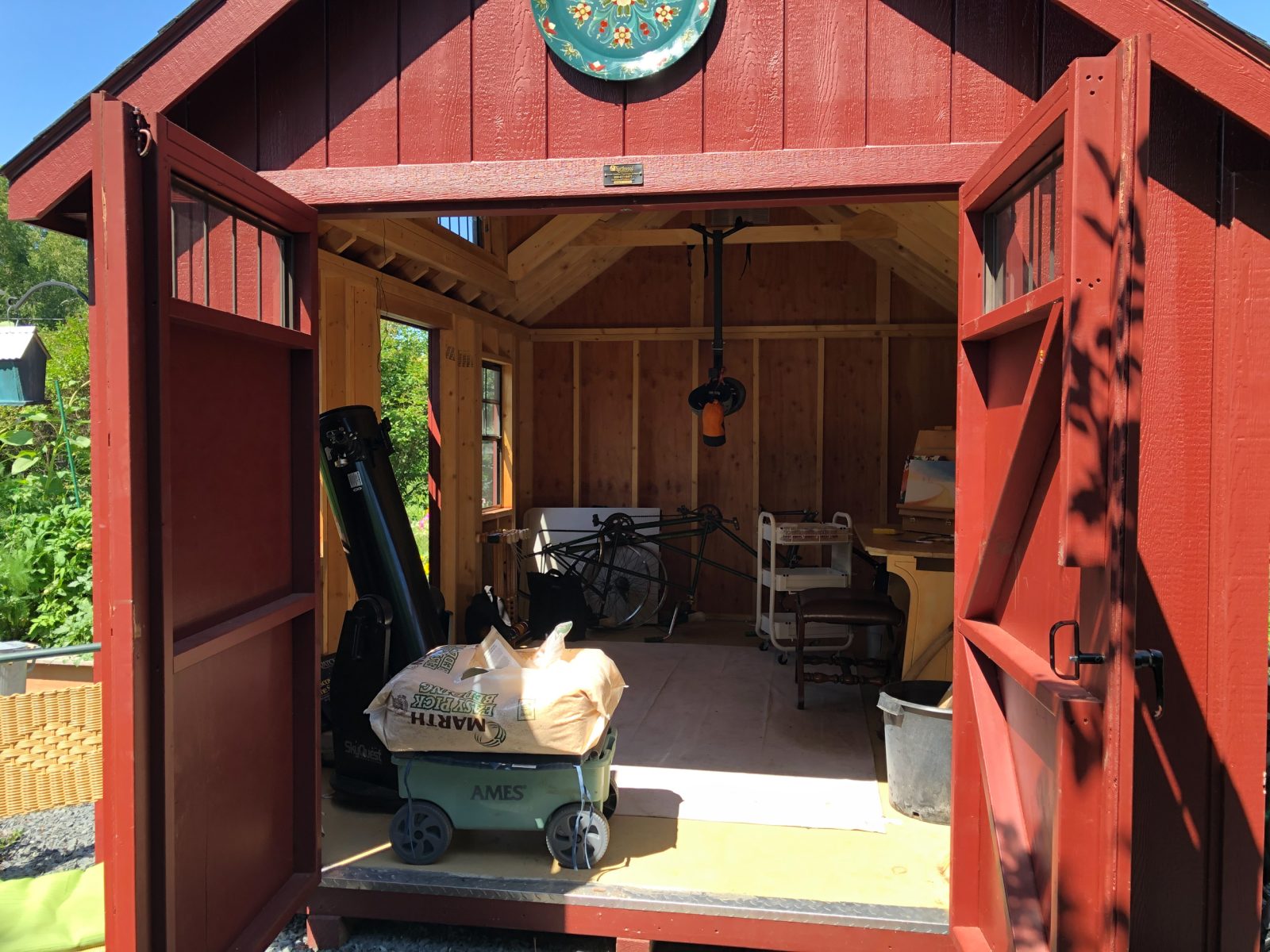 When you look at getting a 10×16 shed for your garden it's hard to imagine what all would need to fit in there. We know that the grass and garden care of Wisconsin and Minnesota are second to none. We want to see you be able to take care of the property you have and do it well. So let us give you an idea of what we think you could be missing out on.  
Here is a diagram of one possible layout of a 10×16 garden shed to see what you might have room for.
Sample 10×16 Garden Shed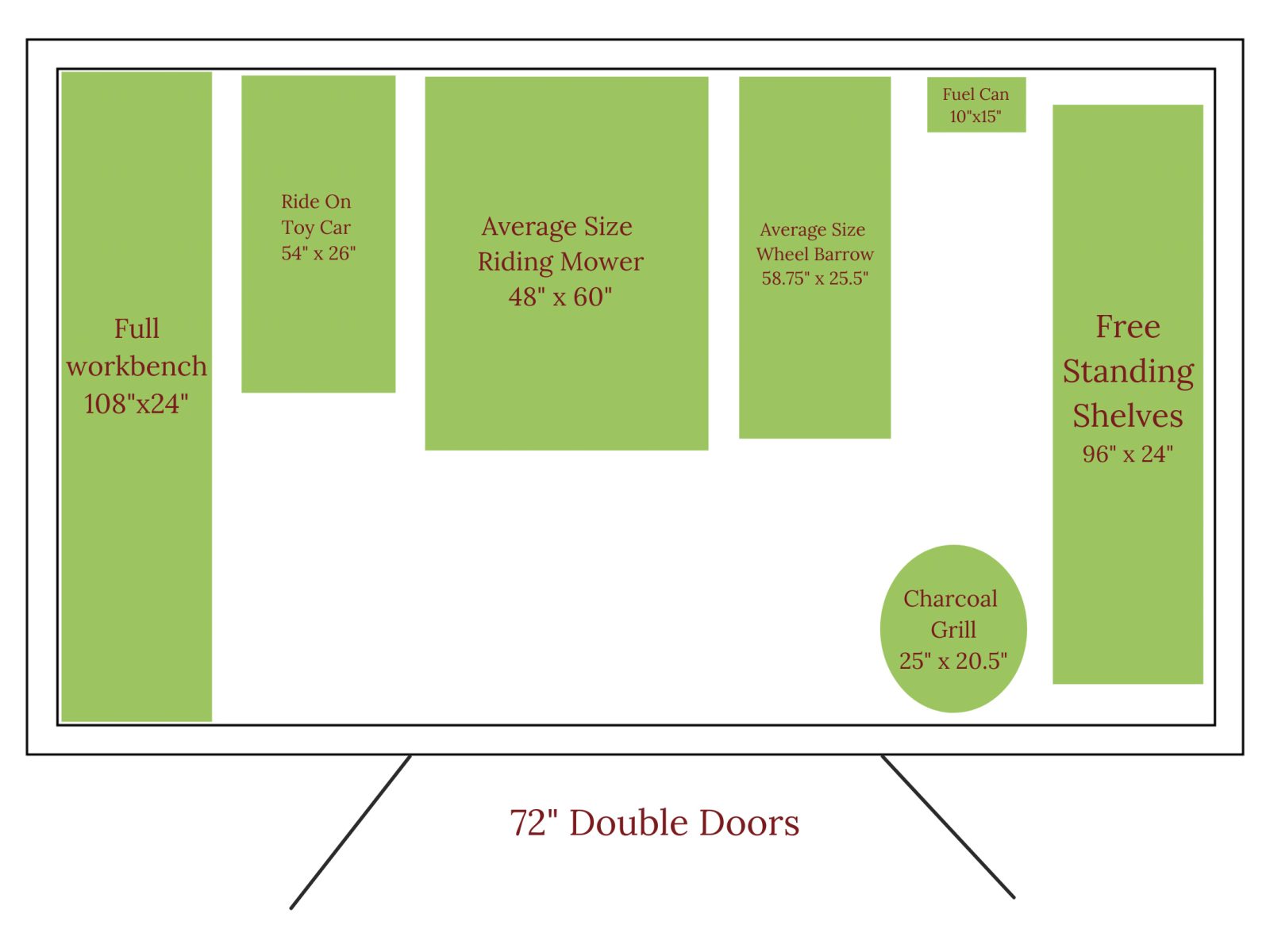 A 10×16 shed is going to give you the ability to have a push riding mower, gas cans, a wheelbarrow, a ride-on car toy, a charcoal grill and a free-standing shelving unit comfortably, and even a nice long workbench, and that doesn't even begin to include the ways that you can use the wall space for additional storage. Such as hanging your hand tools, extension cords or Christmas lights. As you can see from the diagram, there is still some room left over for other things as well. 
The 10×16 Guesthouse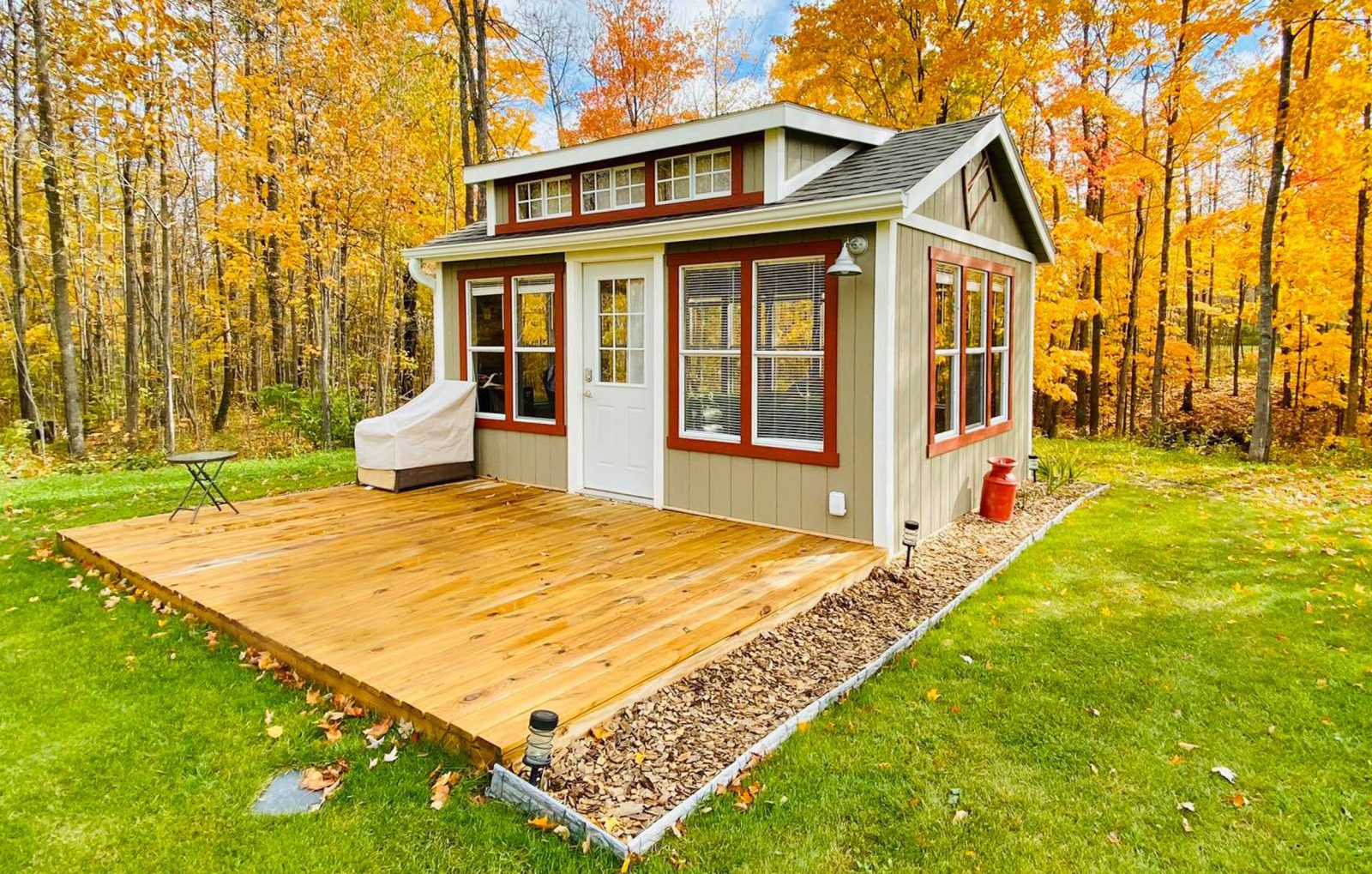 We can all think of a time when we were invited to stay with family but didn't really feel how you say…welcome. Maybe it was the way they barged into your room while you were still asleep to get their morning workout done. Or maybe it was that they were up till all hours of the night and you were simply using their place as somewhere to crash for a business trip.
We know you don't want to put your guest through the same thing so why not consider getting a 10×16 shed and finishing it out as a guest quarters?
We know that comfort and privacy are the number one thing that you want when hosting.
Here is a sample layout idea for choosing to use a 10×16 shed as a guesthouse.
Sample 10×16 Guesthouse Shed Layout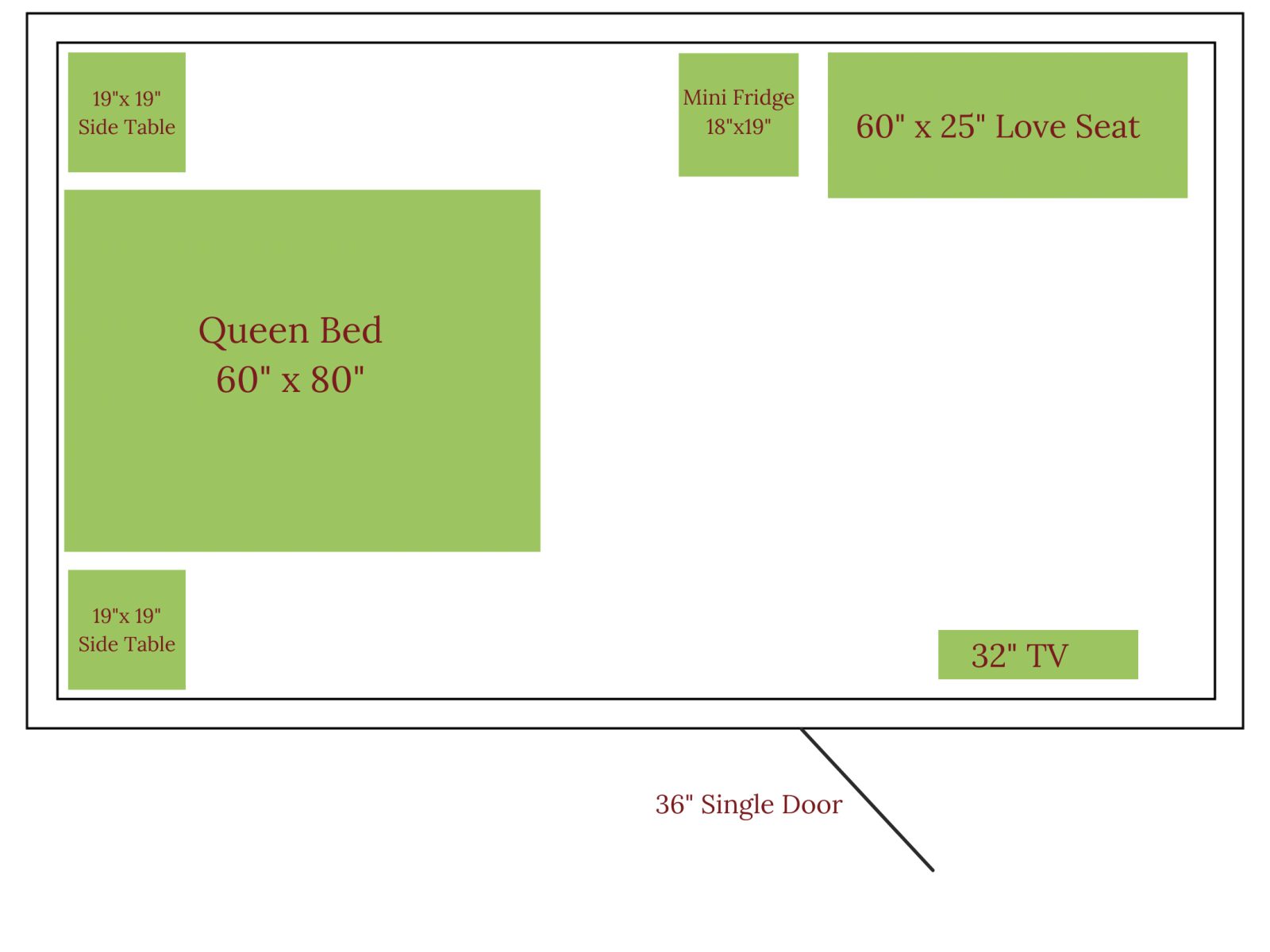 A guest house shed lets you do both! Allowing you to fit in a queen-sized bed, 2 end tables, a mini-fridge and a small couch and TV mounted to the wall. You might have a harder time getting them to leave than you did getting them to come and visit in the first place!
The Office/Guesthouse Combo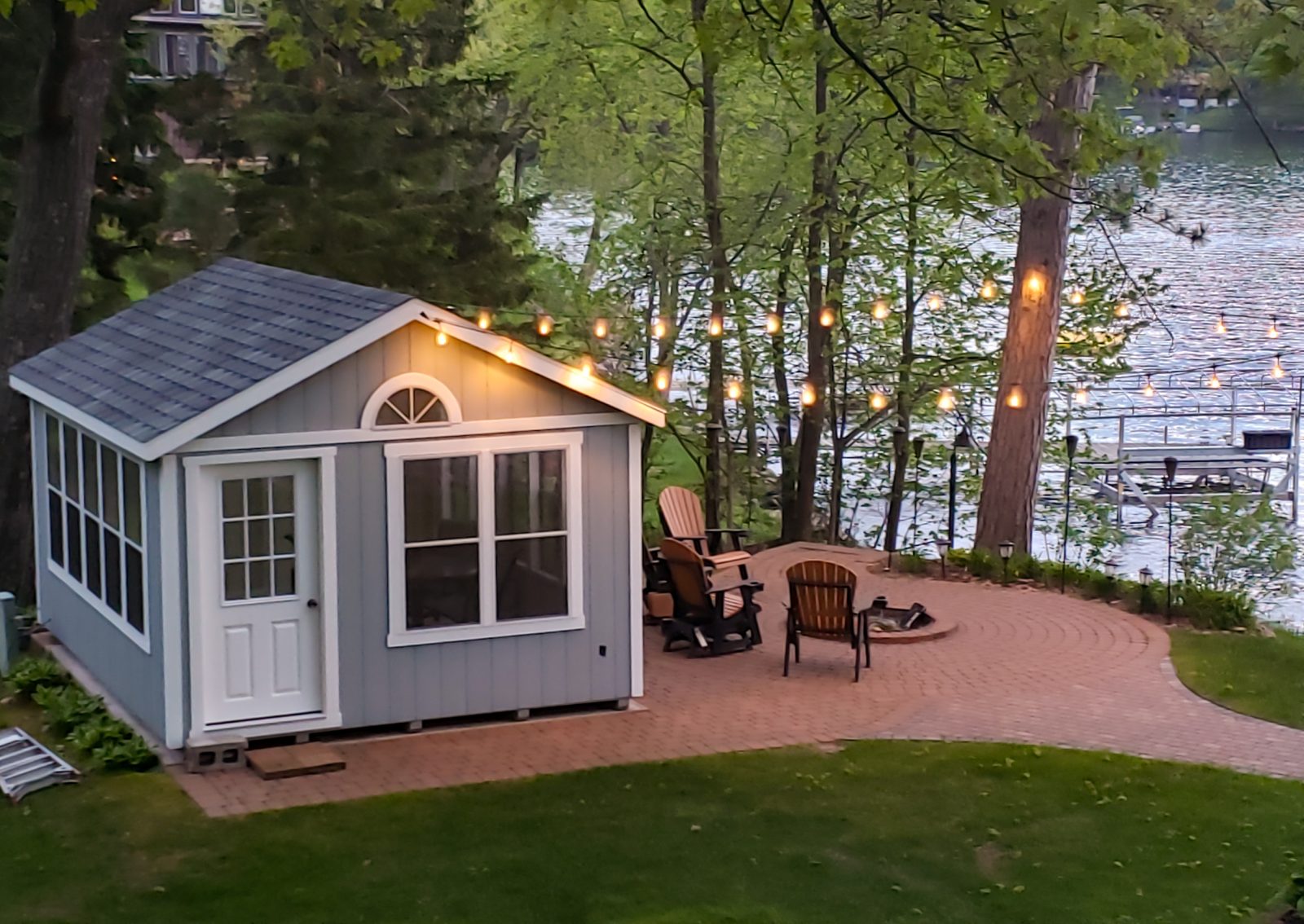 Maybe you read this article and say to yourself. "There is no way I can convince myself to get a 10×16 shed for just an office or just as a guest house." Well, maybe what you need to do is consider doing the combo option of a shed and office space all in one.
You can make half of your shed an office and the other half a guest quarters. Something as simple as placing some nice curtains around the desk and work area that will make for a lovely multi-use space.
Sample 10×16 Guesthouse/Office Shed Combination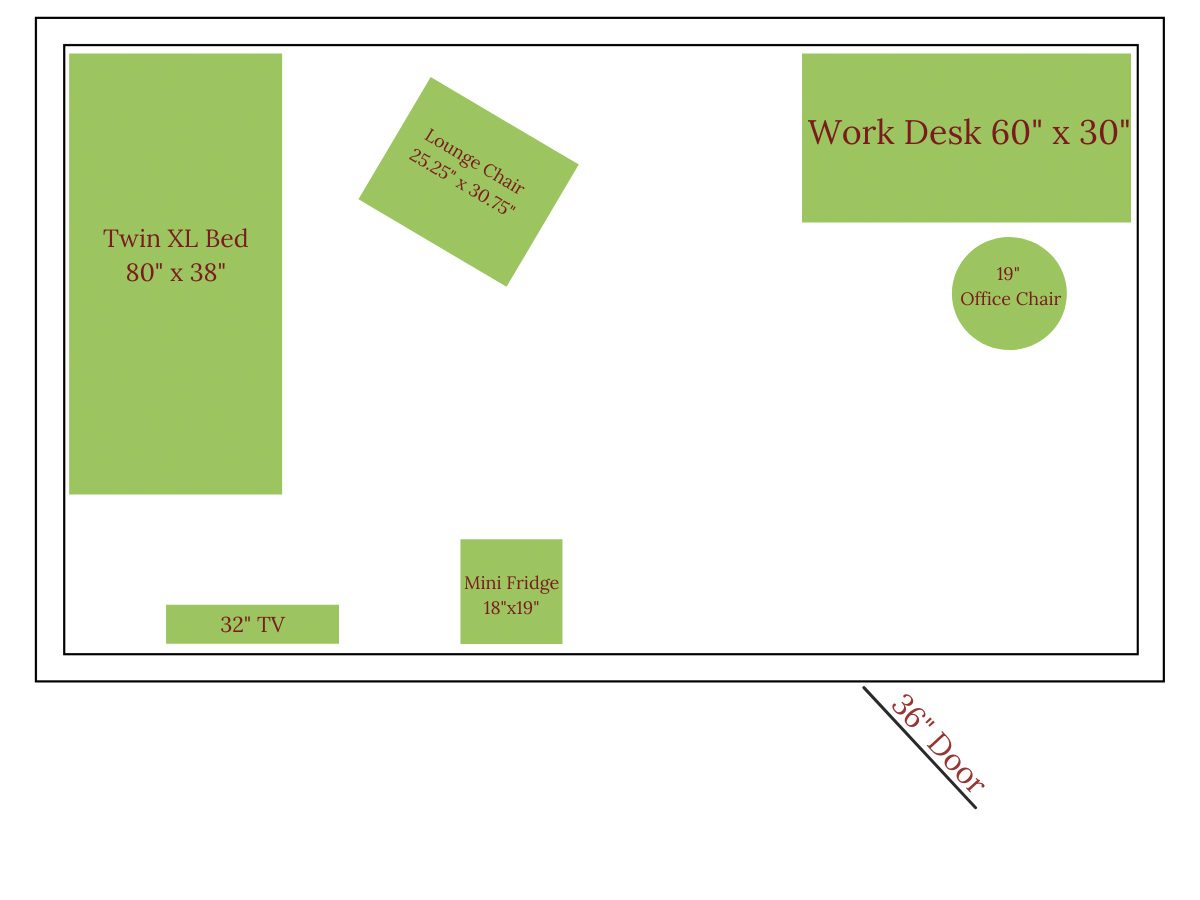 When might a 10×16 shed not be what you are looking for?
Storage Space
While a storage shed of this size does allow for many of your storage needs to be taken care of we know it won't be what everyone needs. That is why we offer sheds that are larger than our 10×16 sheds. Maybe you need to store a few riding mowers or have items that are just a really odd shape. We would suggest taking a look at some of the bigger storage sheds that we offer. 
Footprint Space
Maybe you love the idea of a storage shed, but a 10×16 shed is just too big for your yard. Maybe you just need a small place for a push mower or a single place to work. Well, that is where some of our smaller sheds work out really well!
So as you can see, no matter if you need a 10×16 shed, something bigger or something that is a bit smaller we can get you the shed solution that you need.
Are You Ready For A 10×16 Shed?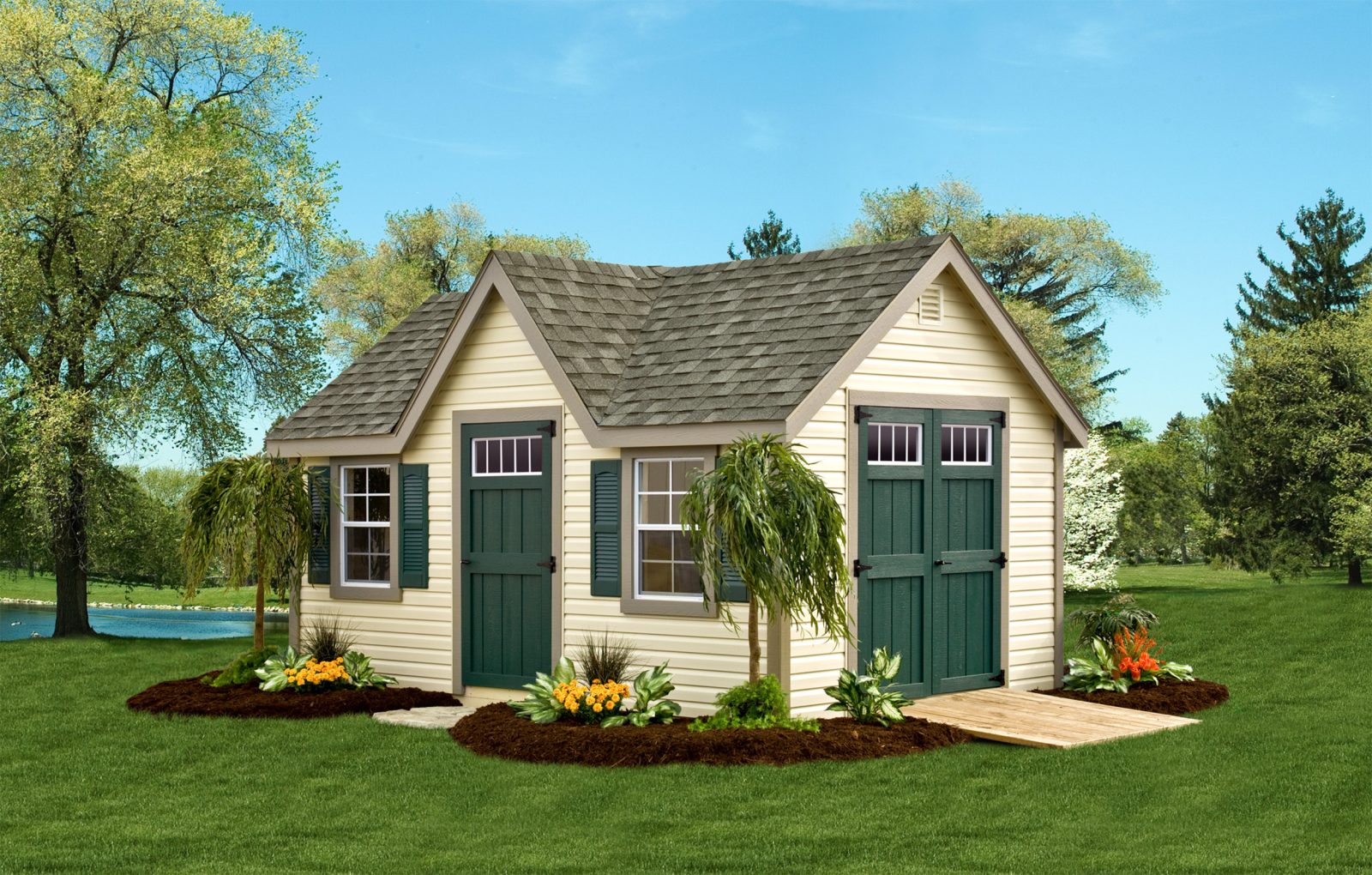 At Northwood Outdoor, we want you as our customers to be as happy as possible. Whether it's getting a shed for your single push mower, 10×16 for guest quarters, home office, or something much larger. We are here to help serve you and make your life easier! So get in touch with us, come visit us or take a look at our site to see what all the hubbub is about. We promise not to disappoint!