Are you in need of a backyard shed in St. Cloud? At Northwood, we build high-quality sheds and garages. What you need to do choose the style you like, then customize it to make your own. We are committed to providing durable and affordable sheds and garages here in St cloud. Fill out the form to receive a free quote. Custom shed styles available in St Cloud, Minnesota.
Custom Shed Styles Available In St. Cloud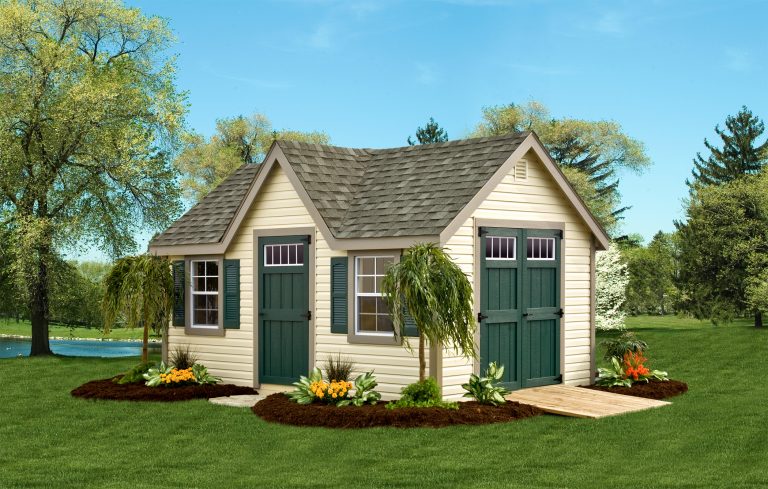 Classic Backyard Shed
This backyard sheds with a classic A-frame design engineered to keep your gardening supplies, landscaping elements, and tools from elements. This traditional and beautiful design can be customized into attractive portable storage space for your lawn tools and add value to the home. This storage shed is available in wood or vinyl siding with your choice of siding and trims colors. Choose your size and color and get a quote today.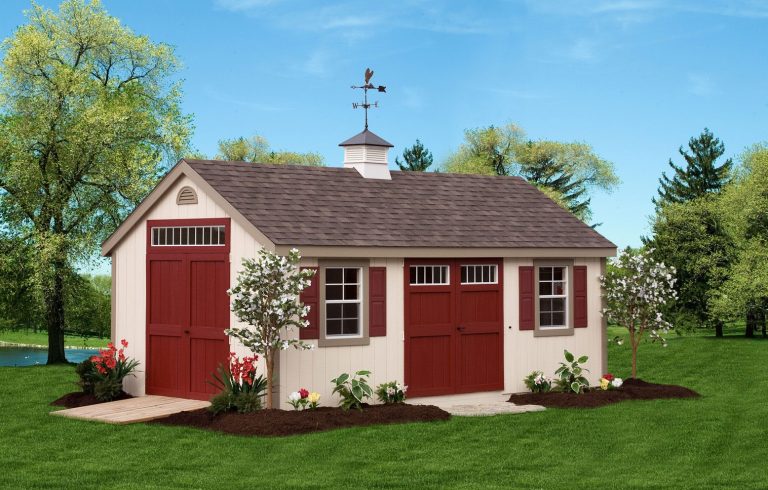 Cape Cod Garden Shed
This beautiful design is often used as a shed for storage landscaping equipment and tools. The higher roof design makes the shed more attractive. In the wintertime, the higher roof design makes it easy to clean snow off the roof—a great choice for St Cloud, Minnesota. Customize the roof and siding to fit well with other structures on your property and enjoy the beauty of your house.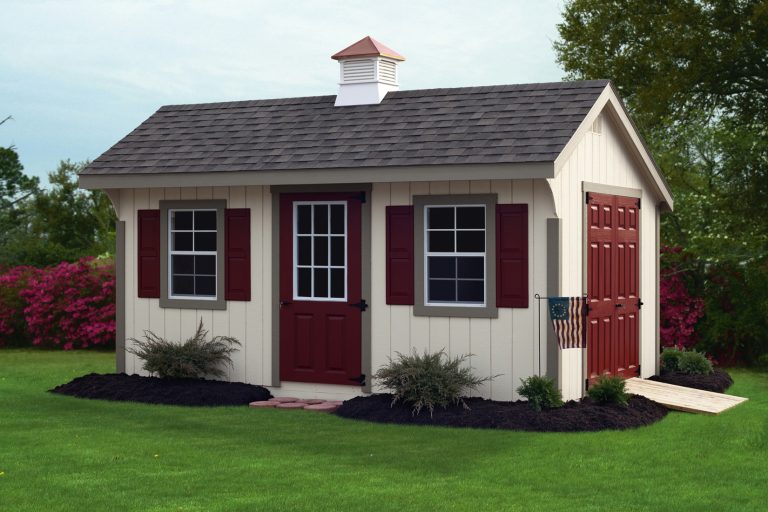 Quaker Shed
Beyond providing ideal storage for your home and garden tools and equipment Quaker sheds add that beauty and classic look to your backyard. This shed is available in wood and vinyl siding and able to be customized to your specifications. Get a free quote right now and enjoy your beautiful shed.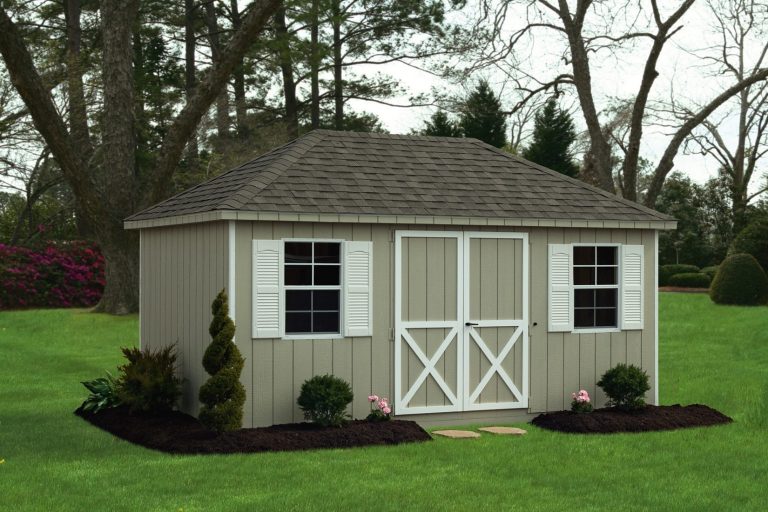 Villa Shed
Ready to add character and class to your backyard? Our Villa shed with a hip-style roof provides a contemporary look for your backyard. This handcrafted Villa Shed is available in wood and vinyl siding and comes with our standard 10-year warranty. Enjoy maximum storage and a great character for your St. Cloud backyard together. Get in touch today!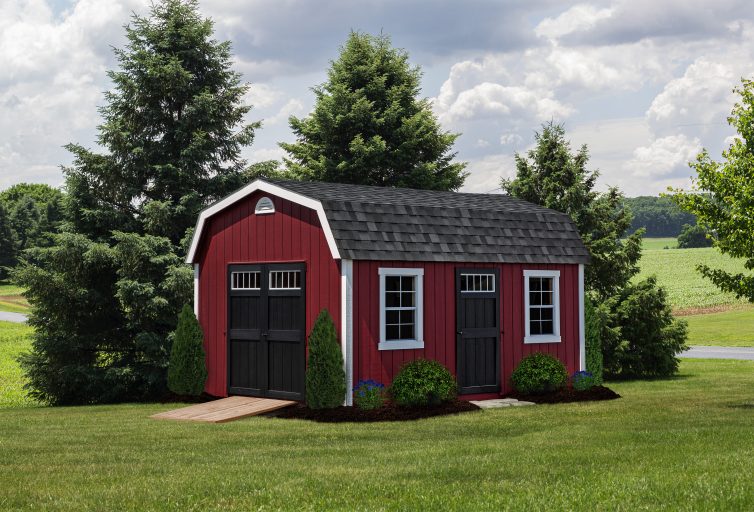 Dutch Barn Shed
Do you want a traditional barn to look to shed that provides more headroom and maximum storage space? Dutch barn shed with curved type roof makes your garden look unique. Dutch barn shed provides bigger storage space and additional loft. Our standard Dutch Barn package includes two windows with your choice of shutter or trim. Browse through our customization options below to add larger windows, side doors, or a ramp.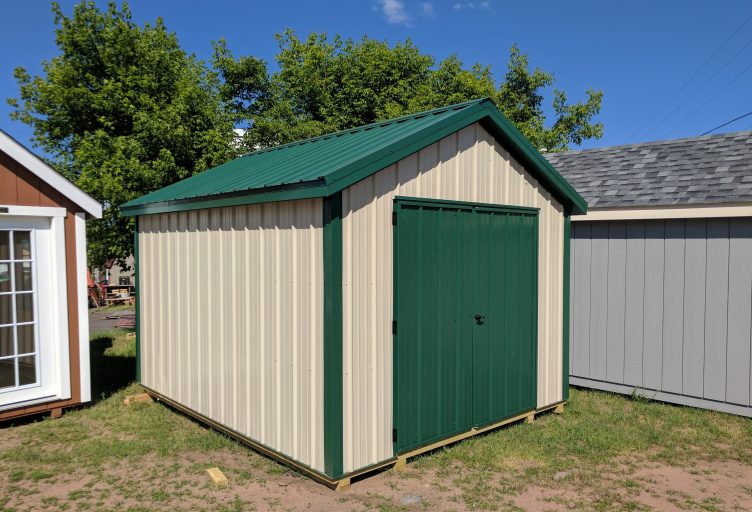 Steel Garden Shed
If you are looking for an affordable, durable, low-maintenance shed, a steel garden shed is the best option for you. This garden shed looks similar to a cape cod storage shed. The Steel garden shed comes with standard features like 40-year limited manufacturer's warranty on the metal, Solid 2×4 purlin construction built to handle St Cloud, Minnesota snow loads, treated 4×4 skids and 2×4 floor joist placed at 16" on center, ¾" tongue and groove plywood flooring, Double swinging metal doors with a heavy-duty lockable latch. If you need a steel shed, browse our current inventory. Prefab garage sheds available in St Cloud, Minnesota.
Prefab Garage Sheds Available In St. cloud
At Northwood Outdoor, we build garages that will withstand St. Cloud's, harsh Minnesota's weather. With a heavy-duty floor, roof, doors, and a proper stone or concrete base, our prefab garages will last for a long time.  Site prep and delivery turn-around times on prefab garages are significantly faster than with conventionally built garages.
Classic Garage Sheds
Are you looking for a place to keep your vehicle and extra space to store a boat, ATV, or truck? At Northwood Outdoor, we sell hand-built classic prefab garages customized to match with your property and house. With our many customization options and upgrades, you can craft a masterpiece that will make your backyard look better than great. Get a free quote today.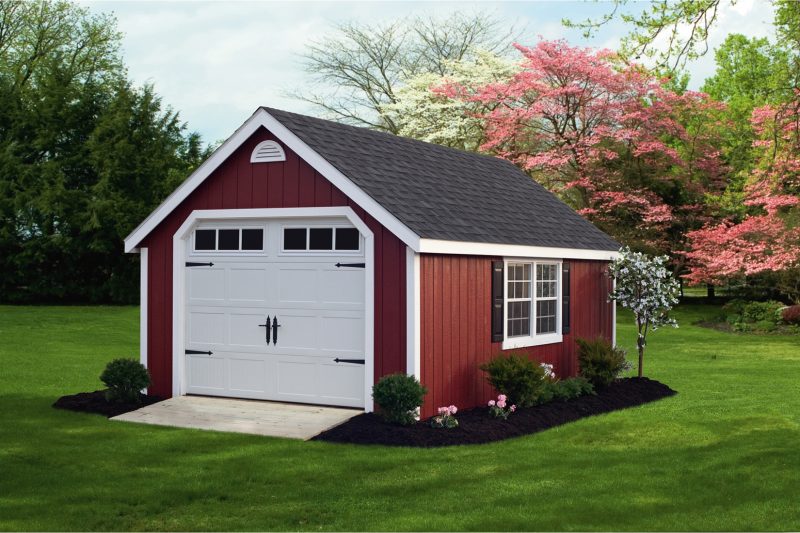 Cape Cod Prefab Garage
These garages look similar to the cape cod storage shed.  This is a durable and sturdy garage, with a steel overhead door and a heavy-duty floor support system that is perfect for trucks, cars, motorcycles, ATV, tractors, and boats. Browse our inventory and choose to add side doors, a ramp, or any of our other upgrades to craft your own classy and convenient prefab garage. Start today.