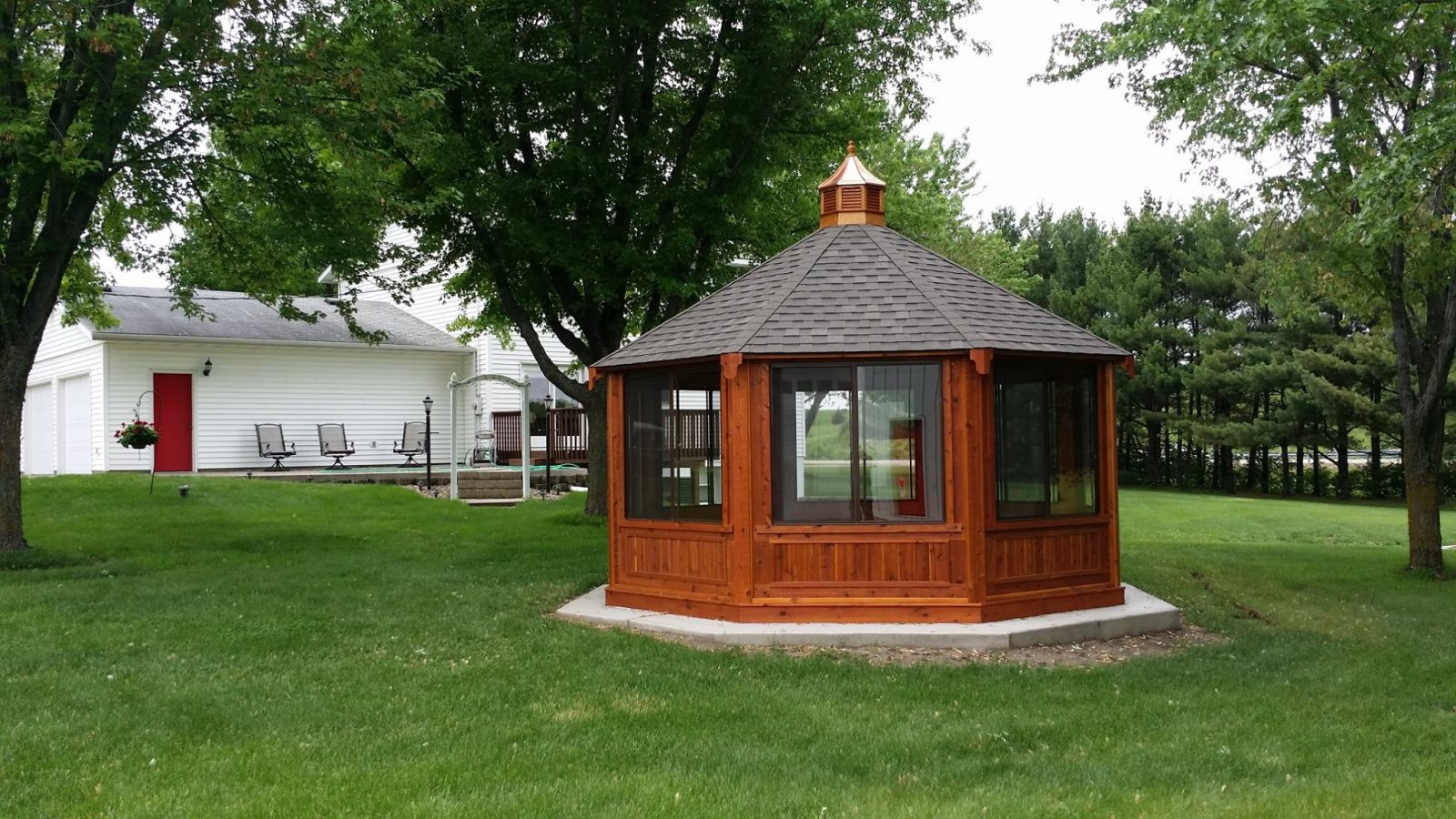 Few structures are as beautiful and carry such romantic sentiment as gazebos. Maybe this has something to do with their history. According to this article, gazebos have been adorning gardens going back as far as the Greek and Roman empires. Without a doubt, gazebos always seem to improve upon their surroundings. Wood gazebos are especially beautiful and add rustic charm to any backyard. If you are considering purchasing a wood gazebo, this article will help you understand the benefits, cost, and necessary work.
Gazebos vs Pavilions vs Sunrooms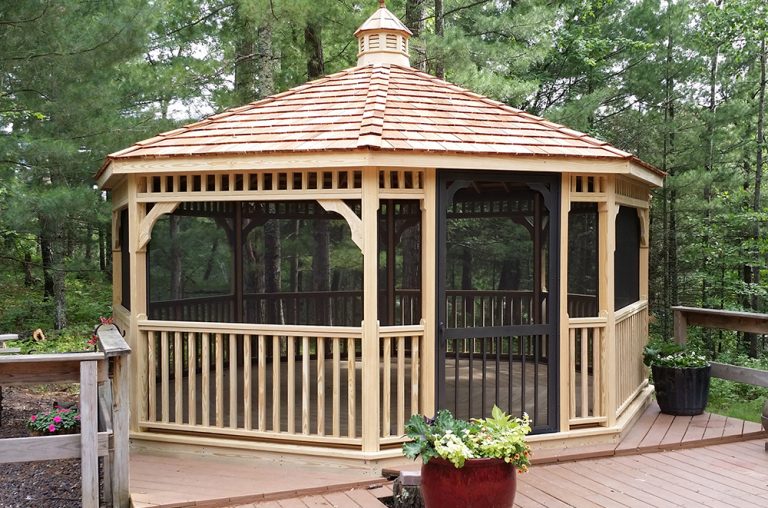 Gazebos
A gazebo is garden structure with partially enclosed sides and roof. Gazebos are generally either hexagons or octagons although they are sometimes squares. Also, it is not unusual for a gazebo to have benches or a swing inside.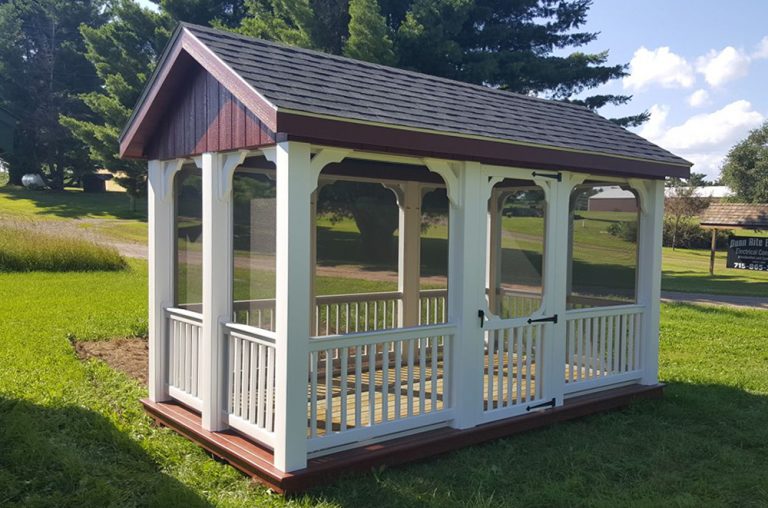 Pavilions
Pavilions, like gazebos, have roofs and partially enclosed sides. However, pavilions tend to be much larger than gazebos and are usually only rectangle in shape. They have spacious interiors where you can set up tables and chairs for a picnic area.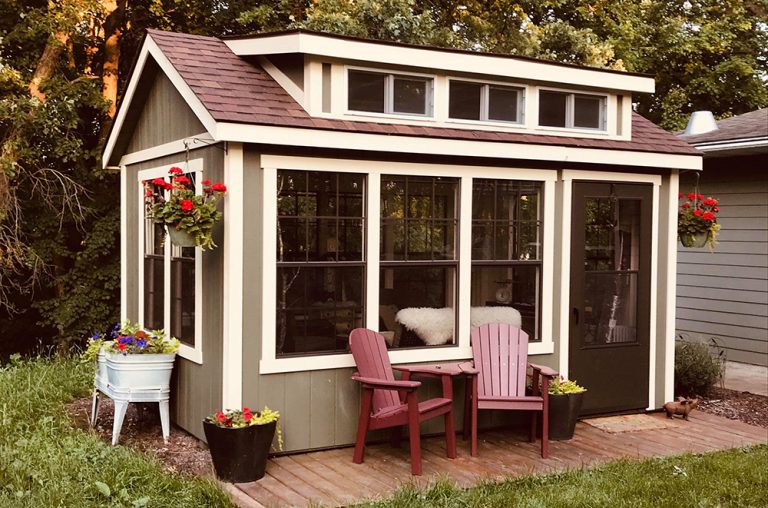 Sunrooms
Sunrooms are basically sheds with lots of windows. These windows allow in plenty of sunlight making sunrooms perfect for use as a she shed, an "outdoor" dining room, or even a greenhouse.
Why buy a gazebo?
Some people think that gazebos are not worth purchasing because they are summer structures and lose their utility during the winter. However, gazebos can be useful all year round. Here's a few reasons why you might want to buy a wood gazebo or another type of gazebo.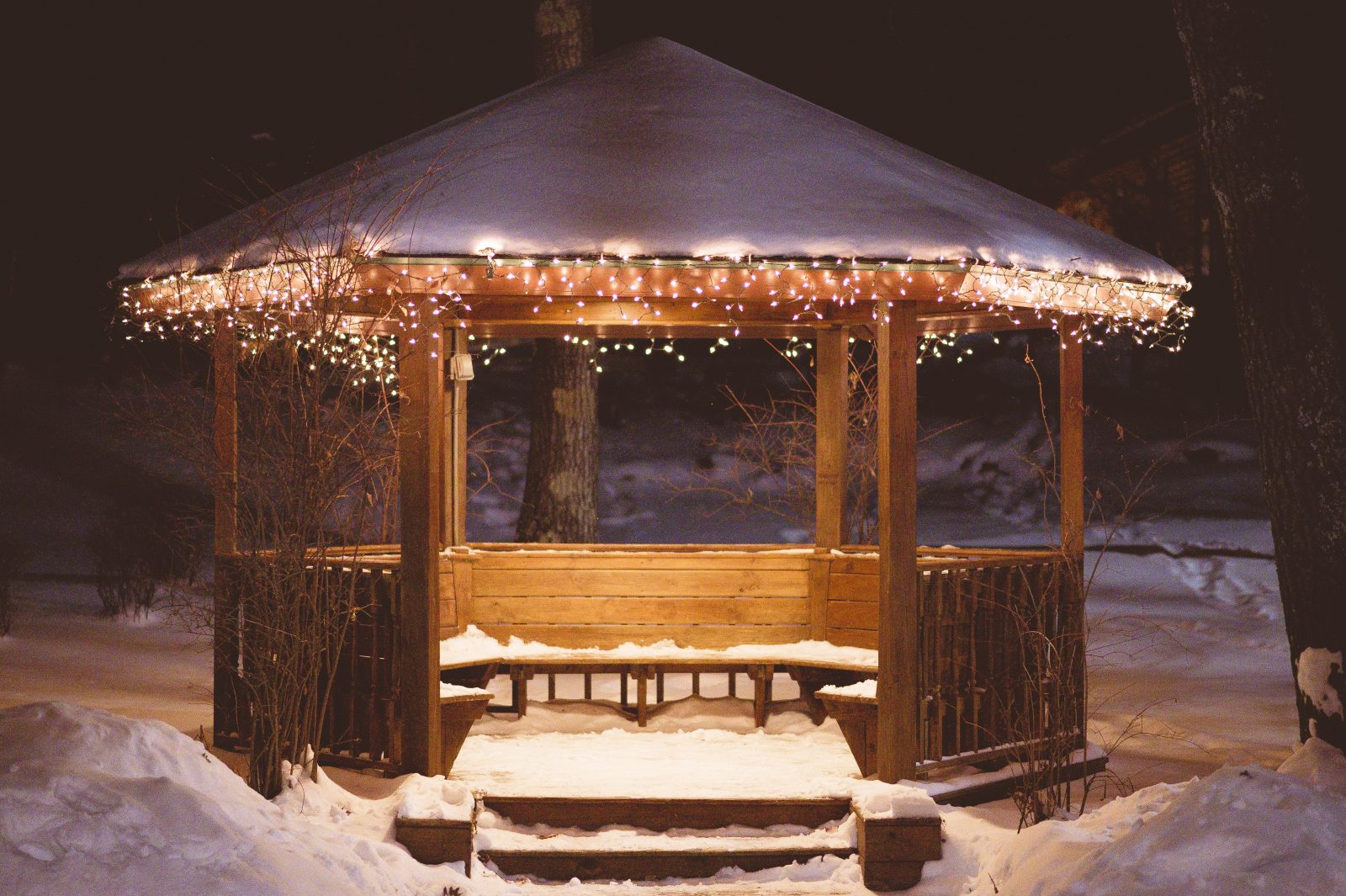 Wood Gazebos are Beautiful
Wood gazebos are very beautiful and look great in your yard all year around. In spring and summer, they look great with hanging flowers inside and flower planted around. During the fall, a gazebo is a great place to put pumpkins and other fall décor. In the winter, Christmas lights and New Year's decorations can be hung from your gazebo.
Gazebos Add Home Value
If you own the property where you live, a great way to increase the value of your property is by adding additional structures. One such structure is a gazebo. Any capital that you invest in a gazebo, a shed, or portable garage will raise your property value by improving appearance and adding more living space.
Other Uses for Gazebo
Improved home appearance added value property are just two of the benefits of a gazebo. Here's a few other ideas for how to use one:
Useful when hosting parties, barbecues, or even home weddings
Can be used as temporary storage to protect against sun and rain
Makes an excellent outdoor dining area
Great for relaxing on summer evenings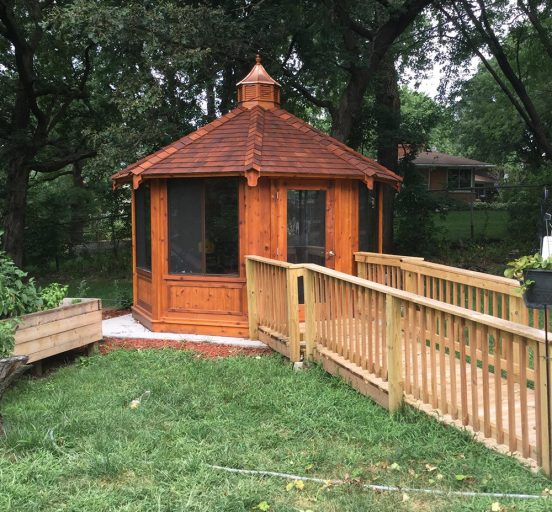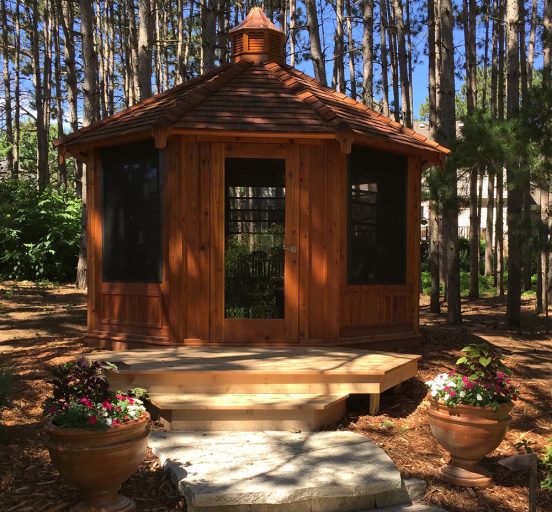 How much does a gazebo cost?
The price of a gazebo varies depending on company, style, and extra features. Below are the Northwood Outdoor prices for our four gazebo styles.
Things to consider when buying a gazebo
If you have decided that you want to purchase a gazebo, there are few things you should think about. First, you should consider HOA regulations. Second, you need to consider what style of gazebo you want. Third, you should consider how big you want your gazebo to be. Finally, you need to consider where you want to put your gazebo.
Homeowner's Association Regulations
Depending on where you live, there may be certain HOA regulations that you will need to consider. If you live in a housing development, this is most likely the case. If you live on fairly isolated private property, HOA regulations might not be an issue. However, it's always better to be safe than sorry.
Choosing a gazebo style
Your main consideration when choosing a gazebo style should be how well it fits with the design of your house and other nearby structures. Shape, color, and materials all play part in determining this. Another thing to consider is whether your gazebo fits with the environment. For example, a wood gazebo looks good in areas with trees. Ultimately, choosing the right gazebo style comes down to matter of preference. Pick the style that you like.
Choosing a gazebo size
Making the right decision on your gazebo's size requires knowing what you want to do with it. If you want it simply for appearance and personal use, then a smaller 8×8 gazebo should be reasonable. However, if you plan to use it for parties and other events, you probably will want a larger gazebo. If you don't know exactly what you want to do with your gazebo, it may be wise to choose one that is medium-sized such as a 10×10. Also keep in mind when considering size that larger gazebos are more expensive. If you have a tighter budget, a small pine or log gazebo might be your best option.
How to choose the right spot for your gazebo
Knowing where to place your gazebo can be difficult but it doesn't have to be. Here's a few guidelines that can help to make your decision easier:
Gazebos always look good in or next to a garden. If you have an area with flowers, consider putting your gazebo nearby.
Find a flat area. Avoid slanted ground or ditches where water may build up.
Consider when you will most likely use your gazebo and then place it in an area that is shaded or where the roof can block any direct sunlight.
Put your gazebo in any accessible location. You might even want to make a path to your gazebo.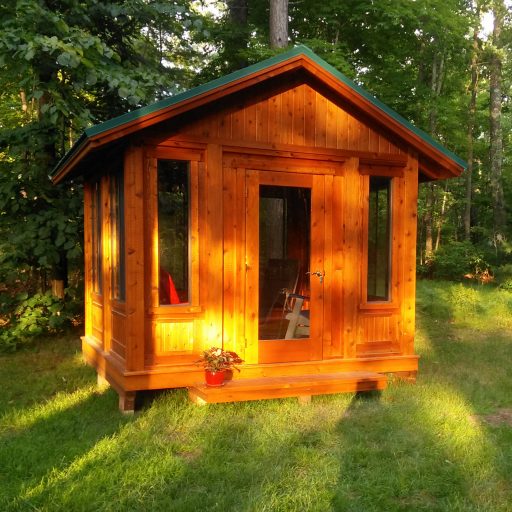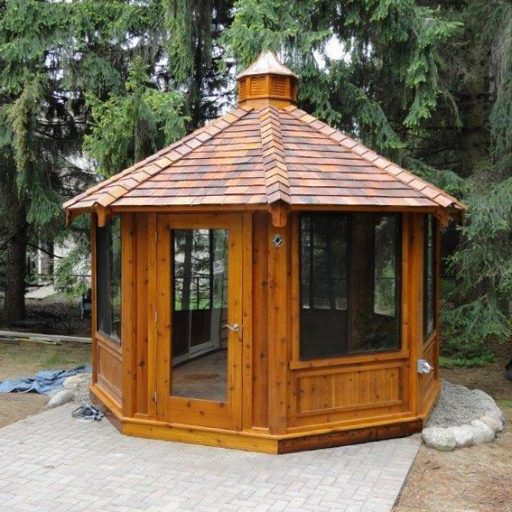 Life with a gazebo
One of the nicest things about a gazebo is that it gives you a place to relax while requiring little to no upkeep. A wood gazebo from Northwood Outdoor will last for years. The only work necessary is cleaning the interior and removing leaves and branches from the roof. If you've decided that you would like to invest in a gazebo, visit our gazebos page or contact us.