Thinking about adding a detached garage to your home property?
Why not consider a modular or prefab garage? There are many practical reasons why you may want to add a prefab garage to your property. Need room for your car, boat, lawnmower…or all three? A prefab garage could handle all of those needs!  But don't stop there, a prefab garage can solve many more problems.  The possibilities are endless, whether you are simply looking for extra space to help declutter and organize the house, or build your dream woodworking shop, a prefab garage could be a powerfully simple solution.  
What is a prefab garage?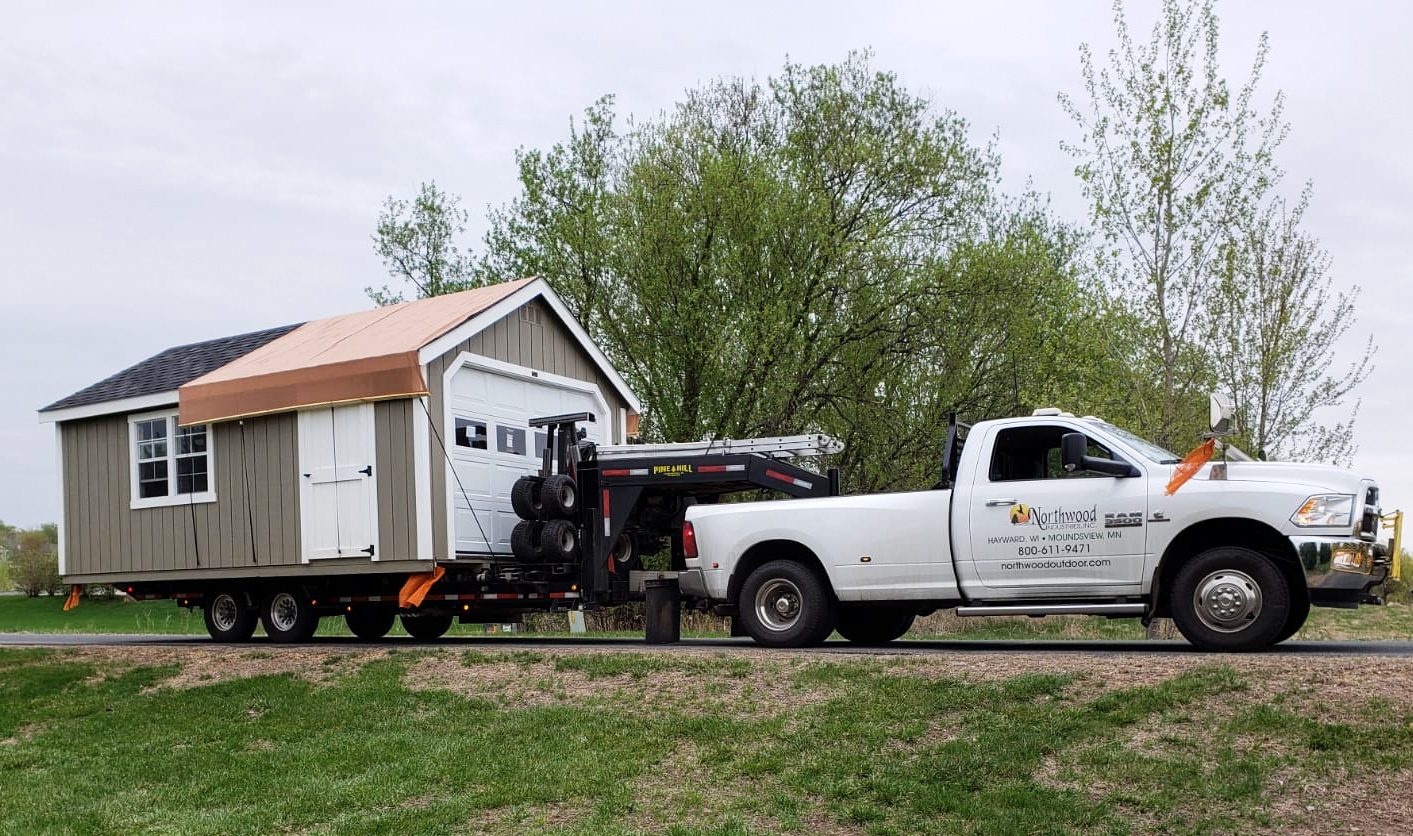 A prefab garage is a detached garage that has been built offsite by the builder and gets quickly installed as a finished unit. Prefab garages are sometimes referred to as "portable" or "modular" garages, but please note that if you have been searching around, that all of these terms refer to the same concept. As long as the site preparations are already done, the installation should only take a few hours! 
Before you decide on which type of garage is right for you, here are  6 Pro tips to help you in making your decision
6 key considerations before you buy your prefab garage
1. Overall cost of your installation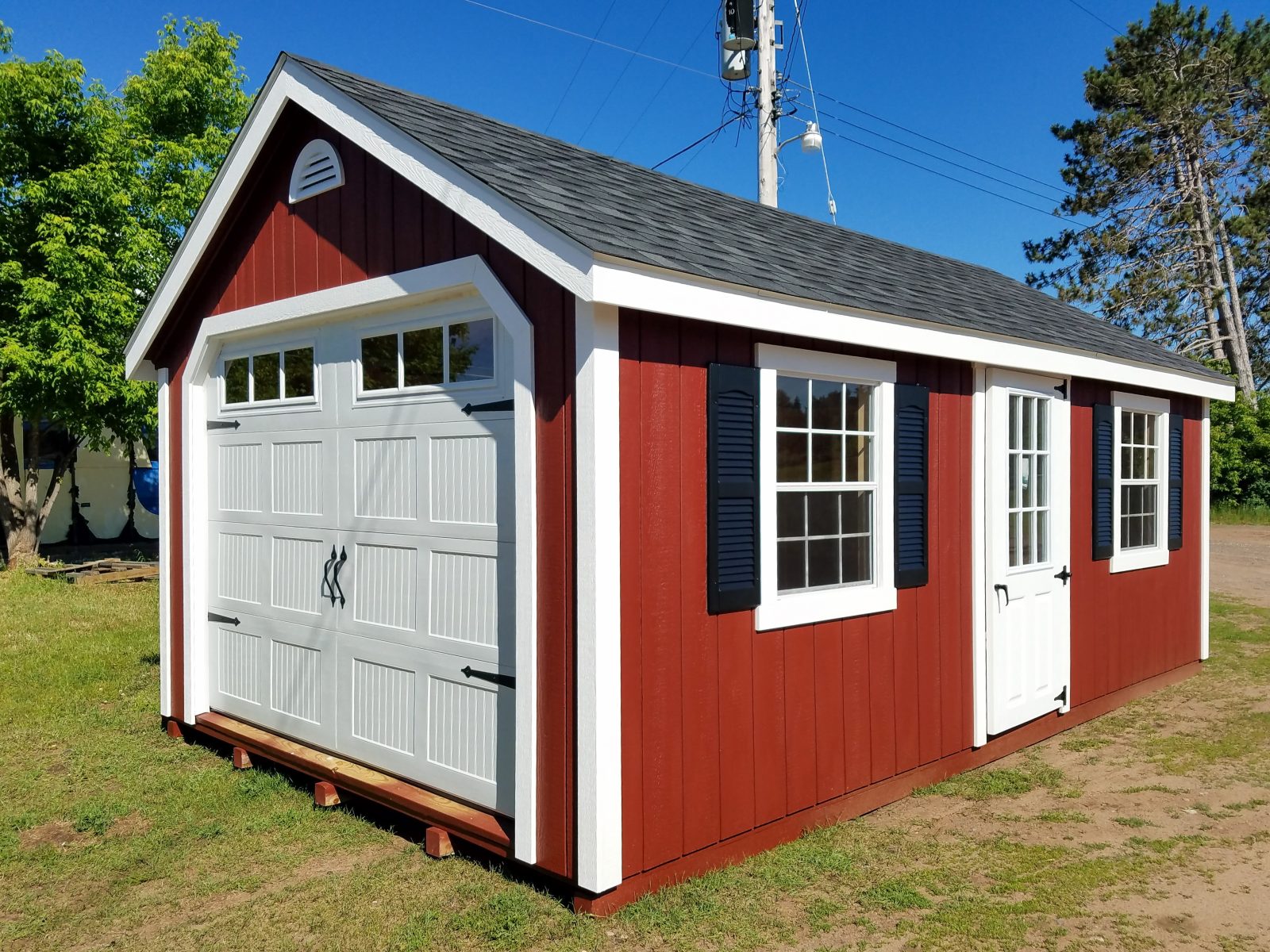 Prefab garages are significantly less expensive than traditional garages. If you've ever compared the cost of a prefab garage with a traditional "stick-built" garage, you will quickly notice that the prebuilt option requires a significantly lower investment.  Since prefab garage builders operate out of specialized warehouses with all the tools and materials at their easy disposal, they are able to build them much faster and with much less waste of materials. Building a traditional garage on the other hand, will require a lot of time and travel for work crews and transportation of materials.   According to this in-depth article by homeadvisor.com average price per square foot on a traditional garage will be $50 per square foot.  For simple price comparison, a 12×20 classic garage base price starts at around $32 per square foot from Northwood Outdoor. While the overall cost will depend on the options you choose, in either a prefab or traditional stick-built, you can expect around 25-40% savings if you go with the prefab option.
Here is a table using the above example.  In this case, the prefab option saves a whopping $4320.
| | | | |
| --- | --- | --- | --- |
| 12×20  GARAGE | SQ Feet | Cost Per Square Foot | Total Cost |
| Traditional Stick Built Garage | 240 | $50 | $12000 |
| Northwood Prefab Garage* | 240 | $32 | $7680 |
| Savings  | | | $4320 |
*This is not an actual quote.  Prices will vary over time.
2. Ease of site preparation
Another reason that a portable garage will cost you less, is that getting the site ready is usually quite simple. Most prefab garages are set on simple stone bases similar to what is used for a traditional shed installation. A more traditional stick-built garage will almost always require a concrete foundation, contributing to a much higher build cost.  In the case of a prefab garage, a motivated and industrious homeowner may even choose to do the entire site preparation themselves! Of course, before starting any shed project you will definitely want to check your municipality or township guidelines on any local ordinances or permits that may affect your garage project. The following video is a comprehensive look at site preparation considerations.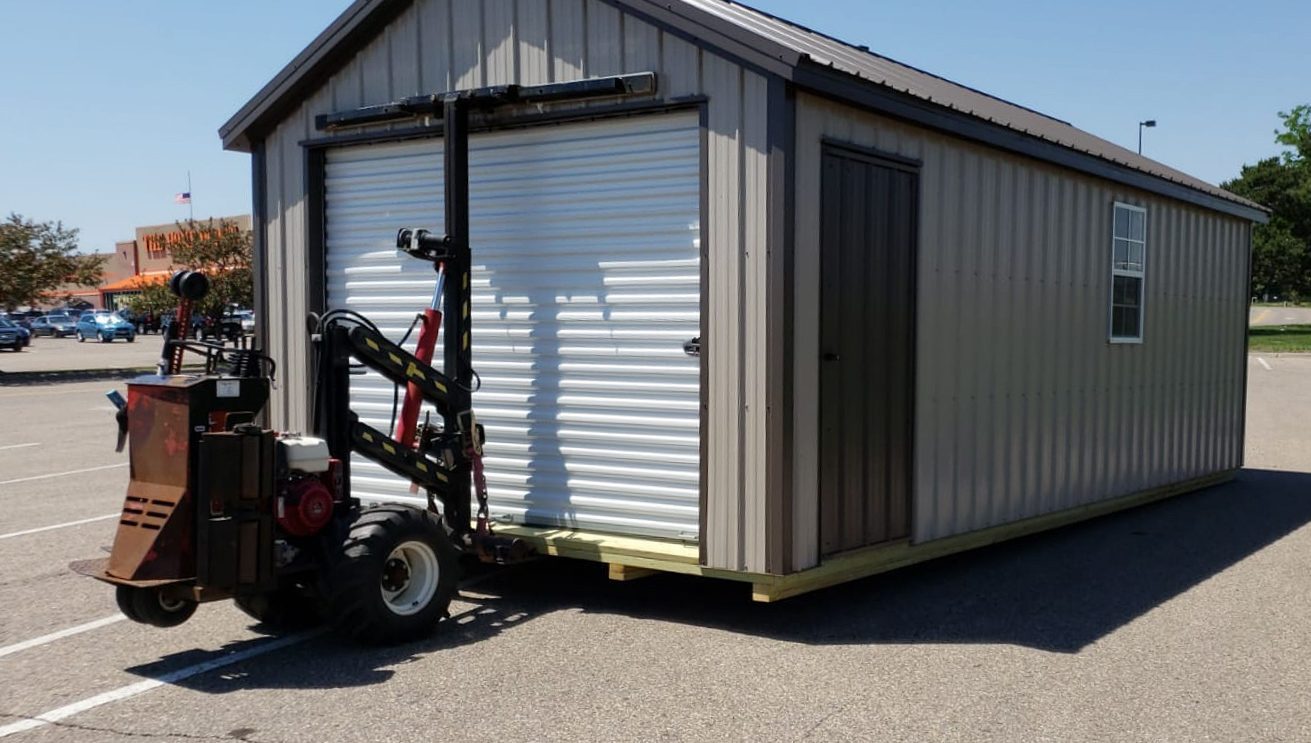 One potential benefit to purchasing a prefab garage is a much shorter wait time compared to a traditional garage. Lead times for a "stick-built" garage will often be quoted in terms of months, while a prefab garage can be on your property and usable in a matter of weeks. If your builder has a prefab garage in stock that you like, it is possible that you could have a usable garage in less than two weeks! You can view the Northwood Outdoor current inventory page here. 
Here is a great video on how the installation process works.  This is a regular shed install, but a one-car prefab garage is installed the same way.
It is absolutely essential that you choose a prefab garage builder who has high standards on build quality. It may be tempting to go with the cheapest option you can find, but if you really want to maximize the lifetime value of your garage you need to make sure that it is built well. Here at Northwood, we put a lot of emphasis on the fact that our garages are built on high-quality pressure-treated 4×4 skids and pressure-treated floor joists that are spaced at 12" on center.   This will ensure a much longer life for your prefab garage and give you the confidence to store 1000's of lbs of your heaviest items or equipment in there. Try to avoid big box stores on your garage purchase and find a trusted builder/dealer who will stand behind the build quality of their prefab garage.
5. Return on investment
Like many projects to improve your home, adding a prefab garage will be a tremendous asset given the vast amount of usability it offers.  Generally speaking, the ROI on any style of garage will be around 60-80% of the original setup price (this range is true of many home improvement projects) This does not mean it is a bad investment overall, it just means that it makes sense to keep your overall cost as low as possible without sacrificing quality. 
6. Overall Property Aesthetics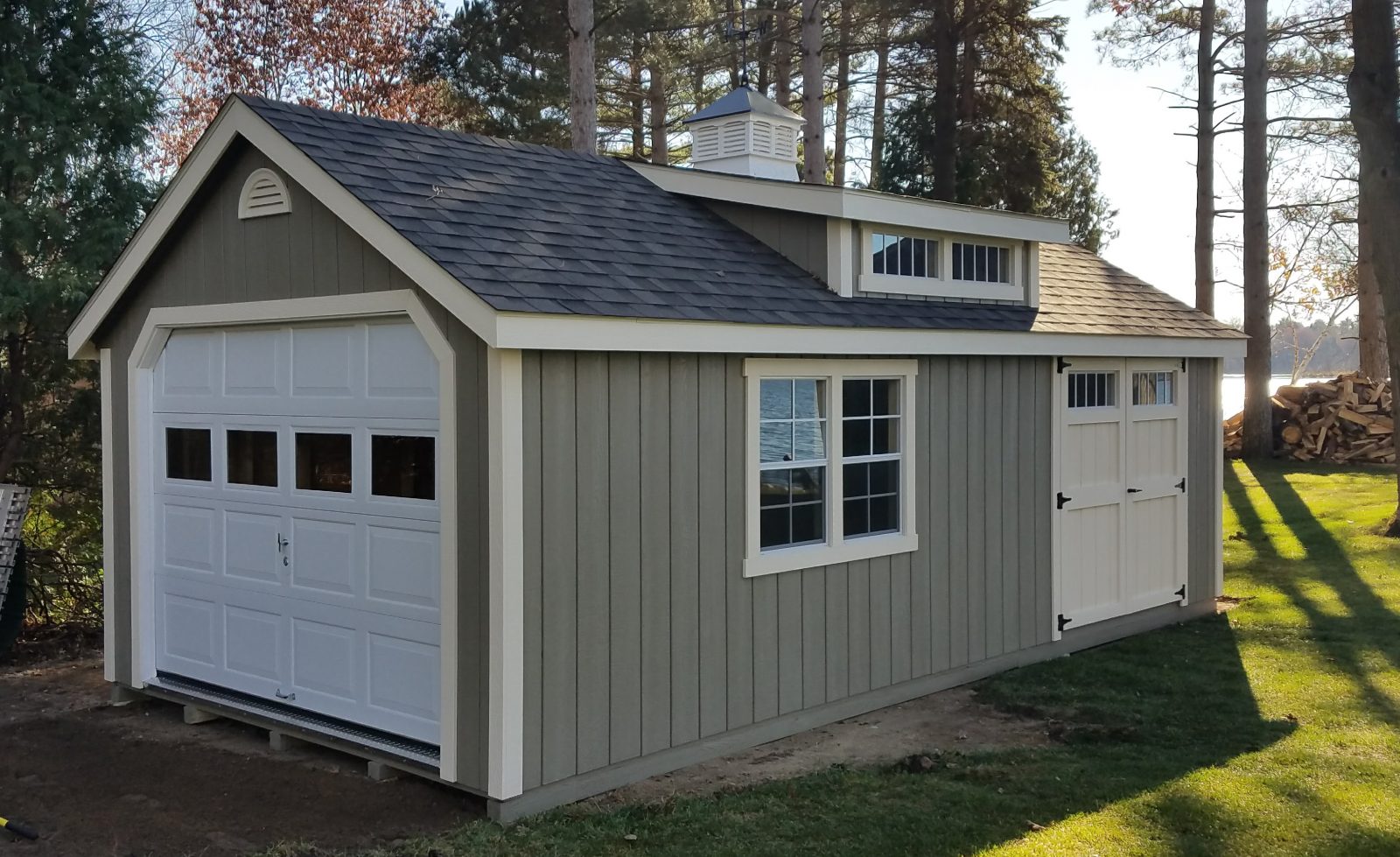 Just because you are purchasing a prebuilt garage, does not mean that you have to sacrifice style.  You will want to ensure that your prefab garage fits the overall aesthetic, color schemes and decor of your home.  Fortunately, there are a whole myriad of options and customizations that are available to you for your garage. At Northwood, we always take the time to go over these very important details with our customers, because we think it's worth being proud of the look and feel of your new garage.  You can also view the selections of different colors and styles here at the bottom of these product pages (Steel, Cape Cod, Classic) Most color schemes of roofing, siding, and shutters will be available to you so that it can blend in perfectly with your existing home. There are also a lot of great add-ons like cupolas and flower boxes that can really make your garage quite attractive.
We hope that these 6 tips will be helpful to you as you consider this very important purchase.  At Northwood Outdoor, we value your time and your money, because no one wants to needlessly dump money down the drain on a purchase as important as a new garage.
Ready to take the next step in purchasing your very own prefab garage? 
Reach out to us at Northwood Outdoor today! We would love to talk to you about any questions or concerns you may have about your garage project!
Steel Garage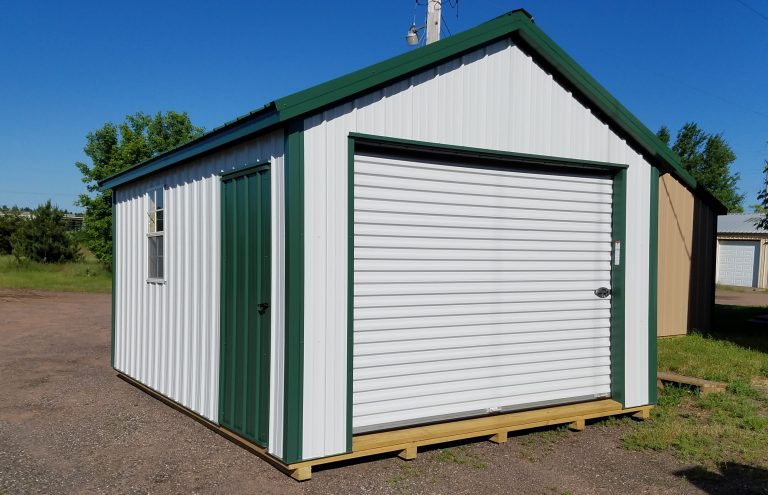 Cape Cod Garage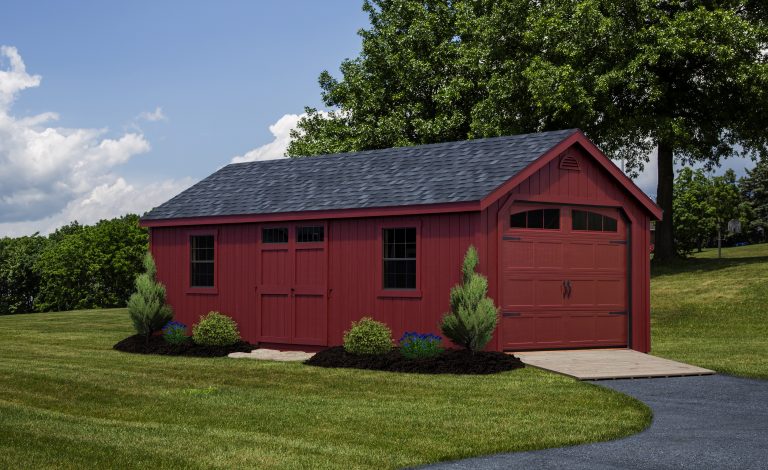 Classic Garage