The Perfect Complement for Your Backyard
The Quaker shed's traditional good looks make it a popular choice for a backyard or vacation property addition. The distinctive roof overhang on the front with sidewalls that arch up to the overhang imitates barn styles from a century ago. With higher sidewalls and open rafters the quaker shed features lots of headroom with the option for a loft to maximize your storage space. This shed is available in wood and vinyl siding and able to be customized to your specifications. You might also know this shed by its other older name, "the Saltbox Shed"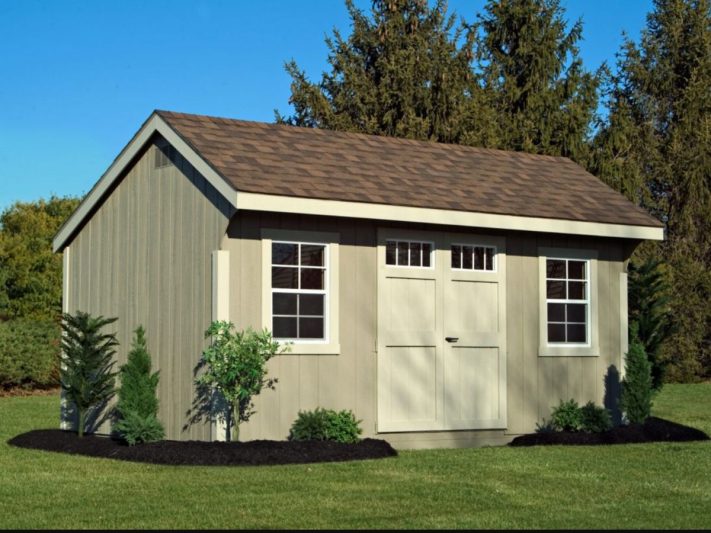 Interior View Of A Quaker Shed
Choose Your Size
6' Wide
| Size | Wood | Vinyl |
| --- | --- | --- |
| 6x6 | $3695 | $4540 |
| 6x8 | $3995 | $4785 |
8' Wide
| Size | Wood | Vinyl |
| --- | --- | --- |
| 8x8 | $4195 | $5135 |
| 8x10 | $4695 | $5660 |
| 8x12 | $5195 | $6180 |
| 8x14 | $5595 | $6685 |
| 8x16 | $6195 | $7165 |
10' Wide
| Size | Wood | Vinyl |
| --- | --- | --- |
| 10x10 | $5195 | $6885 |
| 10x12 | $5295 | $7415 |
| 10x14 | $6195 | $8025 |
| 10x16 | $6595 | $8480 |
| 10x18 | $7395 | $9400 |
| 10x20 | $8195 | $10290 |
Choose Your Colors
Choose Your Options
Your Quaker Shed can and should be customized to be the way that you like it!  Cupolas and weathervanes are a particularly good fit the Quaker model because they enhance its classic appearance and gives it that beautiful old-world look.  Your Quaker shed will also benefit from ramps, extra windows, extra doors, or interior shelving.  
Quaker Shed Interior
Our Quaker Sheds are handcrafted by Amish builders, and are built to last.  We want you to have full confidence that your shed will last for many years to come.  Some of the standard quality features that you will find on your Quaker shed include the following:
16 inches on center floor joists, wall studs, and roof trusses

Standard double top plate on the top of the walls for maximum stability and snow load.

Standard diamond plate threshold on all doors to reduce wear in this high-traffic area.
Because our quaker sheds are built to last, they are perfect for specialized usages like she sheds, man caves, backyard guesthouses and more!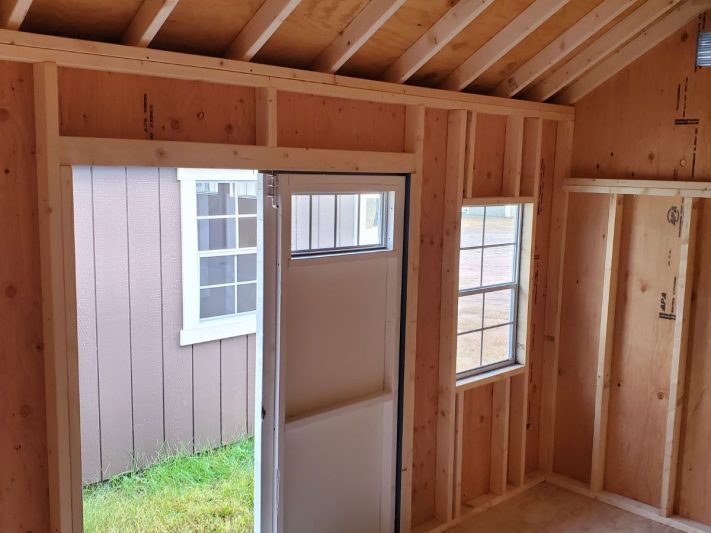 Quaker Shed Photo Gallery
Inspiration You Can Build On
Browse our photos below to see some of the possible designs and uses of this traditional storage shed. When you are ready to craft your own version of this shed, contact us through the quote request form below or visit us in Hayward Wisconsin