10×12 sheds are a great way to get the storage space, office space, or guest space you have longed for.  However, before you start dreaming up all of the ways that you can use your 10×12 shed, let us answer some of the most common questions people ask us about a shed of this size.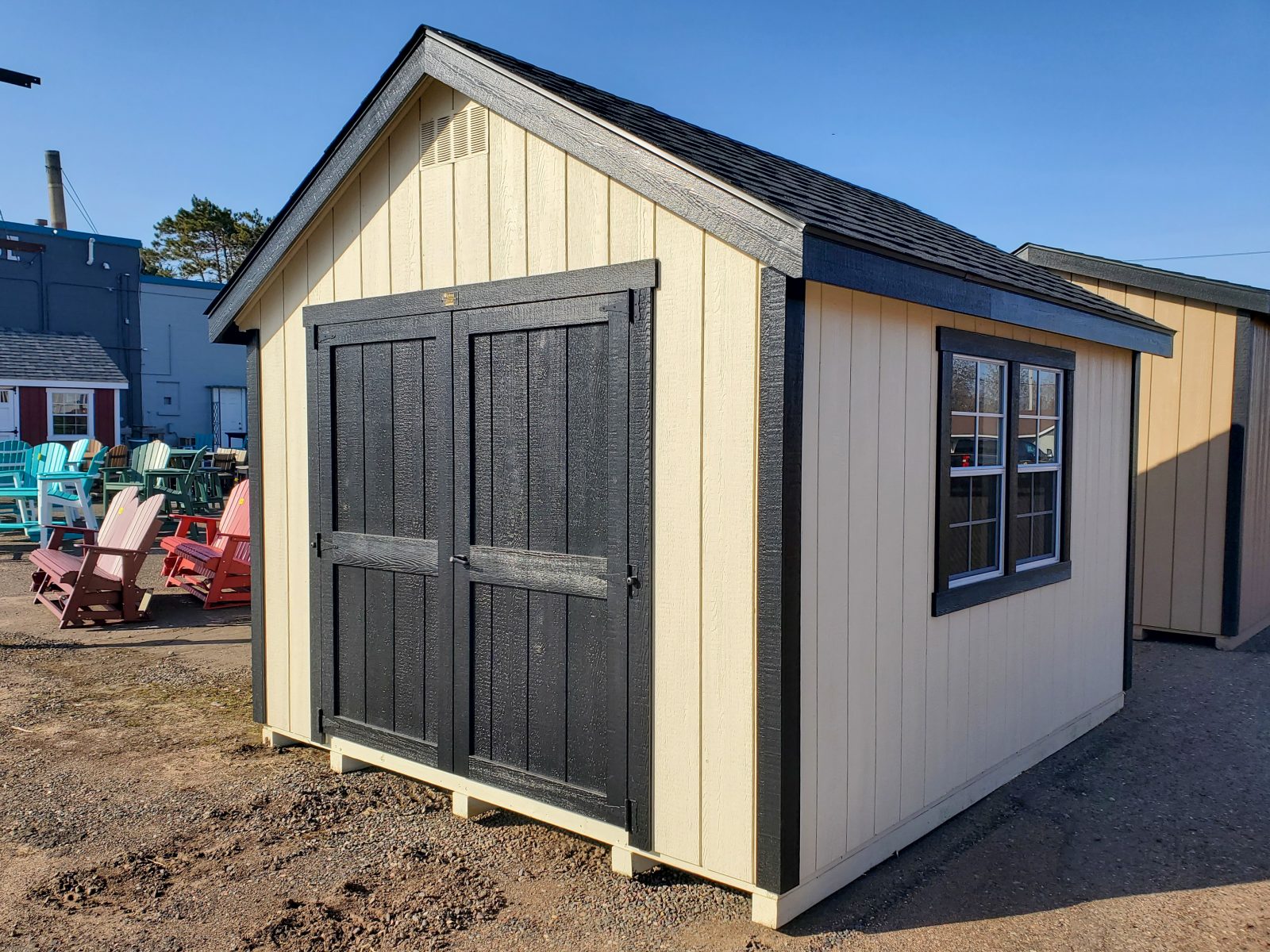 How Much Do 10×12 Sheds Cost?
A 10×12 shed costs between $4,995 and $7,765. The price variance on a 10×12 shed is due to a few factors. 
1.) The siding materials used to construct the shed itself
2.) The kind of features included with the build
3.) The design of the building 
Each one of these features causes a shed to have a slightly more expensive or more budget-friendly price point. While the price point of the 10×12 shed is not something everyone is concerned about, the foundation you set your shed on should be something that everyone pays attention to. 
What Is the Best Foundation for A 10×12 Shed?
A gravel pad is the best kind of foundation for a 10×12 shed. This kind of foundation allows for easy drainage which will prevent rot and prevent erosion from under your shed. The foundation that you place your 10x 12 shed on is just as important as the construction of your shed.
Stone and Gravel
Stone and Gravel foundations are the best foundation for 10×12 sheds as they allow for adequate drainage, are cost-effective, and are also relatively easy to self-install (if you so choose). The average price to install a shed pad is about $5-$9 a square foot when installed by a professional crew. To have an experienced staff install a 10×12 site for a shed will cost around $715 to $858.
Here is an example of a perfectly level 10×12 gravel pad in Pennsylvania.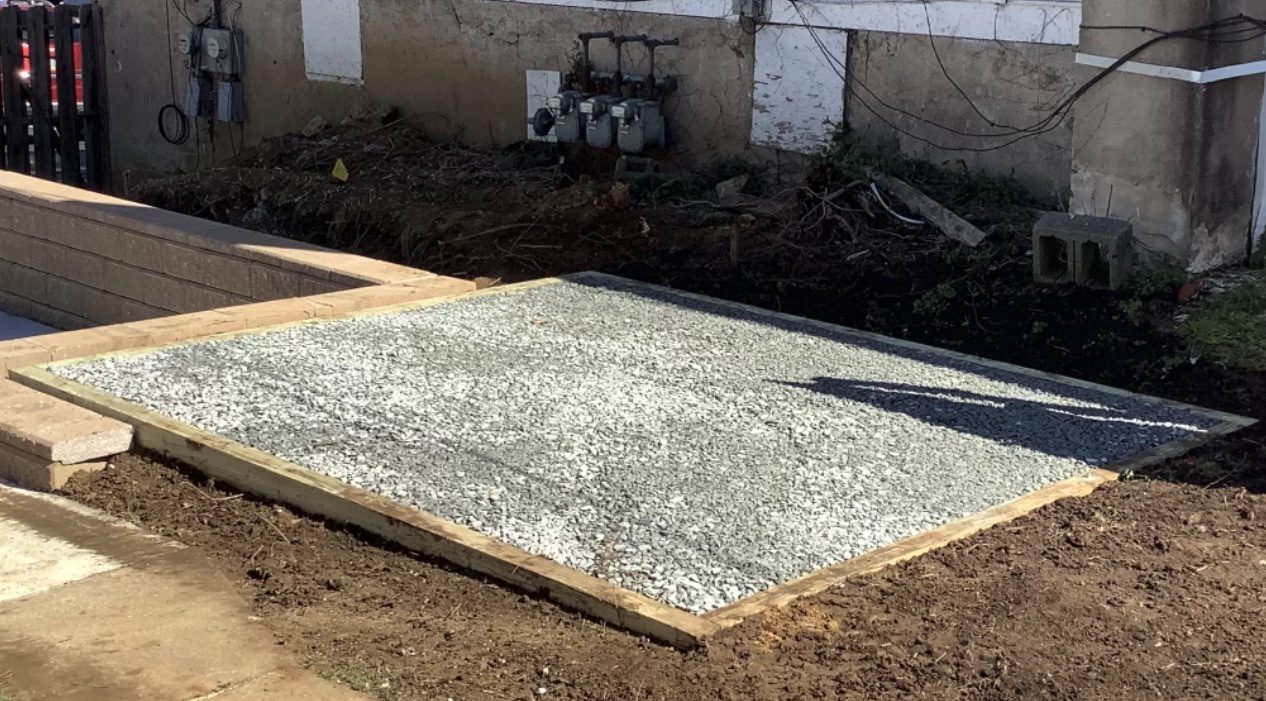 How big should my Stone and Gravel pad be?
Your gravel pad needs to be 1' larger on each side than the rest of the building, meaning a 10×12 shed needs an 11×13 pad. This allows for adequate drainage for the water that comes from the roof and other areas of surface runoff.
Cement Slab
Cement slabs have grown in popularity for our customer to place their 10×12 shed on. However, they are not as cost-effective as a gravel pad and require some know-how to do correctly. To have a concrete pad installation the process will cost around $4.34 -$7.73 per square foot or  $620.62-$1,105.39 in total cost. 
In addition to the cost of a cement slab foundation, you will need to make sure that the proper drainage systems are in place for your 10×12 shed. This drainage may be as simple as having the cement slab built on a slight slope for drainage or something as drastic as a plumbed drainage system. The installer of your cement slab will be able to guide and direct you to the best option for a drainage system.
This is a photo of a 10×12 concrete shed pad.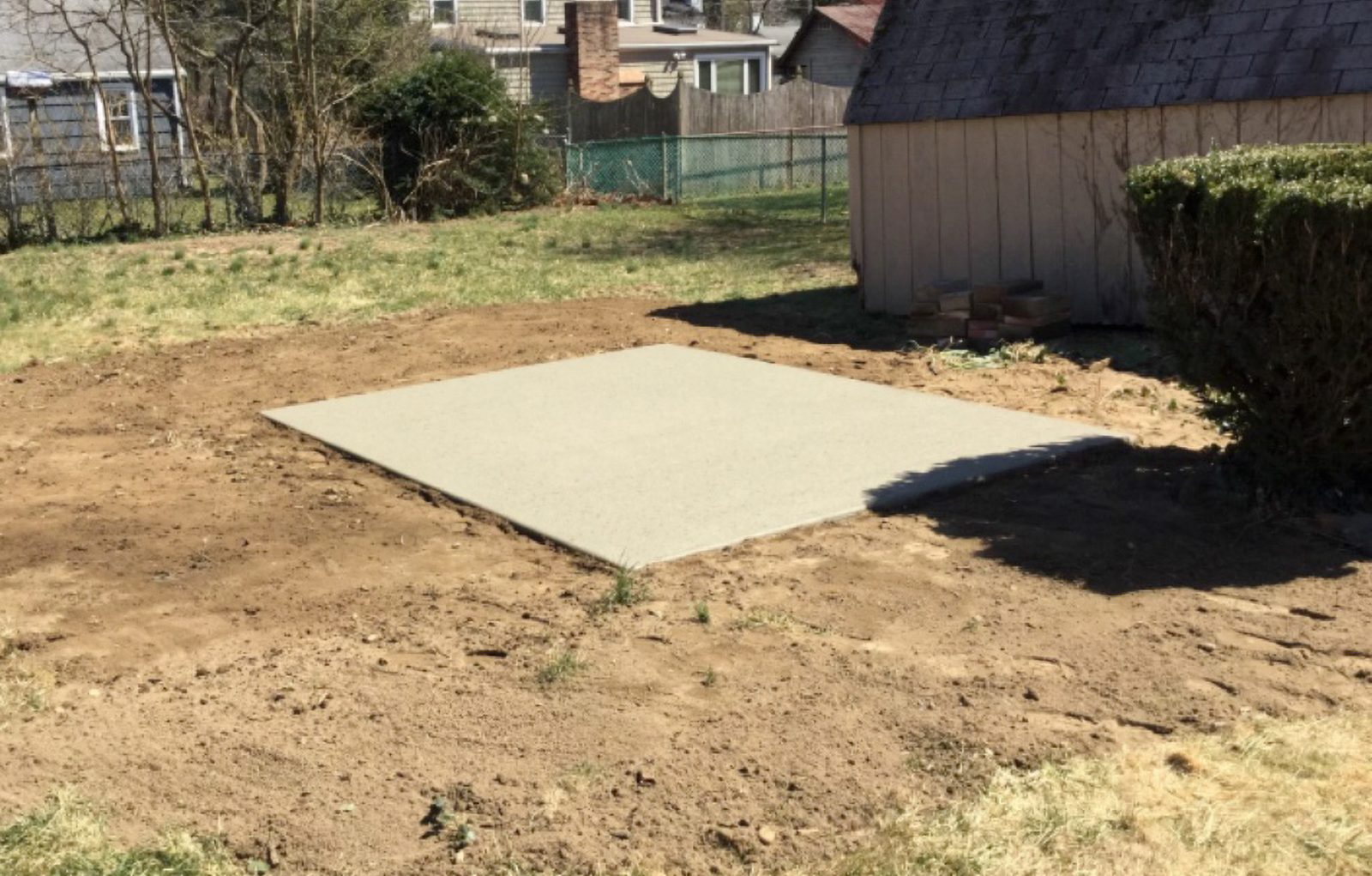 Cinder Blocks/Pavers
Cinder Blocker and Pavers are not a good way to give your 10×12 shed a solid foundation. Some people unfortunately believe that their cinder blocks or cement pavers give their 10×12 shed a solid foundation. While this may seem like an affordable and reliable option that sadly is not true.
Let us be clear, using cement pavers or cinder blocks are a great way to help with minor leveling due to unforeseen grading issues. However, when these items are used as the primary foundation of the structure the 10×12 shed will shift as the earth erodes. When shifting takes below your cinderblocks or cement pavers your 10×12 shed may become more difficult to open or have uneven wearing in the door frame from needing to use forceful entry and closure.
10×12 Shed Siding Options
While having a solid foundation is essential to the longevity of your shed, it is important that you are able to design a shed that meets and satisfies your desires for appearance. We have 3 siding options that will allow your 10×12 shed to look the way that you desire. In addition to siding options, we also have door and window options.
10×12 Vinyl Sheds
When you are designing a 10×12 shed vinyl is a wonderful siding option. Vinyl is made from high-quality PVC making it easy to clean and long-lasting. We offer 10 weatherproof vinyl siding options colors for your 10×12 shed.  Our 10×12 vinyl sheds range in price from Cape Cod Sheds costing $7,260 all the way up to luxurious Villa Sheds costing $7,765.
10×12 Steel Sheds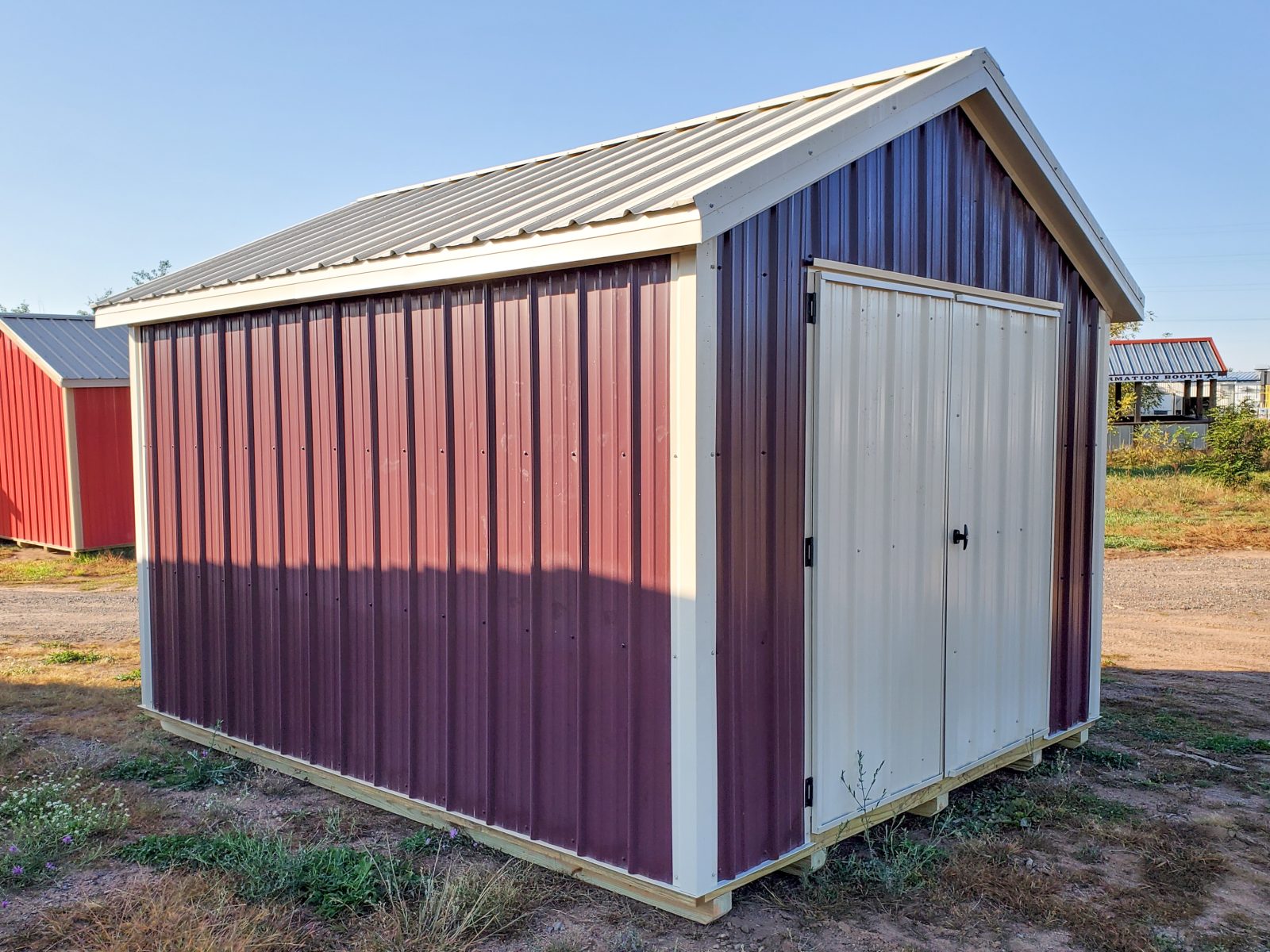 A 10×12 steel shed is a great choice for someone looking to have an ultra-durable shed. At Northwood, we use heavy-duty 26-guage steel which is easy to clean and won't dent or rust easily. In addition to having multiple color options for your 10×12 steel shed, you are given a 40-year warranty on the steel that your shed is built from. Our 10×12 Steel Sheds cost $4,995.
10×12 Wooden Sheds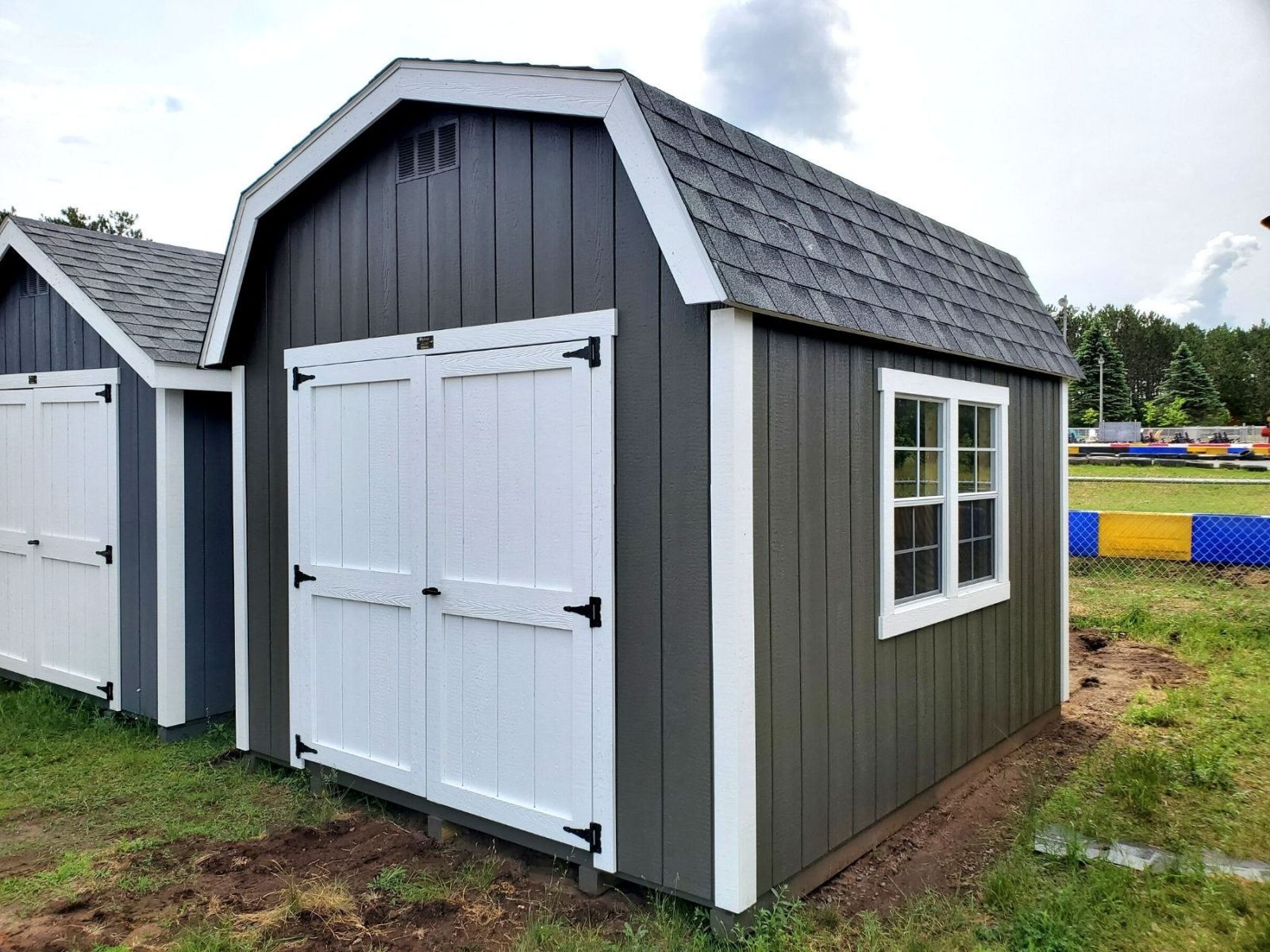 A 10×12 wooden shed is about as classic as they come. Our wooden sheds are known for being an affordable and beautiful option however, that does not mean they are cheaply constructed. Your 10×12 wooden shed can be painted with one of our 13 shed colors. Our 12×10 wooden shed ranges in price from Cape Cod Shed costing $6,440 all the way up to our luxurious Villa Sheds costing  $6,745.
Can I Use A 10×12 Shed As A Home Office, Guest Cabin, or Both?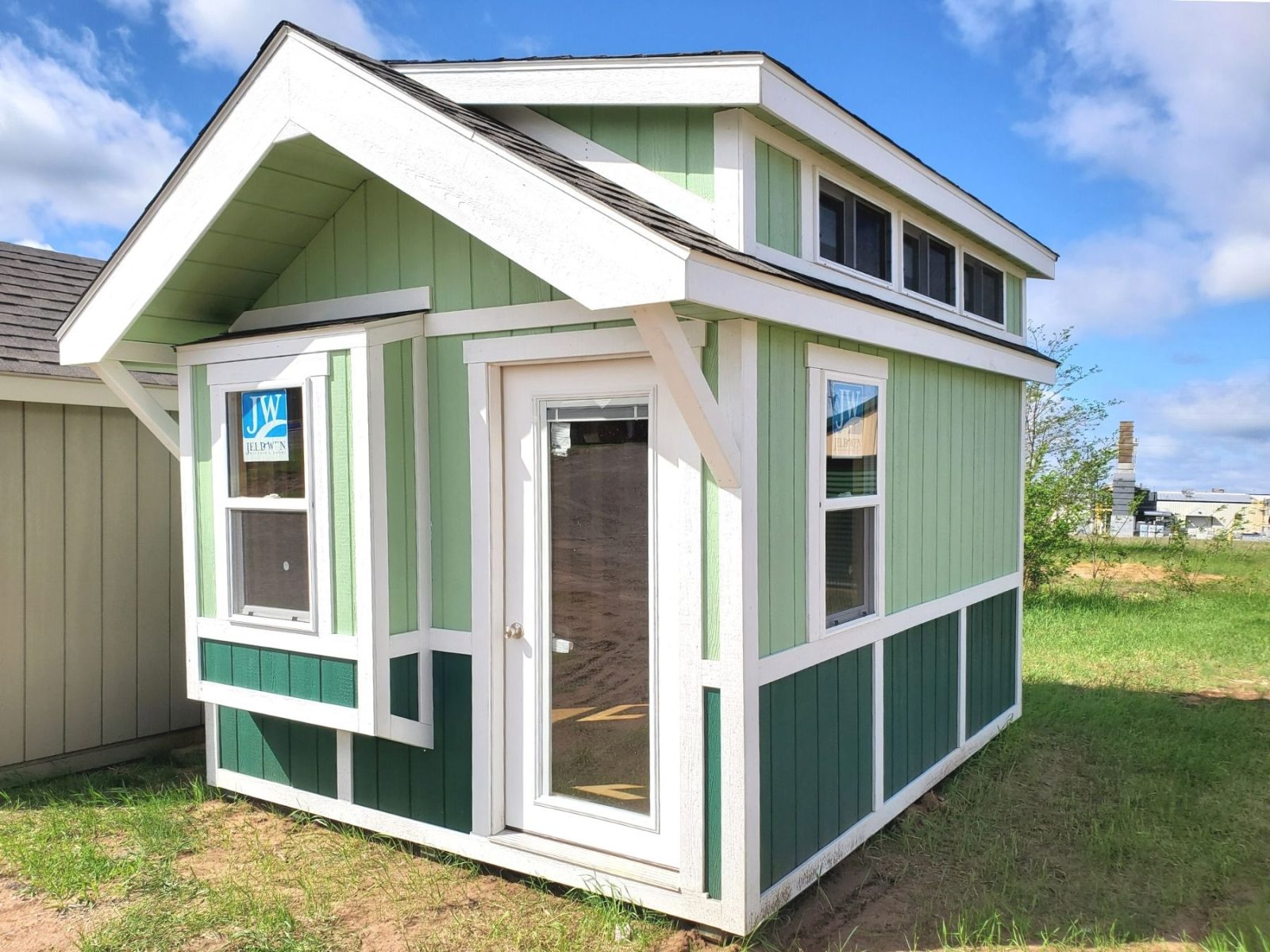 YES! You can use your 10×12 shed for whatever application you desire! Once you have designed the exterior of your 10×12 shed you can start to think of ways to use your shed in the way that best suits your needs.  
To give you a better idea of how you can layout your 10×12 sheds, we have provided diagrams of possible layouts below.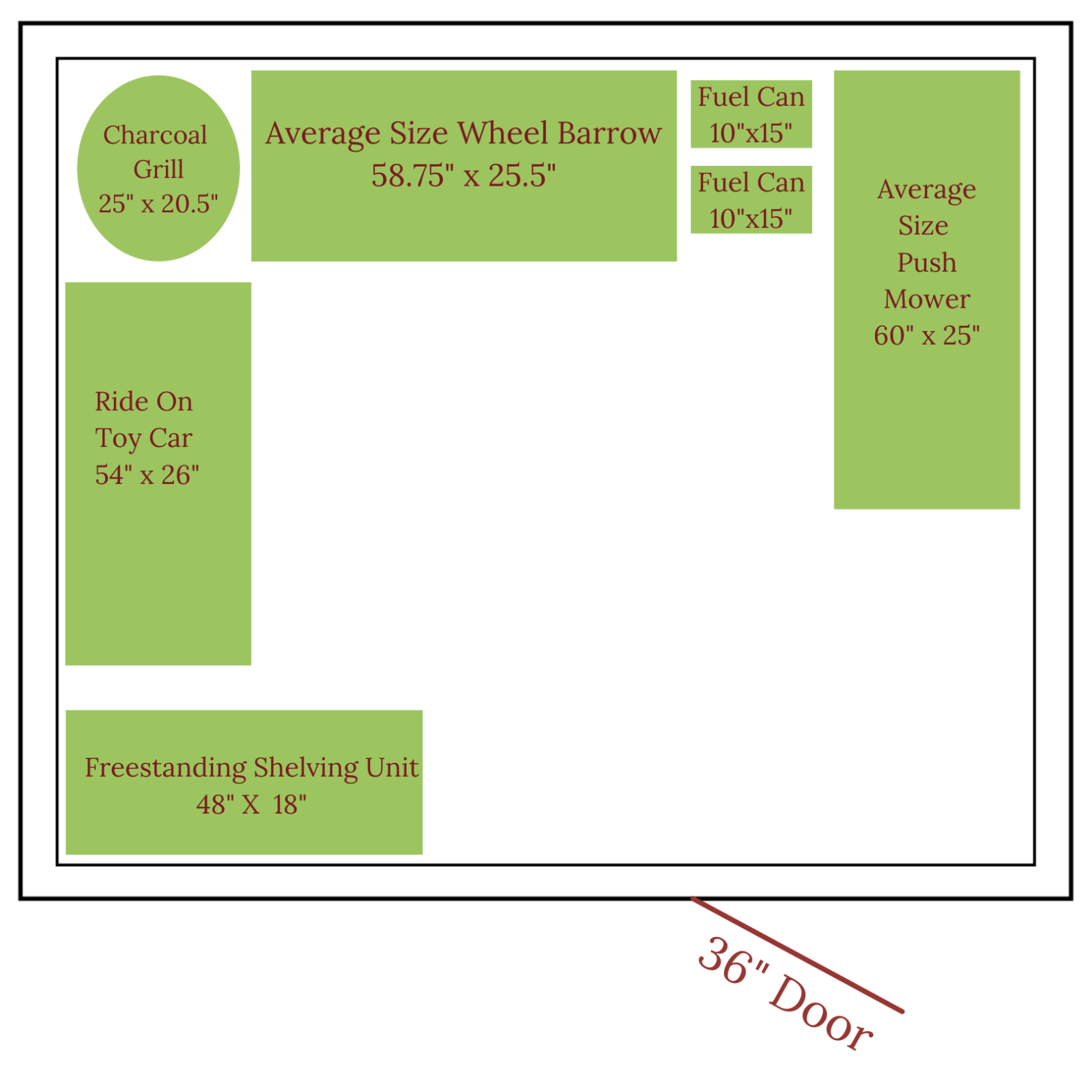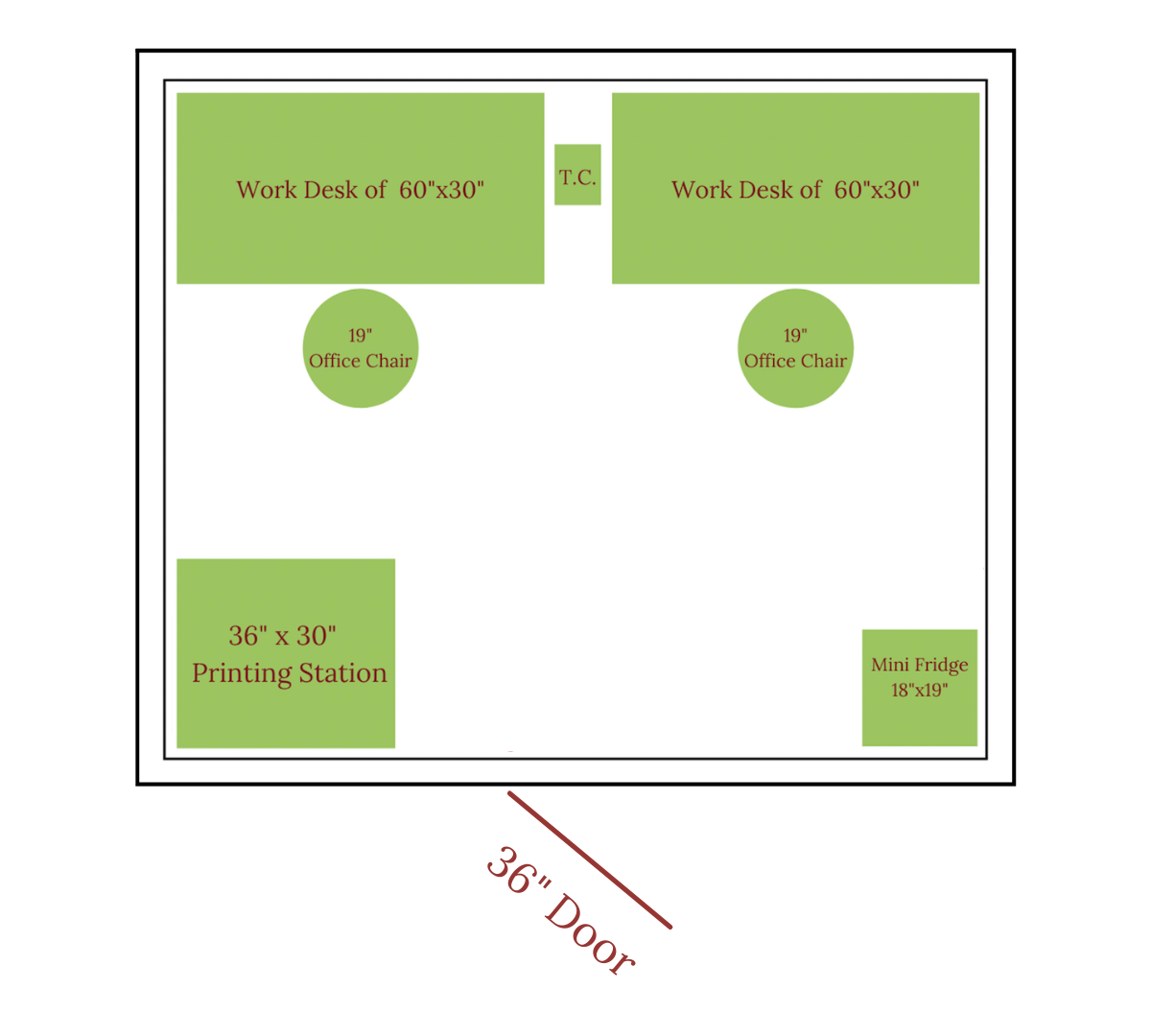 When you need extra office space, a 10×12 shed is a great option to consider. The average office cubicle is around 36 square feet; so by having a 10×12 shed you will have additional 63 square feet of space. The extra 63 square feet of space allows you to have enough room to make a his and hers office quite comfortable at a total of about 100 square feet.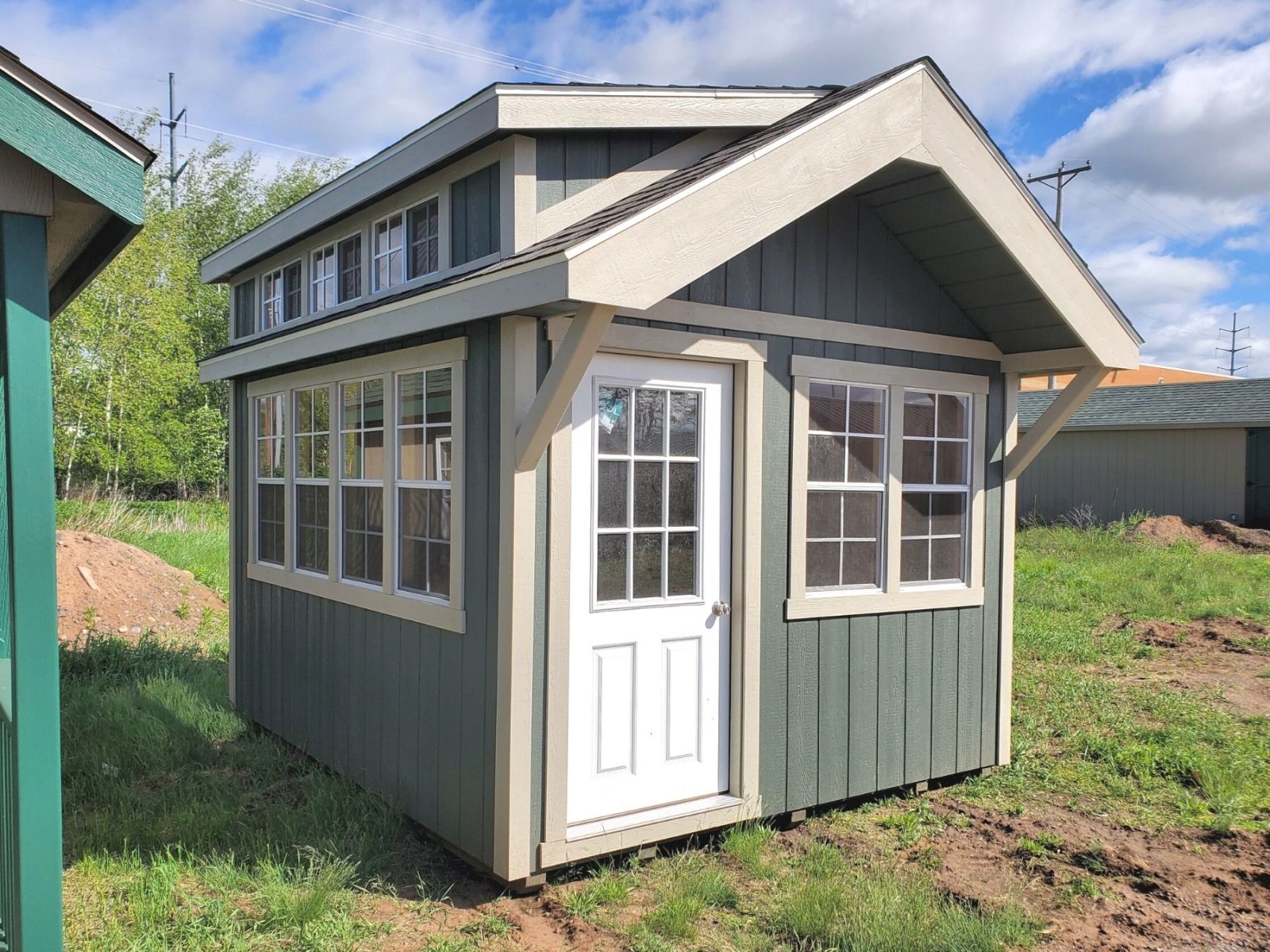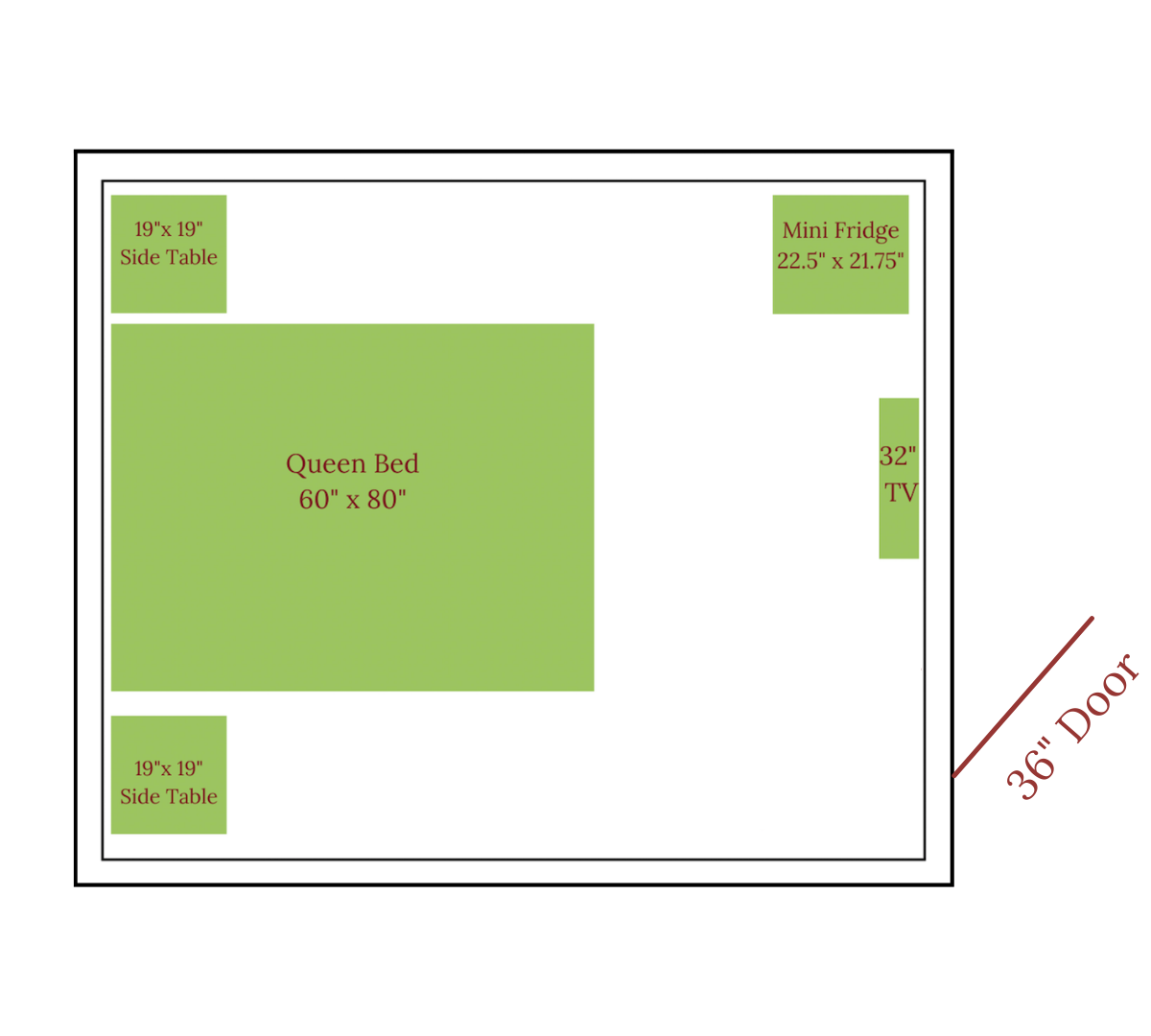 A 10×12 guest shed creates a cozy space for your out-of-town guest to stay with you. You can accommodate your guests with a queen-sized bed so they can have a peaceful night's rest as well as have their own space. Giving them about 100 square feet of space they may never leave!
10×12 Guest Cabin / Office Combo Shed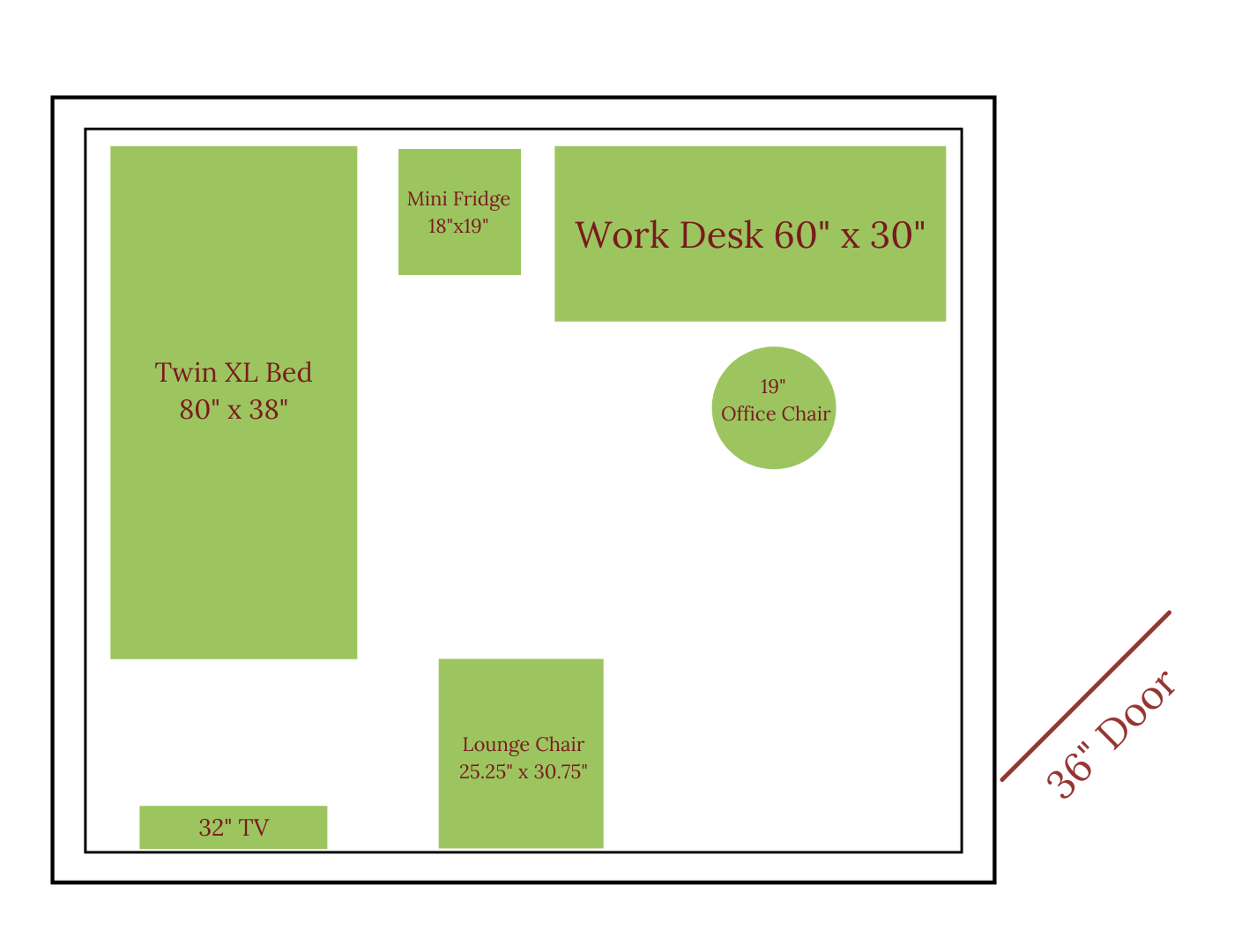 While a 10×12 shed may not seem large enough for a multipurpose space, you would be amazed at what you can do with a little creativity. A 10 x12 shed can easily accommodate a larger-sized single bed as well as offer a nice-sized office area. In doing a multipurpose space your 10×12 shed can create a highly functional area that fixes the need for a guest room and office space.
Conclusion
A 10×12 shed is a great option to use for more than just your daily storage. At Northwood Industries, we want to build you a high-quality, highly functional shed that is just as unique as you. No matter if you need a steel shed on a gravel pad for storage, or want a beautiful cape cod shed placed on a cement pad for a guest shed, your needs are what we want to fulfill.