Do you need a storage shed to store your garden tools and equipment such as lawnmowers or gardening supplies? If so, Northwood Industries specializes in the construction of high-quality sheds and garages. After choosing the style that you like, you can customize it and make it fit your exact storage needs. For over 20 years, Northwood Industries has been committed to making long-lasting and affordable sheds, garages, cabins, and gazebos. We sell and deliver our outdoor structures to customers throughout the fine city of Duluth, Minnesota. All you need to do is fill out the form to receive a free quote. Get Started Today!
Classic Storage Shed
Are you looking for a storage shed with a vintage appearance? If so, the Classic Storage shed is your style match. These storage sheds offer a basic A-frame design and can be specially customized into an even more beautiful space for your storage items. The Classic Storage shed's design effectively protects your gardening materials, landscape items, and expensive equipment from all the elements. This storage shed is available with either wood or vinyl siding, as well as your choice of siding and trim colors. Get a quote today by selecting your ideal size and color or check out our current inventory.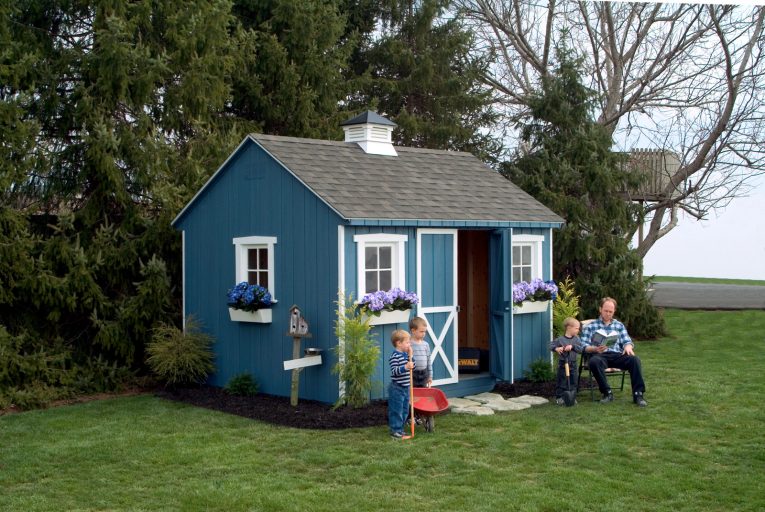 Cape Cod Garden Shed
Are you looking for a storage shed with a higher roof design for a better snow load rating during the winter? If so, meet the Cape Cod. This shed style is typically used for storing gardening equipment and supplies.
Plus, the Cape Cod shed holds a darling "cottage" appearance thanks its large overhangs and steep-pitched roof. The steep roof design makes the shed more appealing and reduces snow buildup in the winter. Obviously, making it a perfect choice for Duluth, Minnesota. Enjoy customizing the roof and siding to complement the existing structures on your property and then sit back, relax, and enjoy the beauty of your home. Get a quote today by selecting your ideal size and color or check out our current inventory.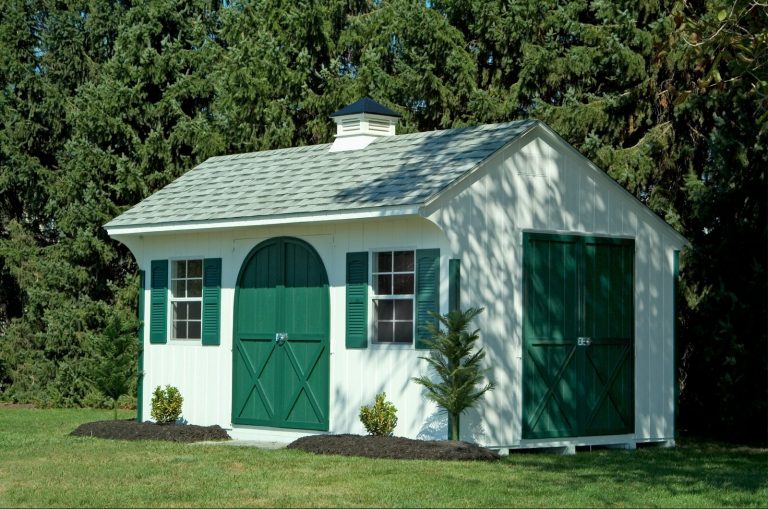 Quaker Shed
Do you need a shed with a lot of storage space? If so, The Quaker offers you plenty of interior space for storage! These sheds are designed with an offset A-frame roof which creates a distinctive look and a wide storage space. The Quaker sheds are sometimes known as carriage sheds. Not only do Quaker sheds effectively store your important home and garden tools and equipment, but they also provide an elegant and traditional appeal to your backyard. This shed is available with wood or vinyl siding and may be customized to meet your specific needs. Get a free quote right now and start enjoying your lovely, new Quaker shed or check out our current selection.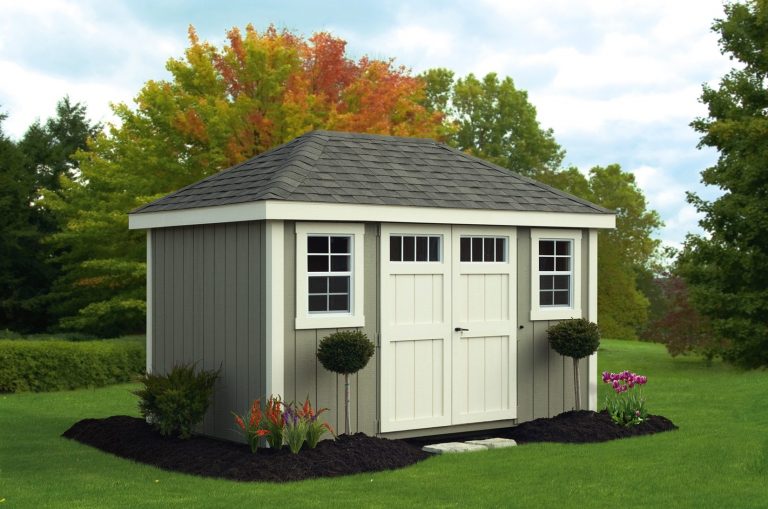 Villa Shed
Are you ready to give your backyard some style and character? The Villa shed with a hip-style roof will add just the modern touch you are looking to add to your property! This shed's hip roof provides a modern design that works well in a variety of locations. This style is an excellent option for beachfront properties or other places prone to strong winds. This handmade Villa shed comes with our regular 10-year warranty and is available in wood or vinyl siding. Choose your shed size, shed paint color, or shed vinyl color, and enjoy optimum storage while also adding flair to your lawn. Request a free quote here.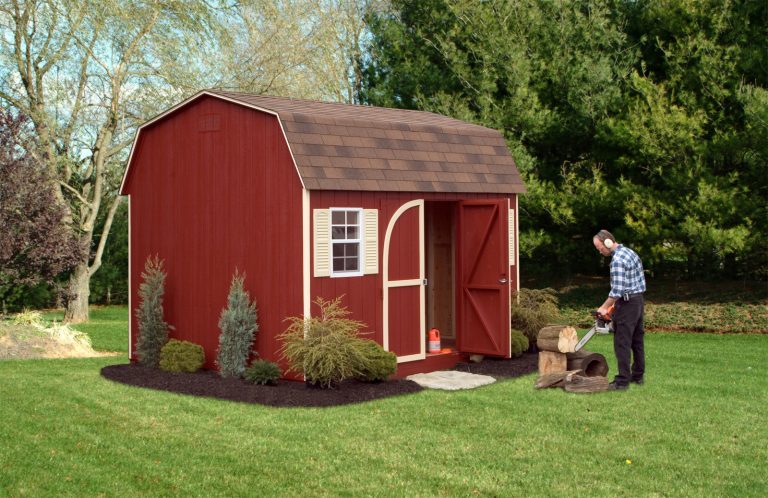 Dutch Barn Shed
Do you prefer a rustic barn-style shed with plenty of headroom and storage space? With its curving, Gambrel-style roof, your garden will undoubtedly stand out with the addition of a Dutch Barn shed. This barn shed offers you more storage space as well as an extra loft. Our regular Dutch Barn package comes with two windows and your choice of shutters or trim. Explore our customization choices to add bigger windows, side doors, or a ramp. View the images below to discover some of the different designs and purposes for the Dutch Storage Barn. When you are ready to order your own storage barn, fill out the quote request form below or stop by one of our shed lots or furniture stores. Start today!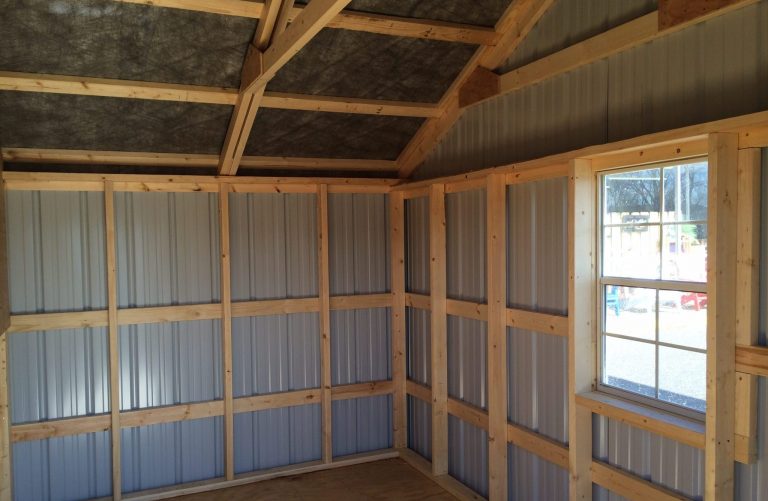 Steel Garden Shed
Are you looking for an economical, long-lasting, and low-maintenance shed? If so, the Steel Garden shed fits the bill! Built with a pole barn design and clad with steel roofing and siding, the Steel Garden shed offers you a sturdy and weather-tight structure. These A-frame steel barns provide a large amount of storage space at a reasonable cost. This garden shed resembles a Cape Cod storage shed. Steel Garden sheds include standard features such as a 40-year limited manufacturer's warranty on the metal, solid 2×4 purlin construction designed to withstand snow loads in Duluth, Minnesota, treated 4×4 skids and 2×4 floor joists spaced 16″ apart, ¾" tongue and groove plywood flooring, and double swinging metal doors with a heavy-duty lockable latch. See our photos below to discover some of the Steel Garden shed's various designs and functions. Browse our current inventory here.
Prefab Garage Sheds Available In Duluth
At Northwood Outdoor, we build garages that remain durable and resilient in the face of Duluth, Minnesota's harsh winter weather.
With a heavy-duty floor, roof, doors, and stone base, our garages are an excellent choice for your cars.
Plus, our site prep and delivery turn-around times are significantly faster than with conventionally built garages.
Classic Garage Sheds
Are you searching to purchase a garage in Duluth, Minnesota? Do you need a place to park your car, boat, ATV, or truck? Northwood Outdoor offers hand-built, classic prefab garages that may be customized to complement your property. The Classic prefab garage builds on our Classic storage structure to provide a luxurious storage shed for your boat, vehicle, lawn mower, or ATVs. We install a steel overhead garage door and reinforced flooring to ensure that your garage can take on anything you fit through its door. With a Classic prefab garage, you can protect your belongings from the elements and add value to your home. Plus, with our multiple customization choices available for the perfect combination to your ideal garage, your property will look fantastic. Get a free quote today!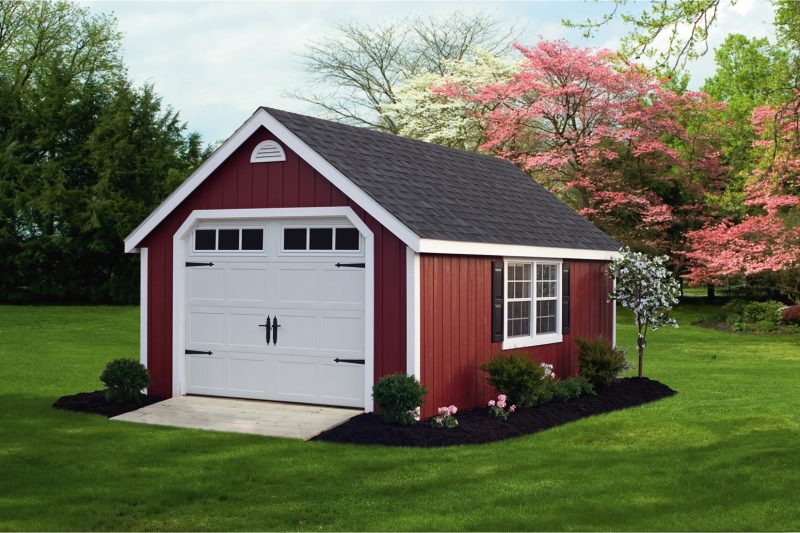 Cape Cod Prefab Garage
These garage sheds are graced with the Cape Cod-style and come with an overhead garage door. We customize our unique looking Cape Cod garages for any desired use such as a workshop or studio. These large and durable sheds are strong enough to hold anything that can fit through the doors and are completely customizable to your exact wishes. The Cape Cod garage is perfect for trucks, automobiles, motorcycles, ATVs, tractors, and boats. Browse our selection and add side doors, a ramp, or any of our other options to create your own functional and stylish prefab garage. Get started right now.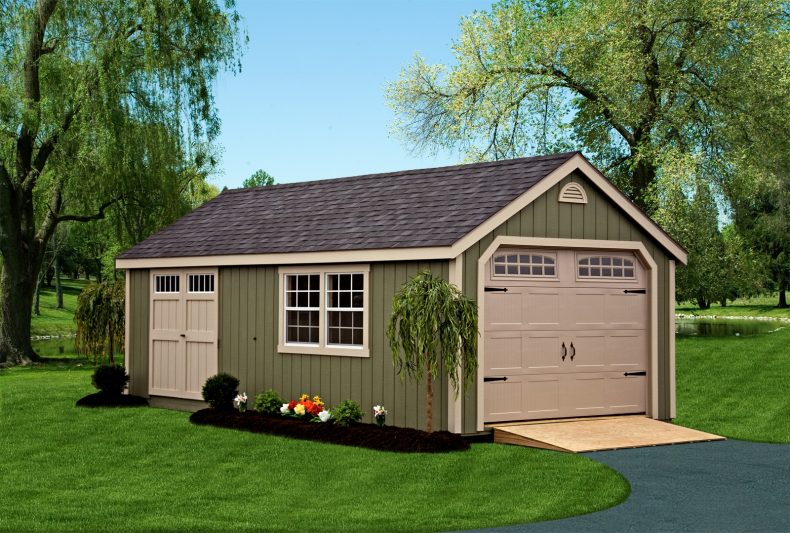 Steel Garage
If you want a large amount of storage space at a low cost, the Steel garage is the best choice for you. Featuring a 9' wide steel garage door and an extra heavy-duty floor with floor joists at 16" on center, the Steel garage will handle anything you can fit through its door. It is the perfect space for a boat, ATVs, lawnmower, and car storage. These Steel garages come with a 40-year limited manufacturer's warranty on the metal, solid 2×4 purlin construction built to handle Northern Wisconsin and Minnesota snow loads, 9' wide roll-up steel garage door, side entry door with a locking, heavy-duty latch, and 1 24×36 aluminum shed window with screen. Get your very own Steel garage today!