Attempting to find a quality storage solution in Hudson, Wisconsin, doesn't have to be difficult. At Northwood Outdoor, we specialize in helping you find the best storage solution for your home. In fact, we have proudly been serving the Hudson, Wisconsin, area for over 20 years. No matter if you need a small garden shed or a large shed for your outdoor toys and storage, we look forward to helping you. We offer multiple shed options to accommodate the needs you have. Our buildings are created to last a lifetime and are built to the high standards of our Amish builders. Maybe you live full-time in Hudson, WI, but need your storage shed somewhere else. No problem! We sell and deliver buildings all over Wisconsin. If you want to learn more about what we do, check us out at Northwood Industries. If you are ready to take the plunge into a storage shed, please call us or fill out a free quote form.
Storage Shed Styles In Hudson, WI
Determining which storage shed will fit your needs can be a lot of fun. We have all kinds of shed models available for all kinds of needs in the Hudson Wisconsin area. All of our buildings can be created with wood siding or vinyl siding. In addition to offering wooden and vinyl storage sheds, we also offer steel garden sheds. Take a look at the styles of the buildings that we have to offer you in Hudson, WI, we think there is something perfect for everyone.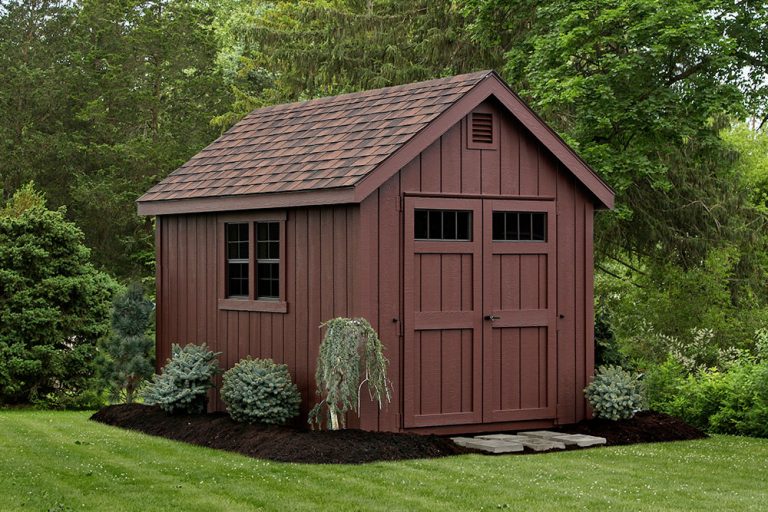 Classic Sheds in Hudson, WI
The Classic Style shed offers you the look of a traditional shed with the ability for a lot of customization. This backyard shed is built with a traditional A-frame design, making it a superb storage shed solution for your gardening tools. The Classic shed can be built in widths of 6' to 12'. In addition to a variety of size options, your Classic Shed can be painted or sided with vinyl in one of our many colors. In addition to the multiple siding colors, we have multiple roofing options as well. And here is the real kicker, once you design the basics of your shed, you can start to add the customizations that you want. Some popular customization options are cupolas, ramps, additional windows, and much more! Request a quote, give us a call or browse our current inventory.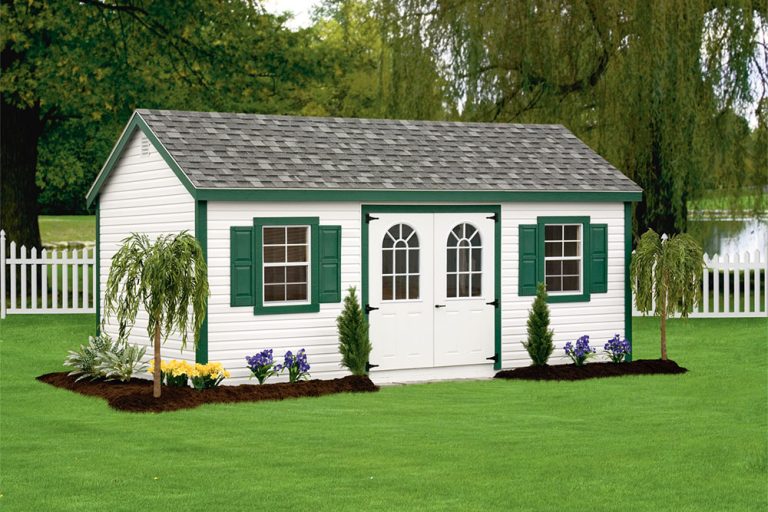 Cape Cod Sheds In Hudson, WI
Let's be honest, the snow in the Wisconsin winter is a very real thing! The Cape Cod sheds are designed with a steep enough roof pitch to ensure that they will hold up in the winter snow. These sheds look great in nearly every backyard and can be used quite creatively. Some of the creative ways that we have seen people use these sheds are for bunkhouses, hobby sheds, camping cottages, and even playhouses for their children. The Cape Cod Shed is available in a width of 6'-12' and can be created in wood or vinyl with a variety of roofing options available. Take a look at our available inventory, give us a call, or request a free quote.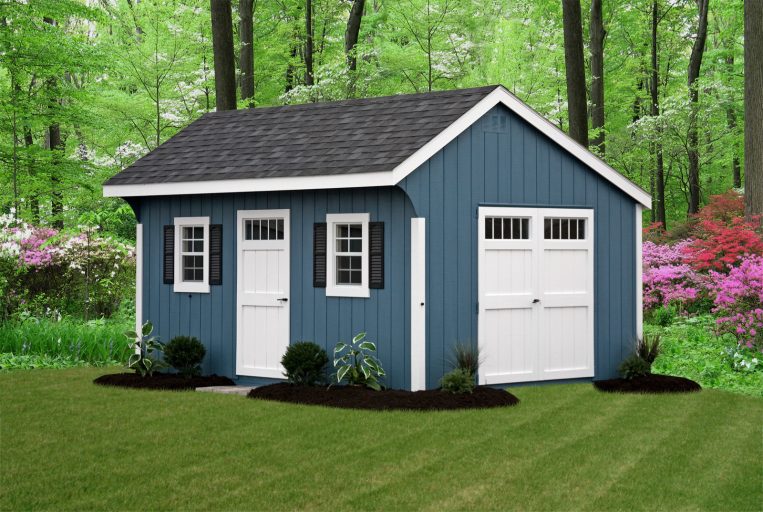 Quaker Sheds in Hudson, WI
We've all been there. You get the items in the shed and lock it up, only for the torrential downpour to start with no cover. The Quaker Shed gives you the ability to have additional coverage because of its offset A-frame roof. The Quacker Shed comes in widths of 6' to 12'. The Quaker is in a variety of shed paint, vinyl, and shingles colors. Additionally, these outdoor storage sheds look great with some of our add-ons. Some of the most popular add-ons for this shed style are cupolas, additional windows, and ramps. Take a look at our available inventory to discover some of the different styles and purposes of these beautiful storage sheds.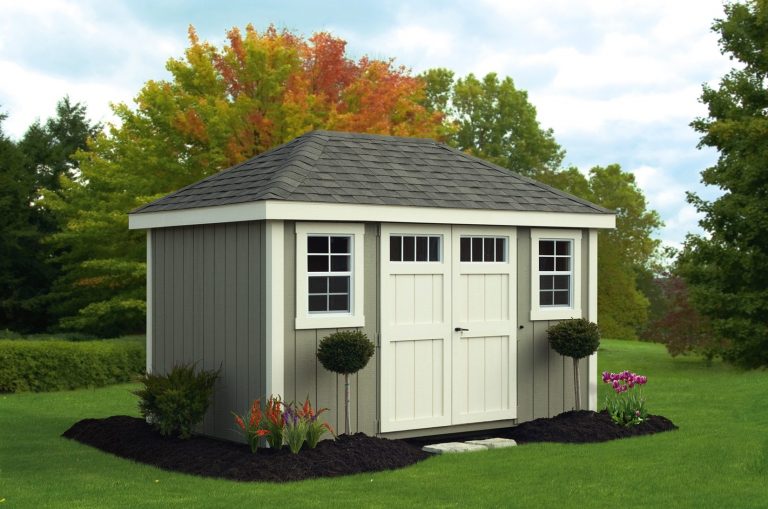 Villa Sheds in Hudson, WI
The Villa Shed offers you a hip roof and a sleek modern look giving your backyard style and attitude. These sheds can be seen all over Hudson, and we think they integrate well with nearly any backyard. Because of the hip style roof, the villa Shed does exceedingly well in high wind areas such as the lake or open field area. All of our Villa Sheds can be created in multiple sizes with a wonderful assortment of vinyl or painted wood. Since the Villa Shed is popular as a waterfront structure, many people have found that the additions of vents, lofts and weathervanes make a great addition. Take a look at more of our Villa Sheds, request a quote, or give us a call to learn more.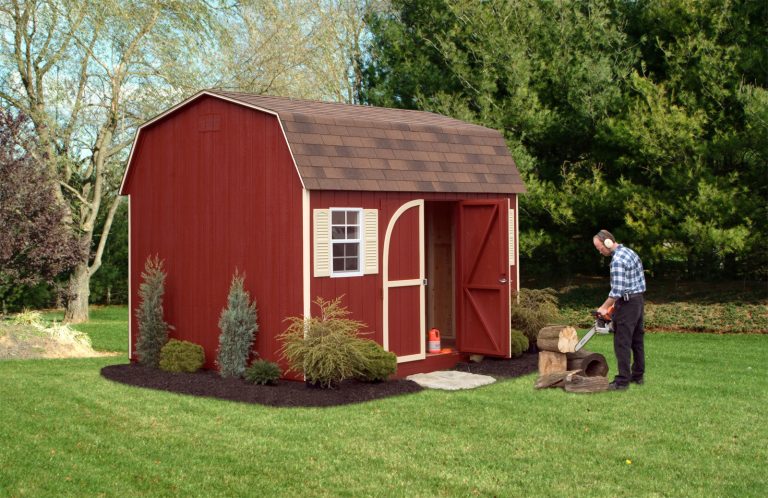 Dutch Barn Sheds in Hudson, WI
Maximizing space while not taking up additional footprint space is a difficult task. However, the Dutch Barn shed does just that by offering taller walls and a gambrel-style roof line. This allows you to easily create loft space or take advantage of the natural height for larger items. The Dutch Barn includes (in standard form)  two windows and your choice of shutters or trims to really make the shed your own. With the added benefit of height, many people have found that having an additional set of side doors is a great way to take full advantage of the shed. If you think the Dutch Barn is the right fit for you, take a look at our available inventory.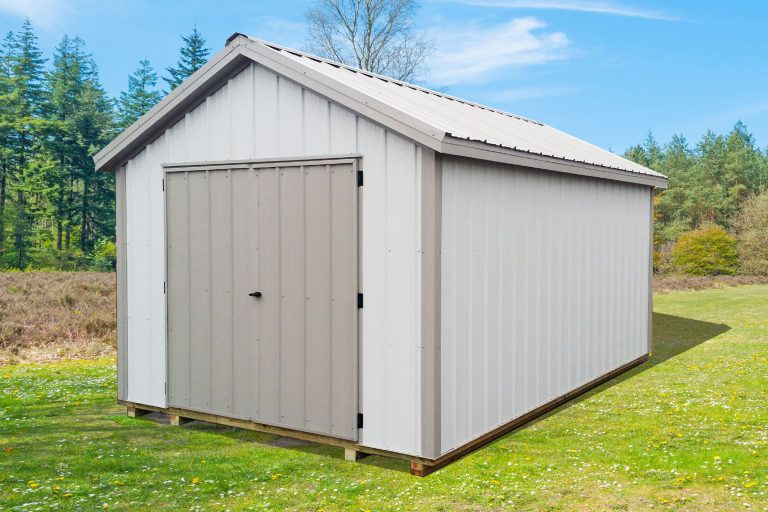 Steel Garden Sheds in Hudson, WI
When you need a low-cost, low-maintenance shed that looks great, a steel garden shed may be just what you are looking for! Our Steel Garden Sheds come with a 40-year limited warranty on the metal used for your shed. These sheds are designed with you and mind and provide a solid 2×4 purlin construction built to handle the harsh Hudson, WI winters. Additionally, these floors are created on a 4×4 treated skid and 2×4 floor joists that are placed at 16" on-center. If this sounds like the right shed style for you, give us a call, request a quote, or check out our available inventory.
Prefab Garage Sheds For Sale In Hudson Wisconsin
At Northwood Outdoor, we build garages that are able to stand the test of time and are able to remain durable and resilient in all of the weather conditions we find in Hudson, Wisconsin.
All of our garages are created with heavy-duty flooring, roofs, and doors. When this structure is placed on a stone base, our garages are an excellent choice for your vehicles, boats, ATVs, and any other piece of equipment that you need to keep out of the elements. Additionally, purchasing a prefab garage like ours greatly reduces your wait time for adding a garage to your home.
Classic Prefab Garages in Hudson, WI
Our Classic garage is a play on our classic shed in that it uses the same design style but adds a high-quality garage door. This classic garage is a great place to store your car, boat, ATV, or snowmobile. Our Classic prefab garage sheds are a great way to secure your belongings in a structure that can handle even the harshest of Wisconsin winters. With nearly limitless customizations and upgrade choices, you may design your own Classic Garage that meets the requirements you have. Take a look at our inventory, choose a size and color options you like, and request a free quote today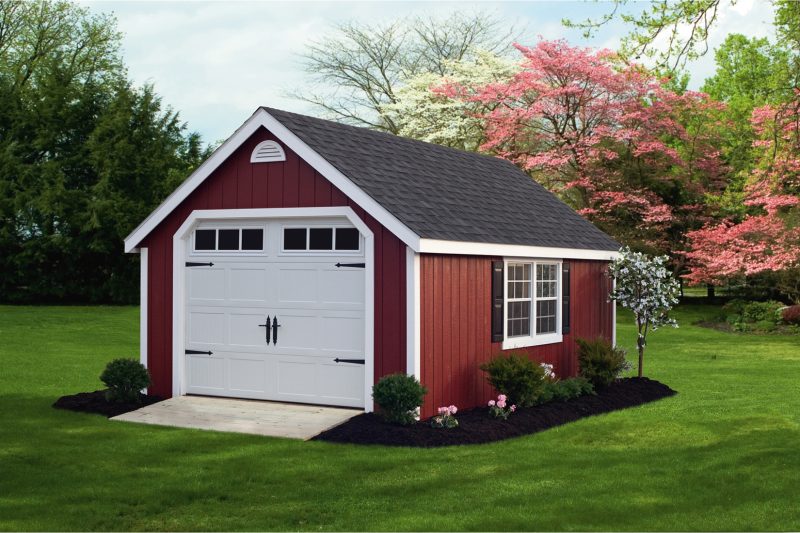 Cape Code Prefab Garages in Hudson, WI
When you are looking for elegance and additional light in a prefab garage, look no further than the Cape Cod Prefab garage. These garages are created similarly to the Cape Cod shed but with the addition of a beautiful steel overhead door and a high-strength support system. The Cape Cod Shed is able to accommodate the load of nearly anything that fits through the doors. Explore our selection and take a look at add-ons to make the garage fit the needs you have. Most people find that adding on a set of high-quality side doors and ramps makes their structure exactly what they are looking for.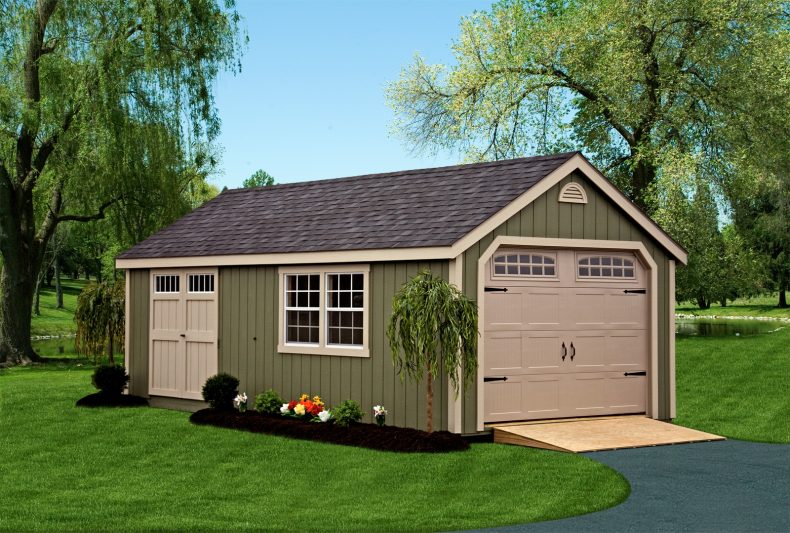 Steel Garages in Hudson, WI
Budget-friendly garages are easy to find a Northwood Outdoor. Our steel garages come with a 9' wide steel garage door and an extra heavy-duty floor with the joist spacing at 12" on center. No matter what you bring through the garage door, these garages are a true workhorse and can handle nearly anything. When you select a steel garage, you are provided with a 40-year warranty on the metal used to side your garage. In addition to that, these garages are designed with a 2×4 purlin construction built to handle the worst of the Wisconsin winter snow loads. Take a look at our inventory and get in touch with us today to learn more about the steel garages that we have to offer you.